The State agency that oversees the provision of shelter for asylum seekers and refugees has inspected a south Co Dublin premises that has been the subject of strong complaints from residents.
The inspection took place this morning following a report by RTÉ News yesterday evening on conditions there.
Visibly upset parents, who were moved with their small children from the Red Cow Hotel to the new centre on Thursday told RTÉ News that conditions there were intolerable, and causing considerable stress for both adults and children.
Some said they had slept in cars outside the facility because the difficult conditions inside made it impossible to sleep there.
RTÉ News filmed cubicles with thin partitions that have been fitted into what appears to be a former church within a larger complex.
Following today's inspection the International Protection Accommodation Service (IPAS) has said it understands the stress caused to residents at their move, but it says it was necessary in order to make maximum use of all available accommodation.
IPAS said the centre was currently housing 123 international protection applicants.
It said that in addition to the cubicles or "pods" filmed by RTÉ News the accommodation also contains 10 en-suite rooms upstairs.
The residents who spoke to RTÉ News had all been allocated pods downstairs.
---
Read more: Refugee families appeal over 'unsuitable' accommodation
---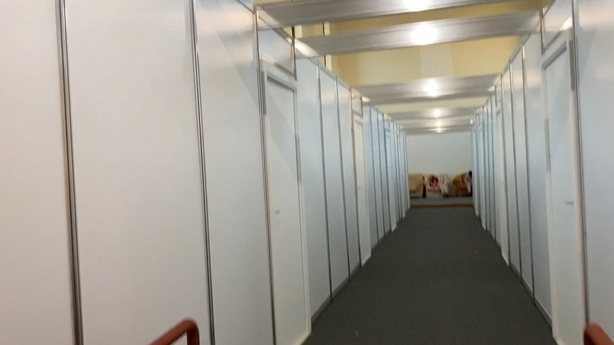 Responding to complaints by parents that there was no heating, IPAS has said there are radiators in all rooms, which are timed to come on from 6am-9am, from 1pm-4pm and from 7pm-10pm.
However a parent contacted by RTÉ News this evening expressed surprise at this and again reiterated to RTÉ News that the accommodation had been extremely cold.
Addressing allegations of a shortage of toilet and shower facilities, IPAS has also told RTÉ News that "there are 24 toilets which are either private to a single family, or segregated between men and women, along with seven showers".
But residents allocated to cubicles have told RTÉ News that they do not know where the additional toilets might be. One resident said they were only aware of two toilets.
They told RTÉ News that it had again been impossible to sleep last night due to noise from other people, which included the noise of some residents urinating in their rooms during the night.
Because the cubicles do not have ceilings they are not insulated from sounds.
Residents told RTÉ News that some of the showers did not work, and RTÉ News has seen a photo of one with no shower head.
IPAS has told RTÉ News that catering is provided by a professional catering company and that a pot of food shown by RTE News "belongs to one of the residents as food is not served by the catering company in this fashion".
In its statement, issued after this morning's inspection of the premises, IPAS said that between those fleeing Ukraine and International Protection applicants, the State is now accommodating more than 73,000 people, compared to 8,000 at the beginning of 2022.
"As a result, there is now severe pressure on the State's accommodation capacity."
The new south Co Dublin facility is not yet at full capacity.
More families currently living at the Red Cow Hotel expect to be moved there shortly, after being informed late last week that they will be transferred.