Minister for Agriculture Charlie McConalogue has said anyone who owns a dangerous dog breed but does not use a lead or a muzzle on them should be "seen as a social pariah".
Mr McConalogue is leading a review of dog control, microchipping, licensing and enforcement.
Speaking in Farmleigh, he said better awareness and enforcement of dog laws will be among the things the review will look at.
"One of the first things we have to focus on is building awareness and enforcement," he said.
"There are laws already in place in this country for certain dangerous breeds, they have to be muzzled and they have to be on a lead when they are in public," he added.
"We have to work to ensure that anyone who does not comply with that is seen as a social pariah because they can put people at risk," Mr McConalogue said.
Earlier, he wrote to his ministerial colleagues in an effort to tighten the laws around the control of dogs.
The move comes after a young boy was attacked and injured by a pit bull terrier in Co Wexford last month.
It is understood that a number of ministers and departments have various responsibilities in the control dogs.
Minister Heather Humphreys' Department of Rural and Community Development is in charge of the Control of Dogs Act.
The Department of Agriculture is the lead on microchipping and Minister for Housing Darragh O'Brien's department oversees local authorities, who are responsible for policing and enforcement.
The Minister for Agriculture Charlie McConalogue says while there are laws in place that require a number of dog breeds to be muzzled when out in public, that is not always the case | Read more: https://t.co/5Mo18zWF6y pic.twitter.com/6cslm96WeK

— RTÉ News (@rtenews) December 8, 2022
Speaking on RTÉ's Morning Ireland, Mr McConalogue said while there are laws in place that require a number of dog breeds to be muzzled when out in public, that is not always the case.
He highlighted the importance of ensuring that the existing laws are enforced.
"What happened in Wexford was horrifying and we have to take every step we can to ensure that policy is being implemented and enforced and also if there is anything additional we can do and assess what that is," he said.
The minister also said that the number of dog wardens varies between local authorities with "different arrangements in place" and this is something he will be assessing and working with other ministers to try improve.
We need your consent to load this rte-player contentWe use rte-player to manage extra content that can set cookies on your device and collect data about your activity. Please review their details and accept them to load the content.Manage Preferences
Minister McConalogue announced funding to nearly 100 animal welfare charities as part of Animal Welfare Awareness Day.
He warned that Christmas is not a time of year to decide to get a dog and said it is a decision that needs to be considered very carefully.
Minister Humphreys said people need to control their dogs and be aware of the dangers of particular breeds.
She said while the relevant legislation has been reviewed recently, it will be looked at again "to make sure that this type of thing doesn't happen."
"I think it's important, particularly on the enforcement side, people need to control their dogs and they need to be aware of the dangers of some particular breeds."
She said there is a list of banned dogs and "some of those dogs that have attacked are on it, so we have to make sure that these dogs are controlled".
Asked if more dogs could be added to the list of dangerous dogs, Minister Humphreys said "if we need to add more dogs onto that list, we'd be happy to do so".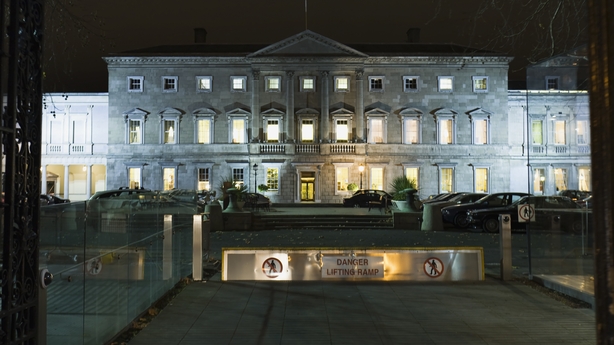 New committee to scrutinise EU legislation
Meanwhile, a new Oireachtas committee is to be established to scrutinise EU legislation being incorporated into Irish law, and track its implementation.
Up to now, legislation from Brussels has been signed into law by individual ministers - without reference to the Dáil or Seanad.
When the EU legislation is passed, Member States have a defined period of time to fold it into domestic law and risk incurring hefty fines if they fail to abide by the deadline.
Traditionally, what is known as the transposition of EU legislation into Irish law has only required the signature of the relevant minister.
However, on foot of a Cabinet decision, a new Seanad committee is to be formed to oversee the process.
Outgoing Cathaoirleach of the Seanad Mark Daly, who has championed the initiative, has contended previously that such oversight could save the taxpayer tens of millions of euro by ensuring that EU implementation deadlines are met.
Additional reporting Paul Cunningham, Fergal O'Brien, Mícheál Lehane