Some people with disabilities are confined to their homes due to a lack of personal assistance hours, according to research from the Economic and Social Research Institute.
The ESRI's National Disability Authority carried out research to explore issues facing people with disabilities in Ireland today.
Personal assistants provide assistance at the discretion and direction of people with disabilities to enable them to live an independent life.
Most of those surveyed wanted a broader range of supports, because some were being forced to stay in their homes due to a lack of personal assistance hours. Others were reliant on unpaid support from family and friends.
There was also dissatisfaction over the number of personal assistance hours provided, and calls for greater control over when and for what their HSE-funded hours could be used.
More positively, the research found "a high level of satisfaction" with the quality of existing personal assistance.
Overall, the survey pointed to a significant appetite for change among personal assistance service users and shows the impact of inadequate support.
Having a personal assistant was felt by many to be necessary to enter and succeed in employment and education. However, at the moment, personal assistance hours are not widely used for either.
This, according to the research was partly a result of explicit direction from some service providers, and from the HSE in some areas that personal assistance hours could not be used for employment, partly due to an overall shortage of hours and partly to do with issues finding personal assistants with the skills needed in the workplace or learning environment.
The ESRI also found that insufficient hours were a huge barrier to social engagement, leaving many respondents isolated.
When asked about what else they would like supports for, respondents mentioned trips to the cinema, shops or a café. Leaving the house for events during the evening or at weekends was not possible for many.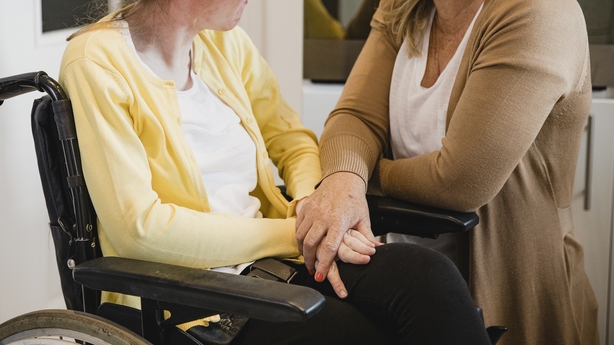 The relationship with the personal assistant was central to respondents' perceptions of personal assistance.
Personal assistants' working conditions, especially their pay, hours and lack of progression opportunities, indirectly impacted service users as they made it difficult to hire and retain suitable people.
Author of the article, Eamonn Carroll, said the research showed the importance of adequate and effective personal assistance for the quality of life of those with disabilities.
"Disabled people face much worse outcomes than non-disabled people across the areas of employment, education and social engagement, and supports like personal assistance can help tackle that gap. At the moment, though, the supports do not go far enough to allow most service users to live a full and independent life," he said.
Director of the National Disability Authority Aideen Hartney said that supporting independent living for people with disabilities is at the heart of the Convention on the Rights of Persons with Disabilities, which Ireland ratified in 2018.
She said the research highlighted the barriers to achieving "independence and full inclusion in society, issues that must be addressed to fulfil our obligations under the convention".
HSE Head of Operations for Disability Services Bernard O'Regan welcomed the publication, which he said adds "significantly to understanding how personal assistance is allocated and used across the services provided by the HSE and funded by it through a range of service providers".
He noted the inconsistencies experienced by people with disabilities in accessing personal assistance supports and the limitations in how those supports might be used.
"This report will be used by the HSE through a working group being established to improve this important service, as well as making a valuable contribution to the service planning process," he said.
James Casey of Independent Living Movement Ireland said that 35 years on from being one of the first EU countries to use a Personal Assistance Service, it is one of the last to give people with disabilities a right to the service.
"The research aligns with our call to legislate, regulate and define this service that is crucial to live a life of self-determination. Over the past three years, ILMI has engaged with every local authority in the country, every one of which supports our call for a right to a personal assistance service, if required, by disabled people."