When Russian tanks rolled into Ukraine, Viktoria Volynets was taken completely unaware: she was on holiday with her husband and two children in the Carpathian mountains.
Fearing that Kyiv would fall in a matter of days she went with Oleksandr and children Ivan, 11, and Lillia, 8, to her parents-in-law in Vinnytsia, southwest of the capital, for two weeks.
Oleksandr was of fighting military age and so could not leave the country, although as a farmer he was exempt from mobilisation.
Viktoria crossed the border alone with Ivan and Lillia into Hungary.
From Budapest, she flew to Dublin and then travelled up to Dundalk, where a close Ukrainian friend (and godmother to Lillia) had been living for 15 years.
"It was very difficult to leave my husband, my family and my home," she recalls.
"When we were leaving we didn't know if we would have a place to come back to. I knew the people we were going to, they welcomed us with open arms. We stayed with them for a few days then rented our own place."
Viktoria says it took just four days for Lillia and Ivan to be welcomed into St Joseph's National School in Dundalk.
"The children just flourished," says principal Dr Roz Morris.
"I remember the day Viktoria walked into the school. We're the kind of school where you just put your arms around them and say, you'll be alright. They actually enriched our whole school community."
As the war in Ukraine continues into the winter, some of those who fled abroad have been returning home. Our Europe Editor @tconnellyRTE met one woman who had spent four months in Dundalk with her children, but returned to Ukraine to make her own contribution to the war effort. pic.twitter.com/72S9eZvevO

— RTÉ News (@rtenews) November 22, 2022
While both Ivan and Lillia had limited English, they were able to fit in as the teachers used translation apps and other teaching aids.
"They settled in really well," recalls Ivan's teacher Sara Nixon. "Ivan was really confident and enjoyed football. So it was easy for him to mix with the boys in the yard."
Like many of the 63,000 Ukrainians who would eventually arrive in Ireland, Viktoria threw herself into fundraising.
"I had a feeling that I needed to do something," she says.
"I was sad but I kept myself busy, I tried to find ways to help others, and I was trying to find someone who could help Ukraine as well.
"I was talking to neighbours, to my daughter's godmother's boss, their company donated some funds for Ukraine, so I was actively looking for connections to help with food, clothes and medicine."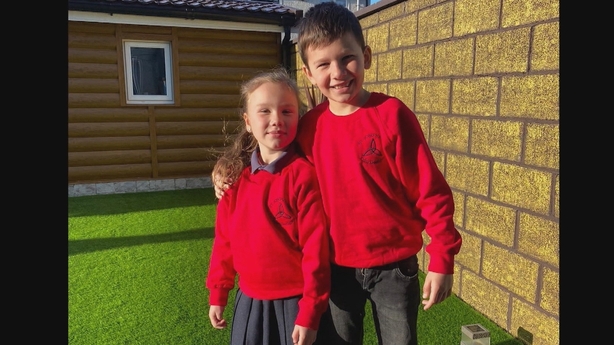 Viktoria and her two children would try to see as much of the country as possible, visiting Dublin, Wicklow and other beauty spots.
But the news from home was changing. In March, Russian troops were just 8km from her hometown of Brovary, a satellite town an hour's drive east of Kyiv, but by the end of the month, those troops had retreated due to heavy losses.
Viktoria says she was "extremely homesick", missing her husband and family.
Friends were texting saying "we need you here".
"We were very worried," says Viktoria. "But we were ready to sacrifice our home to prevent the Russians from reaching Kyiv."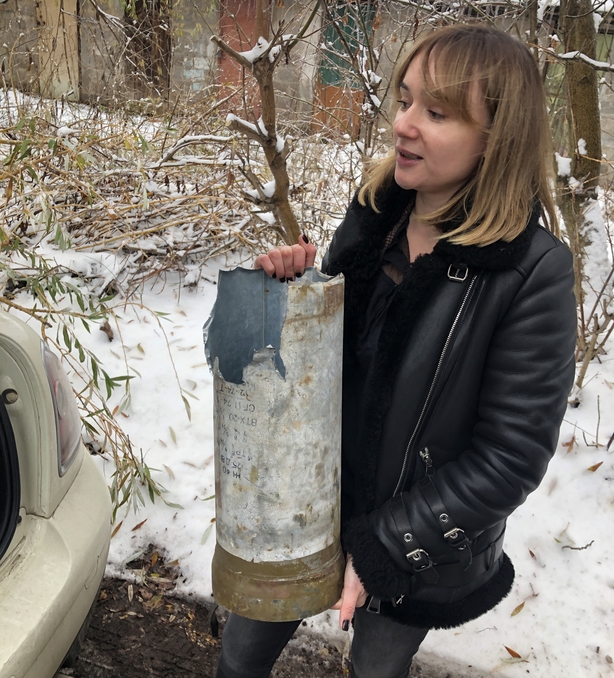 Just days after the school term finished, Viktoria, Lillia and Ivan flew to the Moldovan capital Chișinău and crossed the border back into Ukraine to be reunited with her husband and the children's grandparents in Vinnytsia.
Leaving the children with their grandparents for the summer, Viktoria returned to Brovary.
She joined Gortom UA, a Ukrainian charity set up to provide support to those suffering from the war and to provide urgently needed materials for frontline troops (she and others are now selling used Russian tank shells from the east and using the proceeds to buy winter clothing for troops).
Meanwhile, in conjunction with its partner organisation Ukrainians in Ireland, Viktoria arranged for shipments of clothes, footwear and medicines from Dublin, which were then distributed via the local administration in Brovary.
As winter sets in, and as Russia intensifies its bombardment of civilian energy infrastructure, such resilience is the watchword of the popular response, now that the war has entered its tenth month.
"Ukrainians are very resourceful and problem-solving," says one Western diplomat.
"Their resilience is not bravado, it is a very deep and sincerely held mentality. They have set out their stall and are ready to endure a hard winter. It won't be possible to bully them into submission."
But no one is doubting the challenges.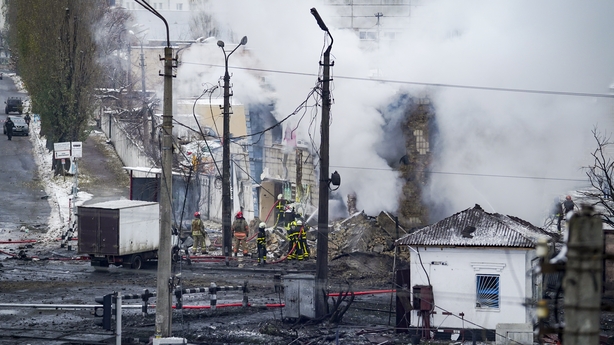 Since Ukrainian forces managed to bomb the Kerch Bridge linking Russia with Crimea on 8 October, Moscow has launched 600 missiles against Ukrainian cities, hitting power plants, hydroelectric facilities, water pumping stations and treatment facilities and high-voltage cables around nuclear plans.
The most devastating wave of strikes yet took place this week, when Russia fired 70 ballistic missiles and five kamikaze drones at critical infrastructure targets and residential buildings.
Although the Ukrainian authorities say 51 missiles were intercepted, the damage was widespread.
All of Ukraine's nuclear plants were knocked off-line for the first time, causing blackouts across the country which even spread into neighbouring Moldova.
In Kyiv, just under two-thirds of the population were without essential services for over 24 hours, with surgeons at the Kyiv Children's Heart Hospital having to use head torches in the middle of a life-saving operation on a child when a power outage struck.
"When the temperature outside drops below zero and tens of millions of people are left without electricity, heat and water as a result of Russian missiles hitting energy facilities, that is a crime against humanity," Ukrainian president Volodymyr Zelensky told the UN Security Council on Wednesday night via video link.
Power outages are scheduled but they have cascading effects.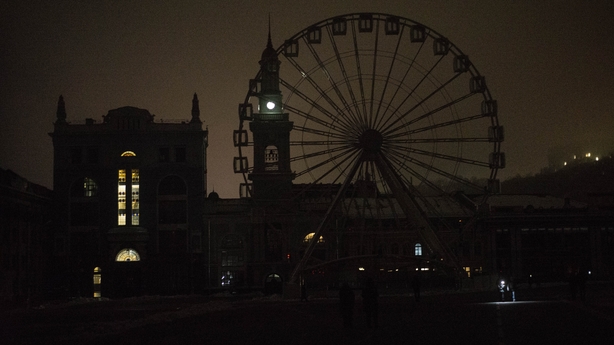 Volodymyr Panaseyko, who before the war was importing American cars into Ukraine, now finds himself climbing 23 flights of stairs six times a day in their apartment block in Brovary, sometimes with five-litre containers of water, to ensure that he, his wife and two children can survive.
"It's really very difficult, because your time is highly dependent on whether electricity is on or off," says Volodymyr.
"You charge everything you can charge, desk lamp, tablets, cell phones, power banks, when the electricity is on. You must get clean water to cook or for drinking, you need water for washing hands or using the toilet. We cannot say this is a normal life."
Their children spend two weeks studying online at home, and two weeks at school, but even then there is often no electricity at school. While the outages are scheduled by the local council, the blackouts take their toll.
"There is no water, no heating, no internet, no mobile connection. It's like the time of the dinosaurs," says Volodymyr.
"Blackouts a few times a day for four or five hours we can manage, but if it's a blackout for a week I don't know what we'll do."
But the missiles are taking a more immediate and savage toll on civilians. Eleven people were killed during Wednesday's wave of attacks, including five at a residential building on Vyshorod, just north of the capital.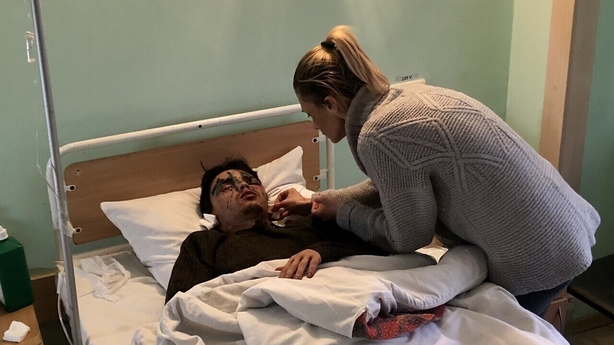 Yuliya Sidorchuk was in her apartment when the missiles struck. "My daughter was sitting painting a cat for her homework and my son was sleeping. I heard three sounds - boom, boom, boom - then I looked around and my daughter was under the table.
"My children were very scared, my daughter was screaming, 'where is dad, where is dad?' He was working in Kyiv. I tried calling him but I couldn't reach him."
At Kyiv Regional Hospital, 23-year-old Rostyslav Perevedentsev lay with his face lacerated and disfigured, his purple eyes closed and swollen.
After the first missiles landed he went into his bedroom to grab his phone to leave when his apartment block took a direct hit.
He was thrown to the floor, his face and eyes pummelled by shards of glass. He will lose sight in one and it is not clear if he will regain sight in the other. A neighbour lost both eyes.
His distraught mother Yuliya searched frantically for him at the destroyed apartment complex, finally discovering him at the emergency department in the hospital.
"The doctor came out and spoke about the eye which couldn't be saved. I don't know, at 23 years of age he has lost an eye," she said.
There are very few signs that the horrors visited upon civilians are prompting them to press their government to sue for peace.
But Kyiv is bullish about its prospects for victory on the battlefield, despite warnings from western analysts that winter will slow down the counter-offensives against occupied territory in the east and south.
"Ukrainian counter-offensives will not stop regardless of weather conditions, regardless of nuclear blackmail, regardless of Dirty Bombs blackmail, regardless of missile strikes in our capital and other Ukrainian cities," says Yuriy Sak, a senior advisor to the Minister of Defence.
"We are realistic about the weather conditions. Of course, we have to factor them in so the tempo of this dynamic warfare could vary.
"But it is not clear yet what kind of winter we're going to have. It could be a mild winter - there are some weather forecasts now that indicate that. So we'll have to see."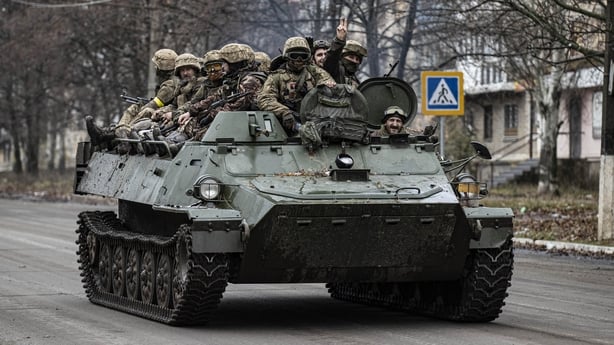 Diplomats acknowledge that the effectiveness of the Ukrainian armed forces was not appreciated at the outset of the war.
"A lot of well-respected analysis underestimated the Ukrainian army," says one diplomat.
"A lot said they wouldn't re-take Kherson, that Russia would get all the way to Odesa. I wouldn't exclude the possibility of another surprise in the Donbas."
But the war is taking its toll on the resources of both militaries, with Russia, in particular, grinding through large volumes of artillery shells for their slow attritional progress along the eastern front this summer.
While Ukraine has benefitted from substantial amounts of weaponry from western stockpiles, those capabilities are struggling to be replenished.
"The US defence industrial base and, particularly the European defence industrial base, have demonstrated that our output is quite low in key areas like artillery ammunition, rocket ammunition, and a lot of what's been given is forcibly given out of stockpiles, which is, essentially, pulling out of your ammunition savings account," Michael Kofman, of the Russia Studies Program at the Center for Naval Analysis, told a Foreign Affairs Magazine online event.
"The longer the war goes on the more challenging it is because you begin running out of ammunition at an excessive rate."
Yuriy Sak says Ukraine is confident that defence orders are being processed and that the weaponry that is needed the most is available.
"Some of the weapon systems we're asking for, whether it's air defence systems or tanks, they are the ones that can be easily taken off from the [stockpiles] of our allies," Mr Sak told RTÉ News.
"The defence sectors of those countries can produce MoD stuff and replenish the stock. It's an ongoing process. It's not like everybody stopped, gave things to Ukraine, and now everybody's at risk of sitting without military equipment."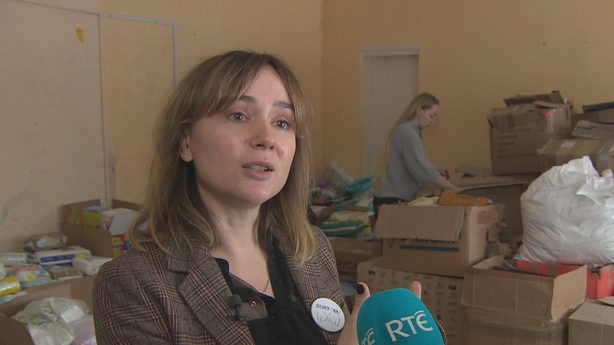 In Brovary, Viktoria Volynets acknowledges that the longer the war drags on the harder it will be for the west to sustain its support for Ukraine, especially given the collateral hit to the cost of living.
"We understand that the war has also affected other countries," she says in the chilly distribution room in Brovary.
"Prices have gone up, energy bills. People are saying, 'winter is coming and we need to think about ourselves, the prices are rising here and we can't help as much as we used to in the past.
"This is normal. But we still need to understand that we have to stick together because only together can we win this war. We're asking for help and we'll keep asking our partner countries to keep supporting us.
"This might last for several years, but we need to keep talking about this and deliver information to people who live abroad about the fact that the war is still here. It hasn't gone anywhere. We still need help, whatever we can get."
Her children Lillia and Ivan miss Ireland but they are happier in Brovary, despite the missile strikes and the vicissitudes of daily power cuts.
"They made a lot of friends in Dundalk," says Viktoria.
She says: "Now they're texting back and forth. [Their friends] are asking how are they doing because they hear the news about the bombs and we live close to Kyiv. Even teachers are asking how we are. They miss our kids, they worry and care about us."
---
Read latest stories on Ukraine
---
The resilience, even defiance, is pervasive, but it does not appear affected, whether it is within the military or among the population.
"Since the very first day," says defence ministry advisor Yuriy Sak, "the Ukrainian army has shown to the world that we are heroic, we are resilient, and we are determined to win. We are driven by our understanding that this is a war for our survival."
A Wall Street Journal poll in June found that 89% of people would not accept peace if it meant surrendering territory Russia had seized in the war.
A Gallup poll in September found that 91% of Ukrainians regarded victory as recovering all the land occupied by Russia, including Crimea.
Oleksiy Ischuk, a Ukrainian Navy Seal who lost a leg during fighting near Donetsk on 15 August, said: "I don't think any negotiations are possible now. They could have happened at the beginning [of the war].
"The Russians have caused so much damage and caused so much suffering for our country that we can't negotiate now. Ukrainians are strong. We will overcome these difficulties in the cities with the loss of power and water. But no negotiations."
On the 23rd floor of the tower block in Brovary, Volodymyr reflects on the same question.
"Putin will not succeed. They won't beat us. We will be strong and we will suffer this punishment with honour."
In Kyiv Regional Hospital Yuliya Peredentsova, weeping at her son's bedside, says: "I want them to be punished to the fullest.
"I don't want to say anything bad because my son is injured, because I have to be focused on his health, but the punishment will come. I believe in our victory, and will not surrender."
---
Tony Connelly's special report on Ukraine's Winter War will be broadcast on Tuesday night's Prime Time at 9.35pm.