Family carers are bearing the brunt of the cost-of-living crisis and long-term sustainable funding must remain a priority for the Government, according to their representative group.
Carers gathered in Dublin today for their national awards which are organised by Family Carers Ireland.
The charity's Head of Communications Catherine Cox said family carers were the bedrock of care and support and said the past two years have been particularly tough for them.
She said carers on low incomes were bearing the brunt of exceptionally high inflation, including a rapid rise in the cost of food and energy pushing them further below the poverty line.
Ms Cox said that the awards are about recognising the work that family carers do behind closed doors.
Speaking to RTÉ's News at One, she said that there are 500,000 family carers in the country.
Ms Cox said: "They care for loved ones at home, whether it's a child, an adult or an elderly parent or relative and they do it out of love for the person they are caring for, so it is such a crucial role in our society."
She also said that the level of respite provided does not match the level of need.
"Respite is a bigger challenge than ever," she said.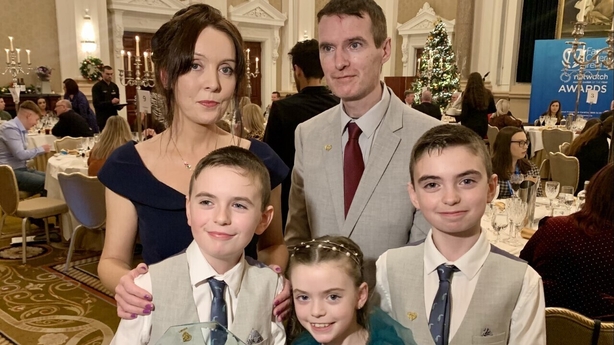 For Limerick woman Colette O'Shea, who was named Netwatch Family Carer of the Year at a ceremony in Dublin today, there is no let up.
A mother-of-three, one of her children has extra medical needs, and her husband Kieran has been diagnosed with dementia and motor neurone disease.
He is just 47-year-old and earlier this year he had to give up his job.
Ms O'Shea gives constant care.
"I get up at seven o'clock in the morning and get the kids ready, go to school with them, come back home, take care of Kieran and Kieran can't be out of my sight even for a second..it affects his swallow mainly and his speech, but also affects his upper part of his body," she said.
"He's become very weak so he would need help with dressing with tying shoes and with washing.
"Just generally most things that you would use your hands for."
Mr O'Shea was diagnosed in January and local care centres do help, but Ms O'Shea says she has little if no time for herself.
"No, I never get a break. I'm on the go from seven in the morning until maybe 12 o'clock at night," she said.
"If someone told me five years ago this would be my life today, I would've never believed it.
"It's exhausting. You don't have time to really stop and think. It's like a merry go round that you can't get off."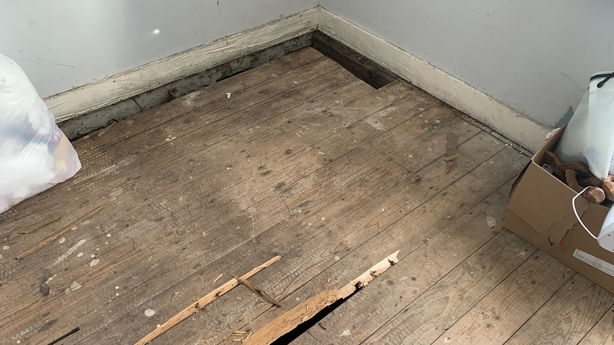 The cost of living crisis has hit the O'Shea's hard too.
"It's very worrying, especially, the heating. I mean the price of oil has nearly trebled, compared to, say a year ago," Ms O'Shea said.
"We mainly have a fire on during the day as well and the price of coal is phenomenal as well.'
Ms O'Shea does receive allowances such as the Carer's Allowance and the family gets help too from the St Vincent De Paul to make ends meet.
Her eldest son, Luke, has medical needs which means regular trips to Dublin - that too adds up she says.
And to make matters worse, the family home has fallen into disrepair.
Today though, there was a break, some respite for Ms O'Shea and her family.
Clearly surprised and delighted by the recognition, Ms O'Shea said it a marvellous honour.
A welcome recognition in challenging times.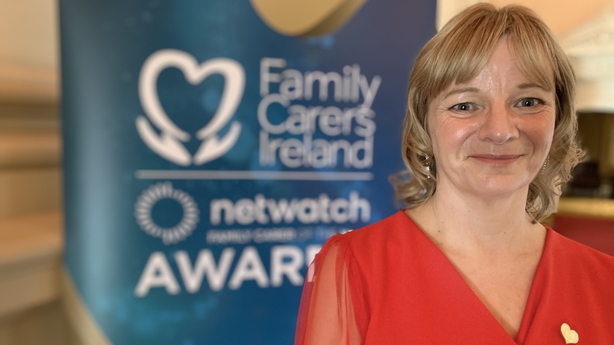 This is a particularly stressful period for carers according to Family Carers Ireland.
Ms Cox from the charity says: "Family carers are the bedrock of care and support in this country, and we need to do everything we can to help them.
"It's been such a tough couple of years for them because of the pandemic and we are worried that for some, the cost-of-living crisis they are facing could be the final straw.
"Family carers on low incomes and providing round the clock care are at crisis point - bearing the brunt of exceptionally high inflation, including a rapid rise in the cost of food and energy pushing them further below the poverty line."