An inquest into the deaths of 48 people following the 1981 fire at the Stardust nightclub in Dublin is now not expected to take place until April next year at the earliest.
An April 2023 date would be more than 42 years after the Valentine's Day blaze.
At a pre-inquest hearing, Dublin District Senior Coroner Dr Myra Cullinane said that more than 300 witnesses were listed to be called and that process of getting the inquest under way could take 19 or 20 weeks.
A further hearing has been scheduled for next month.
Speaking after today's hearing, Antoinette Keegan, who lost two sisters in the blaze, said: "It is a little bit disappointing but at the same time it was positive.
"It's the first time that we've actually heard that the inquest is going to start. We've been left in limbo for so long and not knowing when it was going to happen."
Referring to the coroner's comment that the inquest could not be held until April next year at the earliest, she said: "What we're looking for is to shave that back, bring it forward, earlier, say to February, March.
"We're ready to go and it's just the Minister for Justice needs to get the resources together to go out and look for the witnesses and also for the jury to be appointed."
Ms Keegan, along with former RTÉ correspondent Charlie Bird, carried a large banner to the gates of the hearing at the Pillar Room in the Rotunda, which they hope can be retained as a venue for the inquest once it begins.
Today's hearing follows the rejection at the High Court earlier this year of a challenge by the former Stardust nightclub manager Eamon Butterly, who wanted the court to rule that a verdict of unlawful killing should not be open to a jury at an inquest.
However, Mr Justice Charles Meenan ruled a verdict of unlawful killing could be permitted where no person was identified.
Ms Keegan, who lost her sisters Mary and Martina in the blaze, arrived at the hearing along with Phyllis and Maurice McHugh, who lost their daughter Caroline.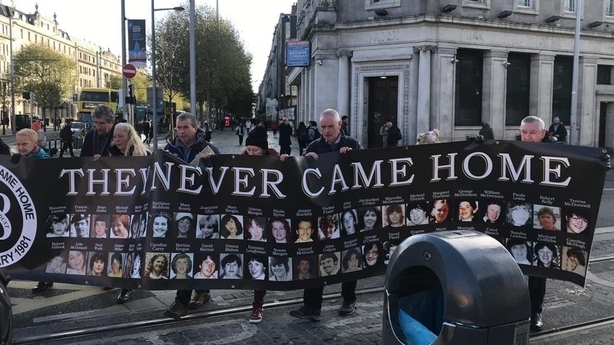 Siobhán Kearney, who lost her brother Liam Dunne, was also in attendance along with other family members.
Gertrude Barrett whose son Michael Barrett, a DJ at the nightclub, died in the blaze said that families have had to wait 41 years, which was too long and an "abuse".
Ms Keegan welcomed the coroner's decision that "pen portraits" of the families' loved ones would be given before a jury.
"It's important that a jury identifies my two sisters, Mary and Martina, who they were, what they have achieved in life and what they wanted to be and all that was taken away on Friday the 13th and Saturday the 14th. So it's really important to identify the person rather than look at a photograph," she said.