More than 67,000 students have received the long-awaited results of their Junior Cycle exams today, five months after they sat the tests.
These are the first Junior Cycle results to be issued in three years after the State examinations for school students were cancelled during the pandemic.
The State Examinations Commission (SEC) has singled out a shortage of examiners as a key factor in the delay in publishing the results and has said the recruitment and retention of teachers is now an "urgent whole of system issue".
Commenting on the delay in issuing the results, the SEC said the pandemic exacerbated pre-existing "significant difficulties" in recruiting teachers to mark exam papers. It has said the recruitment and retention of teachers is now an "urgent whole of system issue".
The SEC says the number of examiners correcting State examination papers fell by almost 14% this year compared to 2019, while the number of candidates sitting exams rose by 4%.
The cumulative fall over the past decade was 19%, while candidate numbers rose by 11% over the same period.
The drop in the number of teachers willing to correct exam papers has occurred despite increases in payment rates this year which the SEC said are between 17% and 57% depending on the subject and level.
The President of the Teachers Union of Ireland (TUI) said there was "a myriad of issues" that led to the delay in Junior Certificate results.
Speaking on RTÉ's Drivetime, Liz Farrell said the recruitment and retention issue in the teaching sector has gotten worse and they have been "banging the same drum" for some time now.
"What we need to look at is first of all giving new entrance teachers full jobs when they begin rather than short hour contracts that aren't sustainable," she said.
"They don't get paid for their holidays therefore they can't undertake SEC work because they need weekly payments."
Ms Farrell also said a TUI survey showed 68% of new teachers said they were not being awarded full hours.
She added that they need to be offered enough hours to sustain a living.
'The hard work paid off' - students at Clonturk Community College in Whitehall, Dublin react after receiving their delayed Junior Cycle results | Read more: https://t.co/irkJtttBiA pic.twitter.com/BBqtimKBBW

— RTÉ News (@rtenews) November 23, 2022
Students are being given their results at their schools today and from 4pm they can access them online.
This year's results also mark the completion of the move from the old 'Junior Certificate' system to the new Junior Cycle framework.
The new curriculum has been phased in subject by subject over recent years and this year is the first that sees all subjects examined as part of the new reformed programme.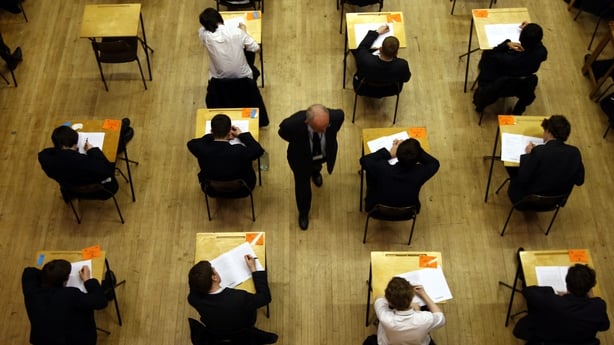 The shift is reflected in the grades that students will receive today. Instead of the old alphabetical reporting structure that many of their parents will be familiar with, students will receive grades ranging from; Distinction, Higher Merit, and Merit, to; Achieved, Partially Achieved, or Not Graded.
Like Leaving Certificate students this year's Junior Cycle teens had their assessment arrangements adjusted to compensate for the disruption to learning during the pandemic.
They were not required to complete assessment tasks for some subjects and changes were also made to the timing and/or the requirements of practical or coursework components.
Under the new curriculum, all subjects apart from Irish, English, and Mathematics are now examined at one Junior Cycle Common Level as opposed to Higher and Ordinary.
Schools will now combine the results achieved in the exams with outcomes from other learning measured by their teachers to form a "Junior Cycle Profile of Achievement" for every student.
This replaces the old "Junior Certificate", which is no longer issued by the SEC.
The SEC has said that there is no valid basis for comparison between results of subjects examined under the new Junior Cycle and their equivalent under the old Junior Certificate process because the subject specifications have changed so much.
---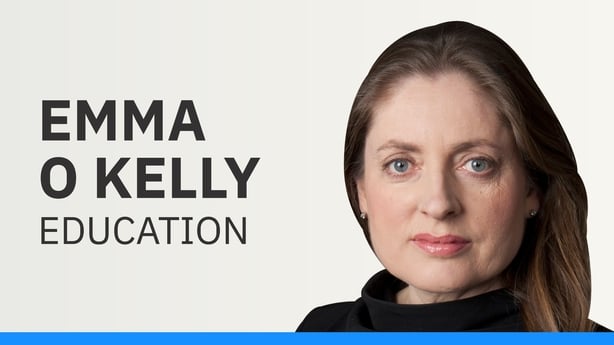 More than five months after they sat their Junior Cycle exams, students at Clonturk Community College in Dublin were glad to finally be receiving their results, but many felt that those marks harked back to a distant time.
Like students across the country they have moved on. They are now immersed in Transition Year activities.
"I feel like the hard work paid off but when you are looking at them you can't really remember the questions that you did," Evan Smith told RTÉ News. "You can't say 'oh that's where I went wrong'".
"I feel like it's so much later in my life now that it doesn't have as much of an impact," Aleksandra Raudive told RTÉ News. "I would have been really excited to receive them like a week later but like it's still nice to see these."
Like many other students at Clonturk, Aleksandra is pleased with her results. "I feel actually pretty good. I wasn't expecting what I got so I'm really happy with it."
Some students celebrated their results by dressing for the occasion.
Séan Whelan was one of several students sporting suits, and he topped off his look with a flamboyant Peaky Blinders style flat cap. "We are very happy" he and his friends laughed, "I look like a Peaky Blinder, bish bash bosh, that's how you do it".
His friend Jake Harvey was delighted with a merit in Irish, which he didn't expect. Jake baulked a little when I switched from English to Irish, but he acquitted himself perfectly. "Sea" he said "Tá mé ana sásta".
Some had yet to open their envelopes. "I didn't check mine yet" said Summer Eustace Hynes. "I'm just too scared."
Coral Jason was delighted with a "good handful" clutch of Distinctions she achieved. They are the highest possible grade, representing a score of 90% or more.
Coral has her eye on Medicine as a future career and is thoroughly enjoying the opportunities of TY.
"I'm really proud of my results. I'd like to pursue medicine, that's my passion, and TY has just been brilliant in that I've gotten to test out different areas of the healthcare system. I've been with physiotherapists, occupational therapists, and I'm really enjoying it all at the moment."
Daisy Keogh was another student dressed flamboyantly for the occasion. Daisy wants to pursue a career in fashion or art, and was pleased with her Higher Merit in that subject.
TY students at Clonturk are going ice skating on Friday to celebrate their achievement.
---
Over 170 mature students
Of the 67,130 students who sat the Junior Cycle exams this year 176 were mature students.
The SEC says that "despite extensive and ongoing efforts" the number of examiners this year fell short of the number required, and a range of interventions was needed to complete the marking of subjects, which included marking well beyond the normal time and examiners agreeing to take on additional scripts.
It said further contingency measures were required in some subjects to complete the marking in recent weeks.
The SEC says its "continued objective is to substantially increase the number of teachers involved so that the experience is a positive one which greatly enhances teacher professional competence as well as earning power".
The increased pay rates, introduced this year on a once-off basis, will be left in place for next year. Teachers are paid per paper they correct.
However, it remains to be seen if the increased rates will be enough to attract teachers in the coming years.
Many are increasingly reluctant to take on what they say is the highly pressurised task of correcting exam papers during summer holidays, and some say stronger incentives are needed.
Describing why they would never correct papers again one teacher told RTÉ News of her recent experience.
"I had 300 exam papers and 300 projects to correct. The marking scheme was changed four times during the process with the 4th change happening after I had 100 papers corrected.
"Every time there is a change you have to go back and recorrect all previous papers and you only get paid to correct each paper once. The process took a full 3 weeks, correcting 12 hours per day, and I earned €1,200."
Students have until Wednesday 30 November to appeal the results. Marking schemes will be published later this week.
Meanwhile, the SEC has said it was aware of a student that was able to access their Junior Certificate results a week early.
The commission said that following intermittent testing of the system last Wednesday, it was contacted by a school to let them know that a candidate could access the system.