The Tánaiste Leo Varadkar has praised the Taoiseach Micheál Martin but slated Sinn Féin in his address to the Fine Gael Ard Fheis in Athlone tonight.
On the Fianna Fáil leader, Mr Varadkar said Mr Martin has been a "good" Taoiseach and Fine Gael thanked him.
To applause from delegates, the Tánaiste said: "Through difficult circumstances, including the later stages of the pandemic and the war in Ukraine he [Mr Martin] has been a voice for decency, kindness and for common sense."
However, Mr Varadkar castigated Sinn Féin for being, what he termed, the clearest manifestation in Ireland of the rising populism and nationalism in the world.
He said: "All the hallmarks are there - simple solutions to complex problems, elevating anger over facts... conspiracy theories."
The Tánaiste restated his opposition to ever going into coalition with Sinn Féin.
He told delegates: "Coming into this campus today, someone asked me would I ever consider going into coalition with Sinn Féin. I gave them a clear and unambiguous answer from all of us - No... No way... not a chance."
We need your consent to load this rte-player contentWe use rte-player to manage extra content that can set cookies on your device and collect data about your activity. Please review their details and accept them to load the content.Manage Preferences
On justice matters, Mr Varadkar said Fine Gael is "determined" to ensure that criminals are punished.
He said the party would double the maximum sentence for assault causing harm from five to 10 years.
He added they would also increase the maximum sentence for conspiracy to murder from 10 years to life, in order to take on those who direct gangland violence.
Mr Varadkar said judges would be allowed to impose minimum tariffs for life sentences for the most serious crimes.
On tax, he recommitted to ensuring that no individual earning below €50,000 would pay the top rate of tax.
He told delegates: "Next year, a middle-income couple will pay €2,000 less in income tax under Paschal [Donohoe] than they would under Pearse [Doherty of Sinn Féin] - and that's a fact."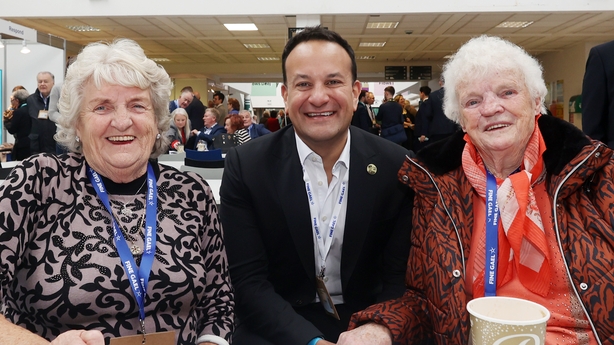 On climate action, the Tánaiste admitted that there was "a long way to go" but he felt that progress was being made.
He said: "We moved from laggard to mid-table. We should now aim to be a leader."
On childcare costs, Mr Varadkar said the Government had reduced costs by 25% in the budget and would do the same again in the next budget - but entered the caveat "if the public finances allow".
On housing, the Tánaiste said the Government needs "to do much more" and "accelerate" its Housing For All Plan.
He said 16,000 people bought their first home in the last 12 months and that total was the highest in 15 years.
He added there was a need to build "even more social housing", contending that new social housing provision will break records this year.
Mr Varadkar told journalists last night that Fine Gael is a party voters can trust in difficult times, because it has been tried and tested in Government.
'Leadership, Stability and Vision' is the slogan being used by Fine Gael to describe this year's Ard Fheis, which is being held at the Technological University of the Shannon.
It is the first in-person Ard Fheis since 2019, due to the Covid-19 pandemic, and comes just weeks before Mr Varadkar takes over the role as Taoiseach for the second time.
Several motions before delegates go against existing Government policy.
The Galway East Constituency Executive is calling for the immediate removal of the concrete block levy as purchasing a home will become more expensive.
The Ballinasloe Branch in Roscommon-Galway is calling for the reopening of the Shannonbridge and Lanesborough power stations.
Speaking in advance of the Ard Fheis, Mr Varadkar said Fine Gael was holding the event in Athlone, partly to showcase that the Midlands has the lowest unemployment rate of any region in the country and experienced the biggest increase in new jobs last year.
The Ard Fheis has passed a motion calling for the removal of the requirement of a UN mandate before Irish troops can be sent abroad on missions.
The motion from Dublin Bay South, Young Fine Gael Branch, had called for the Government to change the "triple lock" to a "double lock" in which a Cabinet decision and Dáil vote would allow more than 12 Irish troops overseas.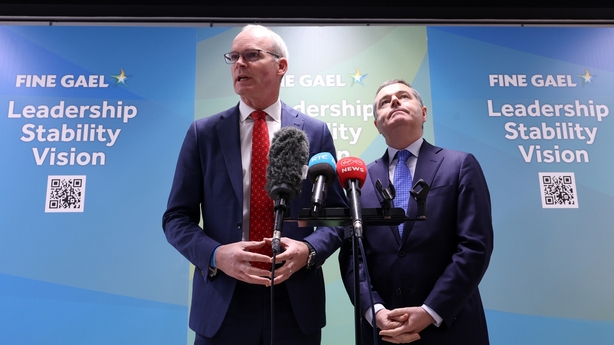 Earlier, Minister for Foreign Affairs Simon Coveney said that it would not be a "radical change" for Ireland to remove the requirement for a UN mandate before Irish troops could be sent abroad on missions.
Speaking at the Ard Fheis, he said: "I would regard that move as a sensible change - recognising the limitations of the triple lock in terms of the ability of the Irish parliament and the Irish Government to take a decision to be part of a peacekeeping operation."
He said the requirement for a UN mandate "... effectively means that a country like Russia can veto what Ireland chooses to do. Is that neutrality?"
Mr Coveney said he believed that the triple lock had served Ireland well.
"I think it has been a reassurance to people to have a UN mandate, to have a government decision and a parliament supporting that decision," he said.
However, he said that global politics has changed in the last year and he believed that a lot of Irish people would feel "uncomfortable" with the fact that somebody making a decision in the Kremlin could frustrate a UN mandate and effectively veto whether Ireland could participate in a UN mission.
The minister said changing the triple lock was therefore not a radical change but a response to a changing political environment globally where tensions in the UN Security Council means that getting a mandate is "much more difficult and complicated".
"I don't regard actually changing the triple lock, should that happen, as a change to Irish neutrality at all. In fact, it is only allowing us to make decision for Ireland," he said.
Mr Coveney said the Government is not going to take a "knee-jerk reaction" to the decision by Russia to place 52 Irish politicians and officials on a banned list.
"What's happened this week is an attempt by Russia, in my view, to unsettle the Irish political system, to divide people and to get Ireland talking about who's on lists and who's not," he said.
The minister said what Ireland should be talking about "is the war proper, and the potential war crimes that are being committed on a daily basis in Ukraine".
He repeated his opposition to expelling the Russian Ambassador to Ireland. saying that "keeping diplomatic channels open, even in circumstances like we are currently experiencing, makes sense".
On the possibility of Russian Embassy officials being expelled from Ireland, he said the matter was under constant review.
Meanwhile, the party's membership voted against a motion at the Ard Fheis that called on the Government to send javelin anti-tank weapon systems to Ukraine.