The National Paediatric Hospital Developmemt Board has said that progress has advanced significantly on the new children's hospital.
The façade of the building is complete and internally the most advanced areas have completed floors, walls and ceilings, and joinery such as nurses' stations are already fitted. In the 380 single, ensuite inpatient rooms, and the 93-day beds, the bathroom fittings and final finishes are being installed.
Taoiseach Micheál Martin and Minister for Health Stephen Donnelly visited some of the most progressed areas in the building including one of the hospital's 22 operating theatres, the 60-bed critical care unit and an ensuite inpatient room.
The rooftop helipad will facilitate rapid, safe transfer for sick children and young people, as well as for adults attending St James's Hospital.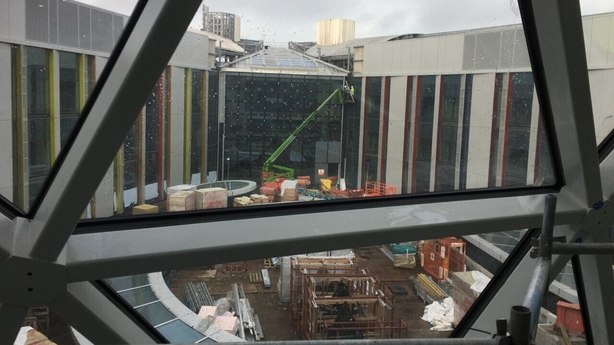 The final cost of the project is expected to be over €2bn.
Construction on the new children's hospital began in July 2016.
The facility at the St James's University Hospital campus in Dublin is almost 80% complete.
The three existing children's hospitals at Crumlin, Temple Street and Tallaght will move to the new site and are already under the operational control of Children's Health Ireland.
The state-of-the-art facility is due to be substantially complete by March 2024 and will then be handed over to Children's Health Ireland for a period of commissioning.
The likely opening will be the very end of 2024, or sometime in 2025.
The builders BAM have over 900 claims in for extra costs, which have all reportedly risen due to inflation, Covid-19 delays, Brexit and other factors.
The Taoiseach has said that lessons have to be learned around procurement and contracts regarding the new national children's hospital.
He said that in the fullness of time, a full evaluation of these matters will take place and that is had been a difficult journey.
Mr Martin said the project was a significant undertaking and that the hospital would be a superb facility.
He said the fundamental objective was to develop a hospital for the future to ensure better outcomes and better survival rates.
Sinn Féin's health spokesperson David Cullinane said that there are issues in relation to the spend of taxpayers money, cost overruns, the procurement process that was used, and also delays in when the actual hospital will be fully opened and providing a service for children.