There is no need to be worried about the supply of turkeys for Christmas at this stage, following an outbreak of avian flu at one turkey flock in Co Monaghan, according to the Minister for Agriculture.
Efforts are ongoing to contain the further spread of avian flu to commercial poultry flocks after tests confirmed the presence of bird flu in a flock of turkeys close to the border near Clones.
The entire flock of 3,000 birds will be culled and restriction zones around the infected holding have been put in place.
The culling of the flock will not start until tomorrow morning, an operation that is expected to take more than one day to complete.
Following culling, the premises in question will be cleaned and disinfected.
Birds in the infected flock had been tested on Saturday following concerns about the illness being notified to the Department of Agriculture, and now the entire flock will be destroyed and will not enter the food chain.
Minister for Agriculture Charlie McConalogue said that he is "very confident" that turkey supply will not be impacted.
He said that the case today is a "small flock in the context of national supply".
Speaking to RTÉ's Drivetime, he said that because of the steps and protocols in place, he is "very confident" that it will not affect supply, but that "we can't guarantee that some other farms wouldn't be affected over the next period of time, as happened last winter".
He added that farmers across the country are "taking this very, very seriously" and that it will be very difficult to contain Avian flu.
"We're taking every step we possibly can to contain it," he said.
Speaking this morning, Deputy Chief Veterinary Officer at the Department of Agriculture, Food and the Marine. Dr June Fanning said the risk of avian flu is higher this year because the virus has been circulating among wild birds since July, adding that it was a very worrying time for poultry owners.
However, she added that those in the industry have been great at complying with the regulations.
This is the first outbreak, Dr Fanning said, and flock owners will have to maintain vigilance.
"This is one outbreak … at this point there is no reason to be concerned about supply. Industry have been great in working with us, they have been very good at complying with all the legal requirements," she said.
She added: "There is no reason to be concerned at this stage. The risk of further spread is out there but industry and ourselves are working very hard to prevent and mitigate that risk"
Dr Fanning said that it was "very easy" to walk the virus from a potentially contaminated area into a flock.
"It is a very worrying time for poultry owners and they have to maintain vigilance ... It's 24/7. It's relentless," she said.
"It's only as good as the weakest link. It's very easy to walk the virus from contaminated environments into flocks of birds. And both industry are working very well with us and will continue to do so."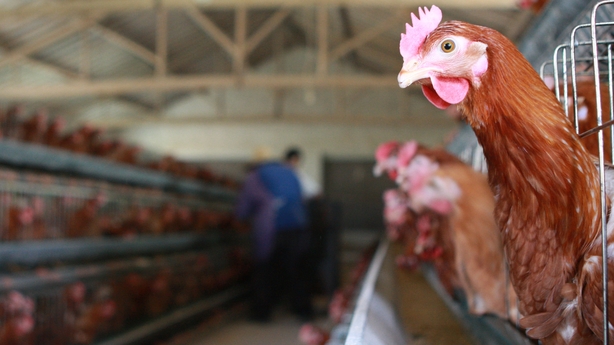 "All we can do is follow the measures and keep the measures in place that will help to mitigate the risk of spread of disease."
Dr Fanning explained that all birds on the infected premises will have to be culled because it is a highly pathogenic disease and the premises will be cleaned and disinfected.
Restriction zones around the poultry farm, which is close to the border with Co Fermanagh, have been put in place for up to 30 days.
It will be a number of months before the premises can be re-populated, she added.
In the 3km radius around the infected farm now deemed a protection zone, all movements of poultry, and poultry-related products, including eggs for consumption must first be licensed by the Department of Agriculture.
In the 3km zone and the wider 10km surveillance zone, numbers of poultry flocks will be visited and sampled for avian flu testing, and general precautions such as keeping birds housed, restricting access to farms and disinfection regimes all still apply.
The restriction zones both extend into Co Fermanagh where officials from Northern Ireland's agriculture department will enforce their own similar regulations.
The Chairperson of the IFA's Poultry Committee said avian flu is a daily worry for farmers.
Speaking on RTÉ's Today with Claire Byrne, Nigel Sweetnam said there are financial implications, but there is also a huge mental concern, because farmers are living with a daily fear that they might introduce something to the poultry house.
However, he stressed that there is "zero risk to the food chain".
Additional reporting: Joe Mag Raollaigh