Taoiseach Micheál Martin has said it is possible to resolve the Northern Ireland Protocol issue if there is momentum put behind substantial negotiations.
The British-Irish Council is meeting in Blackpool and has been discussing ways to increase co-operation amid growing global economic challenges.
Speaking at the conclusion of the Council meeting, he said there are issues that must be worked out and mutually agreed mechanisms must be explored.
He believes British Prime Minister Rishi Sunak understands where the EU is coming from and that is a good basis for negotiations.
British Minister Michael Gove said any move to pause the Northern Ireland Protocol currently going through the House of Lords would be "above his pay grade".
But he said he is a "glass half full" person and believes that progress can be made on the Protocol issue.
Yesterday, the Taoiseach said that both himself and Mr Sunak have agreed there is a window of opportunity to resolve issues regarding the Northern Ireland Protocol.
"It's very clear to me that the prime minister desires a negotiated resolution ... that works," Mr Martin said following his meeting with Mr Sunak.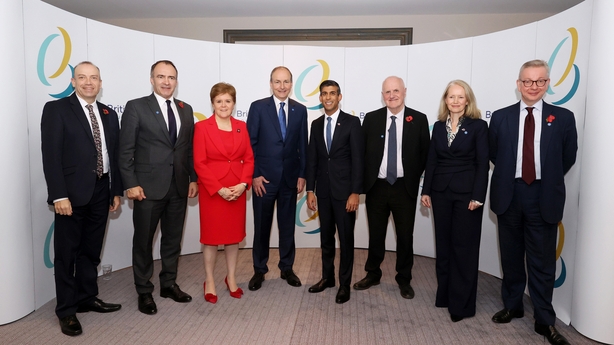 He said this would then facilitate political stability in Northern Ireland in terms of the restoration of the Executive.
Mr Martin said everyone has an idea of the challenges and he does not understate the task, but there is a strong determination there on the part of the British government and the EU.
"Both the prime minister and myself agreed that we would remain very focused on this now with a view to getting a deal as quickly as possible," he said.
Speaking to reporters, Mr Sunak said he wants a "negotiated solution" to the protocol to see devolved government at Stormont restored.
He said: "I think we all recognise that the protocol is having a real impact on the ground, on families, on businesses in Northern Ireland, threatening Northern Ireland's place in the United Kingdom. And I want to resolve that.
"I'm deeply committed to the Belfast Good Friday Agreement. I want to see the institutions back up and running in Northern Ireland because that's what the people in Northern Ireland need and deserve.
"I discussed this with the Taoiseach, we had a very positive meeting.
"And what I want to do is find a negotiated solution preferably, and I'm pleased with the progress that we're making in these early days in this job, and my focus is to try and find a resolution here, get the institutions back up and running.
"That's how we're going to deliver for the people in Northern Ireland."
It is the first time a British Prime Minister has attended the council since Gordon Brown in 2007.
The purpose of the British-Irish Council, created by the Good Friday Agreement, is to foster co-operation between the nations of the UK and Ireland.
Scottish First Minister Nicola Sturgeon said Brexit had created many difficulties and she is profoundly worried about what lies ahead economically and she predicted "incredible difficulties."
However, in terms of the relationship between England and Scotland, she said that she was encouraged by Mr Sunak's words.