The housing charity Threshold has said evictions remain the largest issue facing private renters.
Its latest report shows how an average of 472 private renters a month, who were facing eviction, sought assistance from Threshold between July and September of this year.
It said it has helped to prevent more than 1,000 households becoming homeless during this time, which included nearly 1,200 children.
The charity described the situation as "dire" and said it responded on average to one call every 20 minutes from private renters facing eviction in the first nine months of the year.
Threshold's CEO John-Mark McCafferty said, so far this year, over half of the queries received concerned security of tenure and tenancy termination.
He said this level of queries surpassed the number received on the same issue for the entirety of 2021 and was over double the number received in 2020.
He said, separate to a temporary ban on evictions, further action is required by the Government to alleviate the pressures on both private tenants and landlords.
"We are continuing to see a large exodus of landlords from the private rental sector, resulting in fewer properties available to rent and fewer housing alternatives for households who are facing eviction.
"Given the increasingly dire situation, it was necessary for the Government to introduce a ban on evictions to allow for short- and medium-term solutions to be implemented to combat the growing rental crisis.
"It is absolutely vital that the Government uses the time of this eviction ban to develop and implement measures to not only slow the rate of evictions being served to private renters, but also to increase the availability of affordable and secure homes," said Mr McCafferty.
Meanwhile, the Minister for Public Expenditure Michael McGrath said he does not believe the Government's social housing target of 9,000 this year will be met.
Speaking on RTÉ's Morning Ireland programme, he said: "We don't believe at this juncture that 9,000 will be met."
He said Minister for Housing Darragh O'Brien's estimate, which he outlined last week, is 8,000 for 2022.
However, he said they are adding social housing significantly to stock this year and, overall, for new builds they will be in excess of their target of 24,600.
"We are confident that will be exceeded," he said.
Mr McGrath defended the Government's approach to housing and said there are "headwinds" in construction.
Minister for Public Expenditure and Reform Michael McGrath has said Government will do everything they possibly can to achieve the target of delivering 29,000 housing units next year | Read more political updates: https://t.co/jZge7Mgwdy pic.twitter.com/T5LgOomiPR

— RTÉ News (@rtenews) November 3, 2022
Social Democrats TD and the party's housing spokesperson Cian O'Callaghan said the housing crisis is on a scale that is not being seen in "most other countries".
Speaking on the same programme, he said rents have almost doubled in the last decade and the number of people living in emergency accommodation has reached record levels, now at almost 11,000.
He also said hundreds of thousands of people in their late 20s and 30s are having to still live at home because of the housing situation and some are emigrating because of it.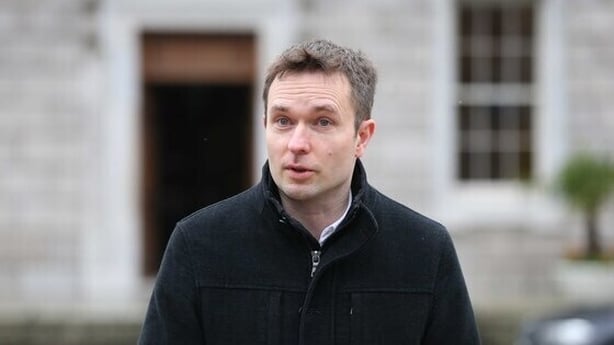 Mr O'Callaghan said the Government's update yesterday on the Housing for All plan is "quite sparse" in terms of detail and on the delivery of social housing and affordable homes.
"It is a 42-page document and there is actually barely a mention of delivery on those different areas. There are some little bits of detail."
Mr McCafferty said the general output in the Housing for All plan is welcome, but there are questions around social housing and cost rental needs to "ramp up".
Mr O'Callaghan said the Government is "way behind" on targets it has set for those particular areas of housing.
"They promised 9,000 new build social homes this year. We know in the first half of the year there were 1,765 new build social homes, which is way off."
Mr O'Callaghan said the Government is 30% behind where it should be on spending its capital allocation on housing and it has not given an explanation but that they do tend to catch up by the end of the year.
He said if they are behind in their capital spend it means they will not be adding those 9,000 additional homes.
"Far too much of the government interventions over the years has been chasing an existing supply that is limited and using public money to do that and effectively pushing up prices while doing that."
Mr O'Callaghan also said he does not think the Government is focused enough on apprenticeships and said their approach is "laissez faire".