There were frayed tempers in the Dáil this week when Taoiseach Micheál Martin took issue with a phrase used by Sinn Féin leader Mary Lou McDonald during a heated debate on the State's response to Ukrainian refugees.
Ms McDonald drew parallels between perceived failings in housing policy and those forced to sleep in Dublin Airport when State accommodation ran out last weekend.
She linked the two as evidence of a failure to plan and to deliver. But she went on to introduce a particular formula of words that some thought was a deliberate attempt to send out a covert political signal.
"Not content with denying our own people the right to an affordable, secure roof over their heads, the Government now extends its catastrophic failure to those coming to Ireland seeking humanitarian assistance," she said.
The Taoiseach pounced on the use of the phrase "our own" and appeared to accuse the Sinn Féin leader of an attempt at dog-whistle politics.
Clearly exercised, he said: "She commented that we could not do our own as well. I know what that is targeted at. I know why that phrase was used. The Deputy used that phrase at the beginning of her remarks and I know why she used it and who it was targeted at. She is playing both sides in this debate, and I regret that she is."
He went on to say: "She is not the first member of her party to play that game either."
This seemed to be a reference to Kildare South TD Patricia Ryan and a controversial letter warning of the risk of conflict between Ukrainian refugees and locals over housing.
In the Dáil, Sinn Féin housing spokesperson Eoin Ó Broin interjected several times calling the Taoiseach "a disgrace".
Labour leader Ivana Bacik followed the row calling the scenes "unedifying" and accused both sides of attempting to engage in political point scoring.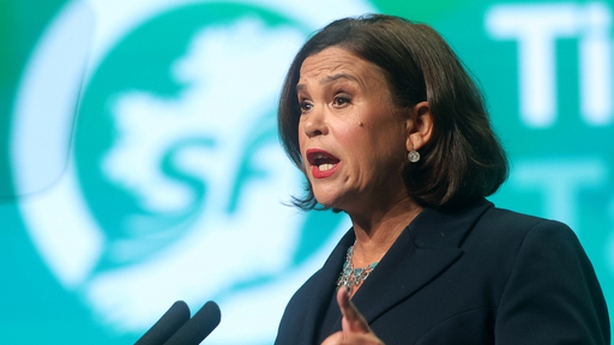 So was this an effort by Ms McDonald to make a play for votes from a right-wing constituency that may attempt to exploit the current difficulties to foment hatred?
Sinn Féin completely rejects any suggestion that the use of the phrase was loaded or deliberate. It says the exact opposite was the case.
In a statement, the party said: "Mary Lou McDonald made it very clear that the Government is failing both those in need of housing and has failed refugees and those seeking international protection. Any rational reading of her remarks would show this to be the case."
Others in Leinster House are divided on the comments. Some feel that it was a scripted, coded message to a more traditional voter with anti-immigration sympathies.
Others feel that it was inadvertent, although the language was clumsy.
But it is not just Sinn Féin which has been under fire for its comments about refugees.
Representatives from Fianna Fáil, Fine Gael and Independents have also attracted attention for calling, in varying degrees, for a halt on new arrivals.
And most are based in counties that have taken a disproportionate share of the burden.
"Housing is the main flashpoint along with the impact on services and the concentration of new arrivals in some towns around the country"
'Saturated'
Fianna Fáil Donegal councillor Liam Blaney has called for the suspension of the arrival of refugees into the county until safety inspections and assessments can be carried out.
He said parts of the county had become "saturated" with reports of overcrowding and unsafe conditions.
But as the refugees crisis goes on, the pressures are only becoming larger and some fear a fracturing of the political consensus that marked the initial open-armed response.
---
Listen: Is Irish politics lurching to the right?
We need your consent to load this rte-player contentWe use rte-player to manage extra content that can set cookies on your device and collect data about your activity. Please review their details and accept them to load the content.Manage Preferences
---
Housing is the main flashpoint along with the impact on services and the concentration of new arrivals in some towns around the country.
Government ministers have been defensive about their response to the influx of refugees, pointing out that some 58,000 are already housed in state-provided accommodation.
That is a colossal mobilisation of facilities. However, the problem is that the number of arrivals is growing.
An intensification of the war along with the impending cold weather mean that the scale of people seeking refuge will not abate.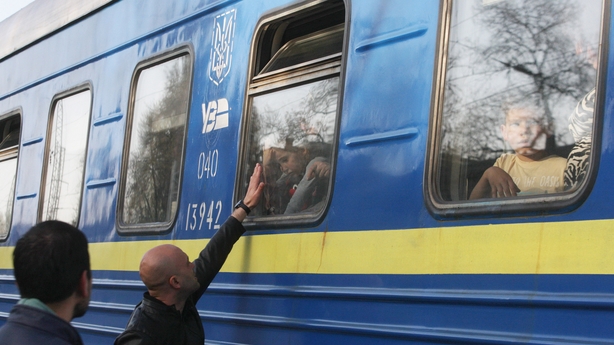 The Department of Children works on a rolling seven-day average of arrivals of 195 per day from Ukraine along with some 50–60 international protection applicants.
That means that new places to stay are constantly needed. As soon as some are housed, more arrive and the easy options have already been exhausted.
And while Ms McDonald may or may not have been subtly signalling, Independent TD Danny Healy-Rae dispensed with any attempt to avoid causing offence in a debate on housing using the same loaded phrasing.
"I am asking the Government to find proper rental accommodation for our own people who become homeless and to look after them in the same way it looks after the hundreds of thousands who come here from other countries," Mr Healy Rae said.
"We have enough of them at this time and we need to cap that story and give it up until the Government is able to look after them. It is not doing that and it is leaving our own behind."
---
Read more: Army barracks' places considered for Ukrainian refugees
---
Perceived preferential treatment
Some TDs admit they have been contacted by constituents annoyed about what they perceive as preferential treatment for refugees.
Independent Sligo-Leitrim TD Marian Harkin said this week that the message should go out that Ireland cannot accommodate more refugees because services are too stretched.
"I'm listening to people coming into my office. While you don't want to pit one sector against the other, I've had many people saying to me, they're looking after the Ukrainians but what about the Irish people," Ms Harkin said.
"I've heard people say: 'My child can't get a school bus, they're getting it'."
Eyebrows were raised at that contribution with some in senior Government believing that the comments were deliberately targeted.
Local tensions on housing have been playing out around the country and opposition has contributed to delays in using modular housing for refugees.
"A sense of social cohesion is also endangered by the concentration of refugees in some areas"
Newbridge in Co Kildare was ruled out following local objections and the issue is inciting furious debate in Claremorris, Co Mayo.
Local Fine Gael councillor Tom Connolly has been criticised for his comments opposing the development.
This week he said that while there was sympathy for the plight of refugees, there was not enough housing and the development should not be "foisted" on the local population.
He said any homes which become available should be offered to Irish families first.
A sense of social cohesion is also endangered by the concentration of refugees in some areas.
Again and again, locals say their objections to modular housing are based on a shortage of essential services rather than latent racism.
That "us versus them" debate has dismayed NGOs working with new arrivals, many traumatised at fleeing a war and leaving so much behind.
Some fear there's a danger of politicians exploiting the difficulties over housing.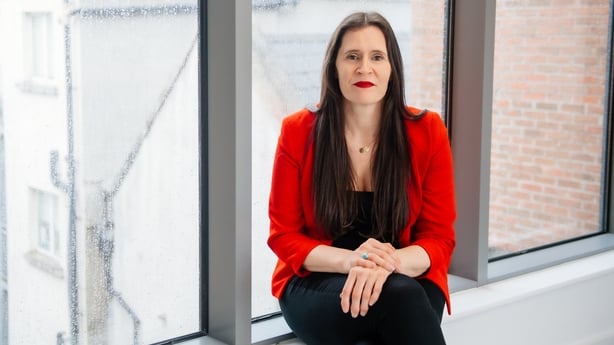 Risk of polarisation
The risk of polarisation is a danger and a concern according to Sinéad Gibney, chief commissioner at the Irish Human Rights and Equality Commission.
But she added that this would be eased if the Government spoke to everyone more often about what is going on and included people and communities.
"Irish people do support the intake of refugees," Ms Gibney said.
"I want to see us on the right side of history. Ireland has a choice to be positive in how it welcomes people."
The solution, she says is a longer term approach to setting up a proper international protection system and moving from the short-term crisis mode.
The Taoiseach has spoken repeatedly about the requirement for solidarity to be maintained to deal with the humanitarian crisis unleashed by the war.
Many see the conflict as a deliberate attempt to upset democracies across Europe with the weaponisation of migration and food playing a part in the pressures on social cohesion.
The Government has insisted that it will not turn anyone away and of course, legally, it cannot do so.
But the message did go out this week that accommodation cannot be guaranteed.
As for the pressures across services, the view is that Ireland is going to have to dig deeper for some time to come.