The housing shortage and an out of control rental market is forcing teachers out of Dublin and other urban areas and contributing to a chronic shortage of teachers in schools, post primary school principals and deputy principals have been told.
Addressing delegates at the National Association of Principals and Deputy Principals annual conference in Galway, association president Rachel O'Connor said the NAPD questioned the merit of requiring trainee teachers to complete a Masters qualification that is of a two-year duration.
To applause from the floor, Ms O'Connor said the course represented an extortionate expense after a four-year degree and was a barrier to entry to the profession for many.
The two-year Professional Masters in Education (PME) was introduced eight years ago and replaced the old Higher Diploma (HDip) qualification which was just one year long.
It costs up to €12,000 in fees to complete the two years.
The teacher shortage means many schools are being forced to employ unqualified people to work in the classroom.
Ms O'Connor warned of very high absentee levels across the system and said it was impossible for schools to find substitute cover when a teacher fell sick.
Minister for Education Norma Foley said her department was looking at measures which could allow teachers working at a school to take on additional hours to cover such gaps.
Currently teachers are not allowed to teach for more than 22 hours per week but last year those restrictions were lifted temporarily.
This morning, the minister said her department was looking at the possibility of doing this again and would be in a position to make an announcement on this in a very short while.
She said they were also looking at lifting restrictions on retired teachers returning to work in the classroom.
Acknowledging that there were challenges, Ms Foley said: "All that is currently in the mix".
"We have seen how solutions have worked and where we have the capacity to continue those we will continue them," Ms Foley said.
ASTI members protest outside Athenry school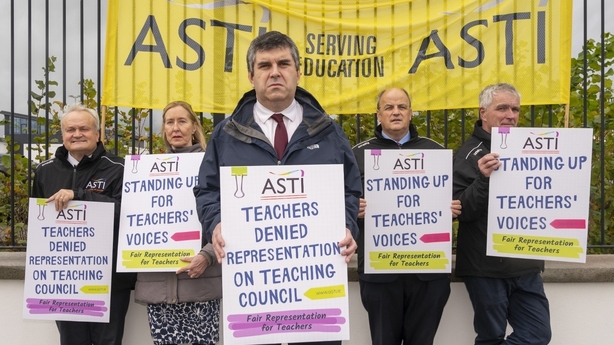 Meanwhile, a secondary school in Athenry has cited the current teacher shortage for its refusal to allow a teacher elected to a position on the Teaching Council to attend Teaching Council meetings.
As a result, members of teacher trade union the ASTI protested outside Presentation College Athenry today.
Niall Duddy, a teacher in the school, represents second-level teachers across 13 counties, including Galway, on the Teaching Council - the professional standards body for the teaching profession in Ireland.
Mr Duddy was elected to the position by teachers.
The school said that continuity of learning for students was its priority.
It said the staff member in question was a mathematics teacher and was requesting release from teaching duties, which amounted to one day per week.
"Such regular absences from class teaching, which have been sanctioned in previous years, are disruptive for students, not least because it is extremely difficult to procure and retain a substitute teacher for one day per week. The school has to put the interests of students first."
Commenting ahead of the protest, ASTI President Miriam Duggan said: "The Teaching Council works in the interest of the public to promote the highest standards in teaching and education in Ireland.
"When a school Board of Management refuses to allow a teacher to attend Teaching Council meetings, this has a debilitating impact on the work of the Teaching Council.
"It means the elected teacher cannot properly fulfil her or his role under statute. It denies thousands of teachers their right to be represented on the Teaching Council."
The school said it had been advised that today's action at the school was unlawful.
In a statement, ASTI General Secretary Kieran Christie said: "The ASTI is completely satisfied that today's protest was entirely lawful.
"The Irish Constitution protects the right to peaceful protest. The suggestion that the protest was unlawful is arrant nonsense."