Almost 30% of people have taken up a new outdoor activity since the start of the Covid-19 pandemic in Ireland, according to figures released by the Central Statistics Office.
The figure goes up 41% for the 18-14 age group, compared to 13% of those aged 70 and above.
The CSO looked at activities like hill walking, hiking, running, cycling and sea swimming.
Earlier figures showed the majority of respondents spent more time outdoors since the start of the pandemic, while 28% spent the same amount of time outdoors, and 17% spent less time outdoors.
Participants were more likely to take up sea swimming in the West (27%) and Border regions (34%), while hill walking was the most popular activity in the Mid-West (33%) and cycling in the Mid-East (27%).
Respondents in the 18-34 age group (36%) and 35-44 (26%) mostly took up running, while almost 30% of respondents in the age groups above 45 mainly started hill walking.
Since the start of the pandemic, participants living in urban areas were more likely to say they took up running (28%) than respondents living in rural areas (19%).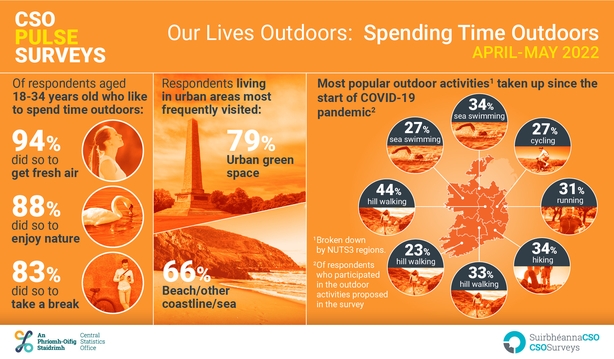 Respondents aged 18-34 liked spending time outdoors to get fresh air (94%), enjoy nature (88%), or take a break (83%).
Participants living in urban areas visited urban green spaces (79%) most frequently, while those living in rural areas mainly visited fields, farmlands, or the countryside (71%).
Over the past six months, 41% of respondents who had access to a garden spent time outdoors daily for recreational purposes, while those who did not were more likely to spend time outdoors on a weekly basis (40%).