Volunteers have begun distributing hundreds of sleeping bags left behind by festival-goers at Electric Picnic to people in need in Dublin.
Twice a week, a team from Portlaoise Action to Homelessness (PATH) drives to the capital in a van filled with donated supplies.
As RTÉ News films with them, the volunteers encounter a mother looking for oranges for her children's school lunches.
Another volunteer digs out a pair of shoes for a man who is barefoot.
The sleeping bags on board the van were collected thanks to a huge community effort which began a week earlier in Portlaoise.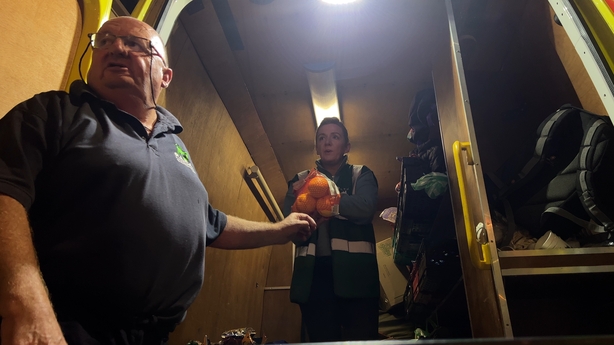 When the Electric Picnic festival concluded, PATH collected bags which had been left behind in campsites.
An appeal then went out for members of the public to wash and dry them.
Irene Redmond, a committee member with PATH, said: "We advertised and asked people if they would be willing to come, take them, wash them and dry them for us. We have between 500 and 600 sleeping bags this year. This should get us through the winter and hopefully into spring.
"One of the things we were worried about with the appeal is that people are already struggling with the rising cost of living, with electricity bills and all that. In our message, we asked people to take even one or two sleeping bags to keep the cost down for people".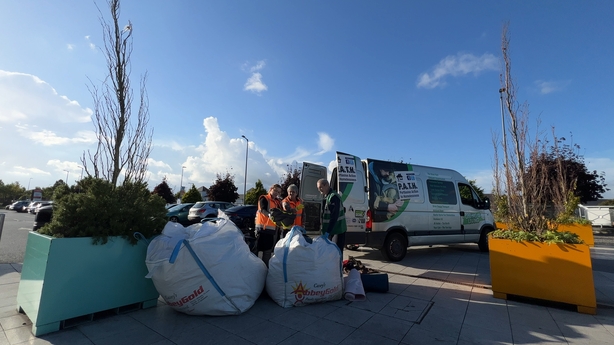 As the sleeping bags were being collected from the pick-up point in Portlaoise, I encountered a steady stream of people who wanted to help.
Orla Hayden collected a black refuse sack of sleeping bags to wash and dry at her home.
She said: "I think it's disgusting that people are living on the streets. Winter is coming and it's going to be very hard.
"The price of food, as well, has gone up, massively. Trying to feed the family. Thinking about filling the oil tank. That's a worry. Savings are going on day-to-day things".
Breda Byrne was also concerned about the months ahead, but she said her priority was to help others.
She said: "At least I can go home to a home. I know it's going to cost to wash them - a bit more than it would normally. Definitely, the electricity. You can see it already. The heating. You definitely know people are picking between heating and eating. That's not just a saying. It is really happening".
Businesses in Portlaoise have also been helping clean the sleeping bags.
Natalie Redmond uses the machines at her hair and beauty salon on Portlaoise's main street.
She said: "The washing machine and dryer is going here the whole time anyways. To me, a couple of extra washes, what difference was it going to make for the help that it's going to give them.
"We know everything is going up. We know there's a war on. We've come through a pandemic so there is going to be a knock-on effect. We knew this. I suppose the concern is how quickly things have risen. They've risen drastically."
PATH says there has been an increased demand for its services. However, its running costs are rising too.
Irene Redmond said: "Our van - it used to cost us €80 to fill the van. And that would do the two runs, up and back. It's now costing us €140 to fill the van and we might not get the second run out of it."
Still, the PATH volunteers are preparing for a busy winter.
Catherine Bennett of PATH said: "Everyone is hit at the moment. Absolutely everyone. The best of people. They're working and they can't make ends meet. I know people who come and look for food and don't want to ask for it because they're too embarrassed and they are working. Because their money is going on mortgage, electricity, gas.
"Everything we get is given to us. But we will keep going. We are driven to do it for them, not for us."