The Environmental Protection Agency has said that air quality in Ireland compares favourably with many other European countries, however it has warned that there are still concerning localised issues which can lead to poor air quality.
The EPA's annual report on air quality has said that Ireland met all of its legal air quality limits last year for pollutants including particular matter, fine particulate matter, ozone, nitrogen dioxide, and sulphur dioxide.
Too much exposure to these pollutants can lead to, or aggravate, serious health problems including respiratory and heart problems, as well as cancer.
Fine particulate matter (PM2.5) which is mainly caused by burning solid fuel in people's homes, and nitrogen dioxide (NO2) mainly from road traffic, are the main threats to good air quality in Ireland.
People who live in urban areas where there are higher population densities and greater levels of economic activity tend generally to be at a greater risk.
It said the main threats come from the burning of solid fuel in towns and villages, and the volume of traffic in cities.
The European Environment Agency estimates that poor air quality contributes to 1,300 deaths in Ireland each year.
The World Health Organisation has also set far stricter air quality guidelines than those set by the EU Air Quality Directive.
The European Green Deal proposes to revise the EU air quality standards to align them more closely with the World Health Organization recommendations.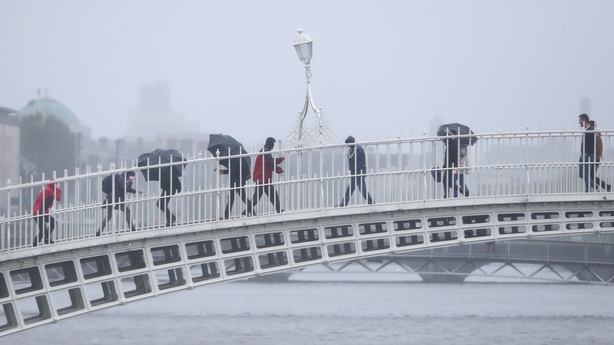 The EPA's report says that meeting those newer WHO air quality guidelines would be a major challenge for Ireland.
However, it identifies a number of solutions that would help move Ireland towards achieving these WHO guideline levels.
Included in this is the publication and full implementation of the planned National Clean Air Strategy, increased air quality enforcement Local Authorities, as well as national investment in clean public transport across the country.
EPA Programme Manager Pat Byrne said there had been a "significant reduction" in traffic over the last couple of years due to Covid-19, meaning nitrogen dioxide levels had dropped.
Speaking on RTÉ's Morning Ireland, Mr Byrne said this was how Ireland had been compliant, but there was an exceedance in Dublin prior to that, and there is now a plan in place to seek to address this.
"However, what we are seeing is that the World Health Organization in 2021 came out with new guidelines based on health and the impact of pollutants, and they're suggesting and advocating for lower limits and more ambitious targets," he said
When it comes to pollution caused by the burning of coal, Mr Doyle said there has not really been a significant change in recent years.
He said they have increased the number of monitoring stations around the country and they are seeing many stations in towns and villages recording high levels of particulate matter, which is the dust that comes from burning solid fuel.
"The rules are there that you can bring the smoky fuels into those areas … the department are proposing changes to that," he said.
"What we're looking at is high levels of particulate matter for relatively short periods of time when you've cold weather … we're seeing that it gradually increases from 4pm or 5pm in evening all the way through to 10pm or 11pm at night."
Mr Doyle said the proposal to change the law on solid fuel would see legislation to ban smoky coal extended to the whole country.
He added that they are very conscious of the energy crisis and they understand that people need to heat their homes.
"What we're actually saying is that if people have alternatives, that we would ask that they would try to burn cleaner fuels," he said.
"If they can use oil, that's better again. If they can use gas, better again. A lot of newer homes are using heat pump technology, which is low emission.
"It's anyone who can make an improvement, but we do absolutely acknowledge that people need to heat their homes.
"This is going to be a gradual process over a number of years. It is a change that we need to make, and it does have that impact on you locally and your neighbours locally so there is an immediate or a very quick improvement in air quality as a result of a change."