Tánaiste Leo Varadkar has said the Government is working on a package for businesses in an effort to help with increasing energy costs.
Speaking on RTÉ's Six One News, he said: "We didn't do all that we did during the pandemic, to save jobs and businesses, only to allow viable businesses now to go to the wall during this energy crisis."
A package is being worked on, he said, that will be "ready on Budget Day".
"It will probably have three elements, including a low-cost low interest loan; a grant system which we'll target at manufacturers and exporters, those with high energy costs; and then something more general for the hospitality sector, for retail - those sectors facing high energy bills."
He added that the measures will be introduced shortly after Budget Day.
"They won't have to wait until January but we haven't got it all firmed up yet," he said.
"We need to see what happens at European level but it's certainly assistance in a matter of weeks," he said, adding that the Government is "not ruling out" capping energy bills.
Mr Varadkar added that further interventions could be needed next year to help with high costs.
He told a meeting of Fine Gael TDs, Senators and MEPs that unpredictability in the energy market means that the government may need to keep something in reserve for next year.
He said the Budget package would contain universal measures to help everyone "including hard pressed middle income earners" while targeting those who need it most including pensioners, carers and people with disabilities.
Meanwhile, Minister for Finance Paschal Donohoe said that the Government will help people with the cost of living challenge "on a significant scale" in the upcoming Budget.
He was appearing at the Oireachtas Committee on Budgetary Oversight, alongside Minister for Public Expenditure and Reform Michael McGrath, where the updated economic and fiscal position was being discussed.
Minister Donohoe said that the economy is currently in a "challenging and uncertain period", after facing a "series of shocks" in recent years due to Brexit, Covid-19 and the war on Ukraine.
He said that there was a brief period at the start of the year when the outlook for the economy was bright, but the war has changed the situation, especially in relation to energy and commodity pricing.
Minister Donohoe said his department is now revising the "projection for growth in the economy next year" and "will be making a downward revision", which he said he will confirm in two weeks' time.
He said while there are positive signs, such as a recovery in the jobs market, the cost of living challenge is the "most immediate and urgent" challenge facing the country, households and businesses.
He said that Budget 2023 will focus on this, with "further interventions" aimed at helping people with this.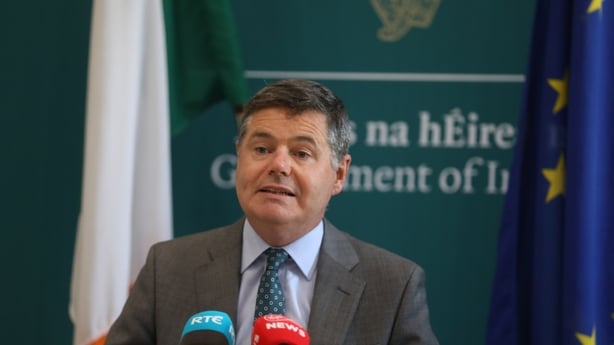 The minister said that tax revenues stood at almost €50 billion by the end of August, which was up by almost €10 billion on the same period a month ago.
But he noted a surge in this was due to "particular increases" in corporate tax, which amounted to around €12 billion.
He said his officials expect corporation tax receipts "to top €20 billion by the end of the year", and described this as an "enormous figure".
However, the Minister for Finance warned that this was an "extremely unreliable" source of revenue, which is concentrated in a small number of firms.
"The future growth of corporation tax receipts is not a one way bet," he said.
He confirmed a total budget package of €6.7 billion and a set of one-off measures for this year.
"We in Government are very much aware that many are struggling to make ends meet as we approach a difficult winter", he said, adding that with public finances "back on the road to sustainability", the Government "has the ability to help on a significant scale with the cost of living challenge in this budget".
Cost of living 'framing Government discussions'
Minister McGrath said that the cost of living is the "key objective framing Government discussions" around Budget 2023.
He told the budgetary oversight committee that Government will seek to "ease the burden" for lower and middle income families who are "facing very difficult choices".
And he said that providing supports would be balanced to ensure measures "don't add to inflationary pressures".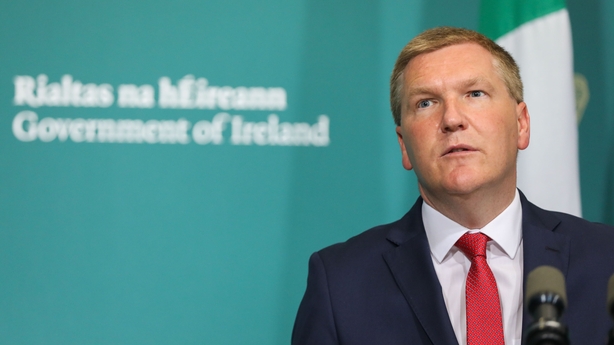 Minister McGrath said that public sector pay was a "vital piece of the jigsaw", accounting for a third of total current expenditure, and he is pleased that proposals have been agreed subject to ratification.
The minister said that the core spending next year will reach €85.8 billion, with an expenditure ceiling of €90.3 billion.
He outlined to the committee how this would provide for an expenditure budgetary package of €5.7 billion over 2022 and 2023, which he said was an increase of €1.7bn "relative to what was originally provided for in the medium term expenditure strategy".
Capital expenditure is set to increase by €800 million next year, with the overall core capital figure reaching €11.7 billion.
The minister said this is a 7% increase which will provide for vital investment in health, education, transport and climate.
Minister McGrath said there is €2.7 billion available for new current expenditure, including €1.4 billion for public sector pay and associated pension costs.
Other announcements regarding social protection, housing and health would be made on budget day.
While €4.5 billion in "non core expenditure" is available for temporary measures, like the humanitarian support for people displaced from Ukraine, the pandemic and Brexit.