An interactive multiplication table that helps children to learn their times tables has won this year's Irish National James Dyson Award.
The device, which is called Méadú, was invented by 22-year-old Paul Hendrick, a product design graduate from Technological University Dublin.
The device consists of a grid, sliders and a whiteboard that allow interactive maths learning.
Mr Hendrick said the idea for Méadú stemmed from his research within primary schools when teachers highlighted that there was a drop in physical maths resources for the older year groups in primary education when the subject increased in difficulty.
"Méadú exists to promote more hands-on and engaging maths lessons for students in primary schools, I look forward to further tailoring the product to align with teachers' and students' needs," said Mr Hendrick.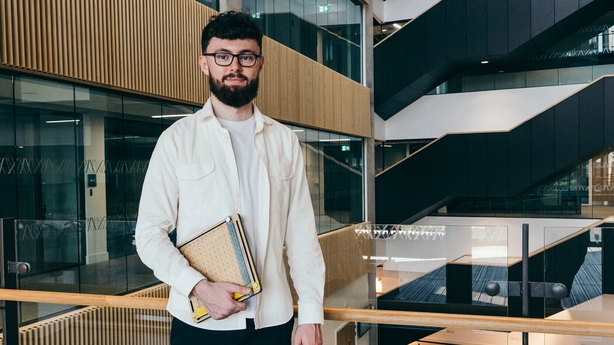 Aoife Considine is a previous winner of the James Dyson Award in Ireland, and was a judge on this year's panel.
"Méadú, stood out in its simple yet effective approach to design. It showed you don't always have to come up with the most technical solution; so long as it solves a problem and suits the intended user, simple is often best," she said.
Winning the Irish leg of the James Dyson Award will see the Méadú project receive an investment of €5,800 which Mr Hendrick plans to use to improve the device and expand its use in the classroom.
It will progress to the international stage of the competition with the final winners due to be announced on 16 November.
This year marks the 17th year of the James Dyson Award which recognises ground-breaking concepts in engineering and design.