Primary schools are reopening this week amid what school principals are warning is a "crisis" shortage of teachers.
As pupils return and junior infants begin their formal education, many schools are doing their sums and calculating how many additional children, many of them recently arrived as refugees from Ukraine and elsewhere, they can accommodate.
At Scoil Chaitríona on Dublin's Baggot St this morning, 22 four and five-year-olds were welcomed in for their first day.
The school has a number of applications pending from Ukrainian families, and now that it has a clear picture of current enrolment, it has begun to contact them to offer those children places.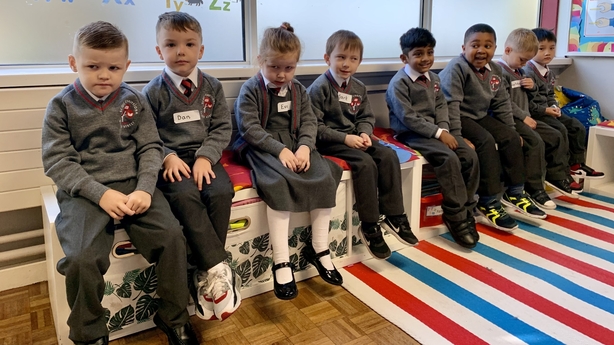 Around 3,500 additional school-age children have arrived from Ukraine over the summer months alone, and they now need school places.
Every day an estimated 30 additional children in need of schooling are arriving from that country alone.
That is the equivalent of an additional school class and one additional teacher required every day.
Staffing problems
Schools, especially those in Dublin, are complaining of huge difficulty finding teachers to fill vacant positions.
Like other workers, teachers are struggling to find affordable accommodation in the capital, and many are choosing jobs in other parts of the country as a result.
Scoil Chaitríona hopes to offer places to a number of additional children from Ukraine. It is already hugely multicultural, with pupils coming from families belonging to 23 different nationalities.
Many of them, including some of the junior infants starting today, do not have English as a first language and need language support.
However, the school cannot find teachers to fill vacant language support roles.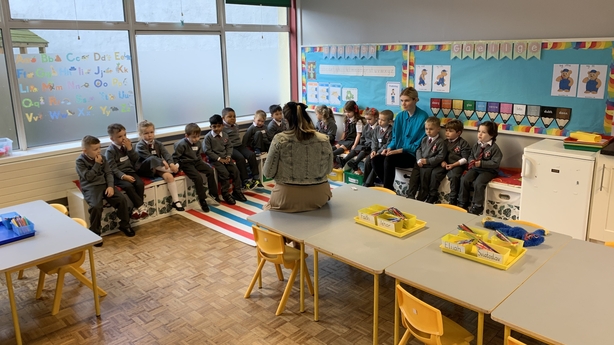 Departmental response
The Department of Education told schools today that there was "generally good capacity" across the country to address the challenge of providing school places for Ukrainian children, despite capacity pressures in some local areas.
In a letter to schools, it said that using this capacity has meant that almost 7,300 Ukrainian students have, in the vast majority of cases, been able to access existing accommodation in our schools from March to June.
The department urged schools to ensure that existing capacity in a town or area is fully utilised "before additional accommodation solutions are deployed for both arriving Ukrainian students and the local typical student intake".
"This will guide the Planning and Building Unit's approach in considering applications from schools for additional accommodation", it said.
Parents' hopes
There were very few tears at the gates of Scoil Chaitríona this morning. Although Adam Carroll expressed some misgivings about 'big school' and whether he would like it or not, most of his classmates felt more positive.
Adam's mother, Caitríona Carroll, said that the most important thing for her was that her son would settle now.
"I hope school will give him more confidence in himself, and that he will make loads of friends and that he is happy and comfortable," she said.
Every other parent who spoke to RTÉ News at the school this morning agreed that making friends and being happy is the most important thing for their children.
Speaking about her son, Nathan, Harshidha Mahanti said: "We want him to settle and enjoy school, there is not pressure on him. We want him to enjoy himself, and grow."
Junior infants teacher Louise Mahon was busy this morning getting to know her new charges. Down on her hunkers surrounded by Lego and her pupils, she explained what the next few months would be about.
"It's about settling in, making friends and it's about language. Because a lot of the children coming to us have English as a second language, so it's about developing their language skills as they play, and as they socialise with each other," she explained.
"Play will play a big part. We will do maths through play, English through play, just to develop all those skills," Ms Mahon added.
But that will be more difficult if the school cannot source the additional teachers they are entitled to, and which are needed to support Ms Mahon's work.