A Co Westmeath-based project wants to get more people repairing their possessions, instead of binning them.
Repair Acts Ireland, led by Professor Teresa Dillon of UWE Bristol and Dr Alma Clavin of UCD, is collecting hundreds of stories of how people fix everyday objects as part of efforts to promote and foster a culture of repair in Ireland.
Through storytelling events and repair workshops, the project has been showing people how they can reduce waste and carbon emissions and move away from a disposable culture.
It is funded by the Creative Climate Action Fund in collaboration with Westmeath County Council.
Dr Clavin said: "Repair Acts Ireland is all about fostering repair cultures within Ireland, starting in Co Westmeath. Really, we're talking about repair mindsets here starting with the repair of objects.
"An object is a really good way to start a conversation about repair because we all repair things and we all need to have things repaired.
"By buying things over and over again, we're ramping up carbon emissions, and by sending them to landfill when they break, we are piling up tonnes of unnecessary waste."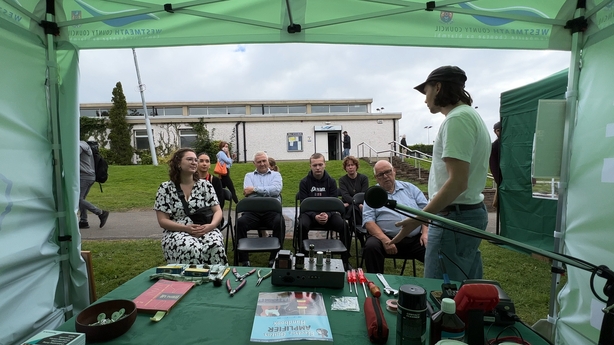 The Environmental Protection Agency says people living in Ireland produce more than 14 million tonnes of waste every year.
So far, Repair Acts Ireland workshops have included kitchen DIY with the Rediscovery Centre in Dublin, mending and fixing tips with both the Irish Countrywomen's Association, and the Irish Wheelchair Association, as well as looking at histories and archives of repair throughout Westmeath.
Professor Dillon said: "If you think about barriers to repairing, there are three things people really face. One - they might say, 'I don't feel confident. I can't repair the thing myself'.
"The second is they might say, 'I can't find a professional repairer'. We are finding that sometimes people can't find plumbers, for example, in the county.
"And the third thing is about costs. The cost of repair can often be as high, if not more, than buying something new. And it's these things that we need to challenge."
The project points out that many manufacturers control or limit the repairability of their products, forcing consumers to consider replacing them as an easier and less expensive solution.
It aims to show how repairing things can support local economies and crafts persons, highlighting that people in Westmeath used to repair "anything from thatching roofs, to tinsmithing, weaving and mending baskets and cloths".
Dr Clavin said: "There is a particular shop, Foys, in Athlone. At one point you could get your pen repaired there, your umbrella repaired there. You could pretty much have anything repaired. I don't know if there's anybody who repairs a pen these days. But it has been possible in the past."
The project culminates in a four-day event in Kilbeggan in November where focus will be put on how a repair culture in Ireland can be promoted and encouraged.
Professor Dillon said: "In some ways, the work is centred around raising awareness of the 'Right to Repair' because some people don't know about that right.
"It also looks to examples from other countries like France's repair index. Or Austria, where they have given bonuses and credits on repair. Or maybe it's looking at tax breaks for repair businesses. Maybe it's a trade directory of repairs, for example. And these are all potential ways in the future that we can support repair practices in the country."
Dr Clavin said: "What we've seen from the archives is that repair culture was a part of our everyday lives in the past. In thinking about climate action, I think it's good to look at the past to see what we can learn and bring forward. And what are the activities and behaviours that we need to think about and change."
In our 'Climate Heroes' series of reports, we shine a light on the people who are stepping up to protect the environment and tackle climate change. While these people come from all walks of life, they share a common purpose to improve the world around us.