A food bank in Cork city has said that on average 10 new families are registering for support every week.
Non-profit charity Feed Cork had 478 families on its books last year.
But that number has risen to 695 families so far this year, an increase volunteers have described as "frightening".
"The numbers have gone through the roof and it's frightening because we haven't even reached our peak yet. We always see a hike in July and August for back-to-school time, but our peak would normally come in November and December for Christmas," volunteer coordinator Emma Byrd said.
"Without a doubt, it's all down to the rising cost of living and the figures speak for themselves."
The food bank operates every Wednesday and Thursday for two hours from 10.30am.
Over the past fortnight, volunteers have also been giving out school packs, which include copy books and other stationery essentials.
3,500 school packs were provided to Feed Cork as part of the Fund of European Aid to the Most Deprived, but before yesterday morning's food bank finished, they had run out of packs.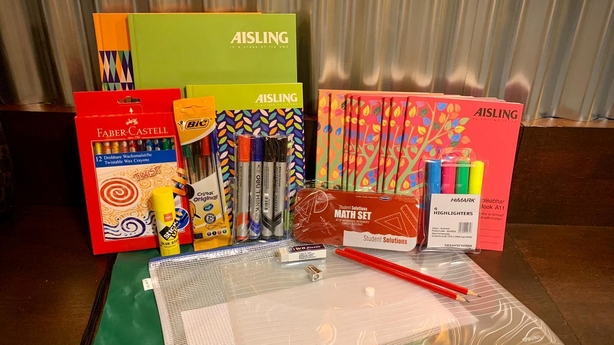 "It's very disheartening, it really is, because we're there to help everybody and don't want to turn anyone away, but when they're gone, they're gone. It's difficult to turn people away and say they're not available anymore," Ms Byrd said.
"We had lots of tears today. The pressure is really mounting on mothers and it's just very sad. Between having to pay for school books, food, lunches, dinners, uniforms, and then outside of that it's the cost of living, it's paying rent or a mortgage, it's fueling your car, paying gas and electricity bills.
"A lady told me today that they only turn on their lights for an hour in the evening, and in the winter they'll only be able to light their coal fire because they can't afford to turn on the gas heating. People are making huge sacrifices."
Feed Cork's 'After School Fuel' programme helps families who have been referred to them by a home school liaison officer, by providing hot, nutritious meals every Friday, including the summer holidays and school breaks.
Ms Byrd said: "The programme is still in its infancy, but we are forecasting demand will grow hugely this year. We require funding to provide a bigger service to help more families. It's our main area of concern at the moment."
Ms Byrd said she would urge anyone who is struggling to contact them. "We welcome everyone, it's not means tested, it's 100% confidential, and its set up in a way that it's like more like a shopping experience, so it's welcoming.
"I know clients can be extremely nervous to come down when they don't know what to expect, and it's a pride thing as well, but they'd speak to me afterwards and say it was a positive experience, that it was like doing their shopping, and they'll be back again next week."