One of the country's leading childcare providers has warned of further closures and staff reductions in the sector due to a delay in a funding scheme agreed last December.
The €221 million 'Core Funding' scheme for childcare providers was introduced in last year's budget, but is contingent upon Employment Regulation Orders (EROs) being in place to set minimum rates of pay across the sector.
The funding agreement would ensure no increase to fees in 2022/23 above September 2021 rates.
However, the Department of Children, Equality, Disability, Integration and Youth recently told childcare providers that "it is not certain" the EROs will be in place at the start of September.
The development of EROs is an independent process set out under industrial relations legislation.
It involves the establishment of a Joint Labour Committee (JLC), in this case by Minister of State for Business, Employment and Retail Damien English.
The Early Years Services JLC was set up in 2021 and has been meeting since December.
Employers are represented by members of Childhood Services Ireland and the Federation of Early Childhood Providers, while workers are represented by SIPTU.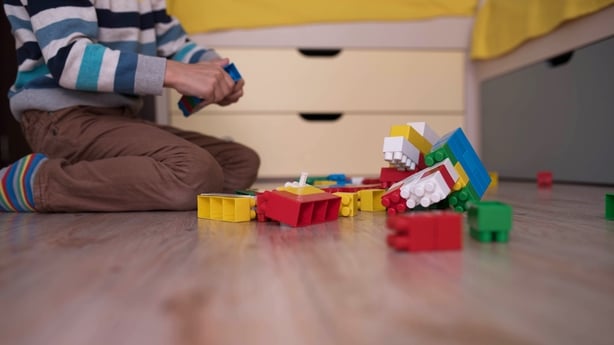 The JLC proposed an ERO with a minimum hourly rate of €13 for early years education and school age childcare practitioners, as well as an ERO setting minimum hourly rates for a range of other roles.
However, even after the JLC adopted the draft proposals, a number of steps had to be completed.
The Labour Court must examine the proposals before either amending the proposals and returning them to the JLC or accepting the proposals and forwarding them to the minister.
The minister must then determine whether it is appropriate or not to give effect to the ERO. There is no time limit on these processes.
If the EROs are approved, Minister English can sign an order giving the proposals statutory effect.
This can be done before the return of the Dáil, despite the requirement for the proposals to be laid before each House of the Oireachtas.
With no guarantee the EROs will be approved before 1 September, the department plans to introduce an interim funding scheme instead.
However, childcare providers fear this "goes nowhere near plugging the gap" needed for increased staff costs, utilities, maintenance and administration.
Founder of Tigers Childcare and chair of the Fingal Childcare Committee Karen Clince said the delay to core funding could push the sector further into crisis.
"Childcare providers across Ireland are already hiring staff at the improved rates of pay, based on the new core funding kicking in from 1 September," she said.
She said the interim funding will amount to approximately half of what was expected under the core funding scheme.
"This will put a lot of providers under pressure, with many potentially being forced to let colleagues go or close rooms in order to protect their business," she said.
"Some may even have to cease business altogether," she added.
Tigers Childcare employs 200 people across 17 locations, one of which is in the UK.
Ms Clince said employers in the sector already face challenges attracting and retaining staff.
"Even if only delayed until the end of September, a month is a very long time in the childcare business," she added.
She said some staff have been told they will not receive the expected wage increase from September.
Ms Clince said direct costs have increased by 23% from 2021 due to increased wages and hours while other overheads have increased 20% from increased administration, utilities and recruitment costs.
She said a stipulation of core funding is that providers are unable to increase prices, to cover rising costs.
Ms Clince called for an increased in the amount allocated through interim funding and certainty on how long it will take for EROs to be approved.
SIPTU, which expects the EROs to be approved, said the increased pay rates will come in at the same time as core funding.
"Most Early Years Educators are earning below the Living Wage of €12.90 per hour and many are on the minimum wage. This has resulted in services struggling recruit and retain staff.
"Government recognises this and have put money in the table for a pay deal via core funding. This will support better pay and quality for children," SIPTU's Head of Strategic Organising Darragh O'Connor said.
The department said because the large majority of core funding is intended to cover improved pay rates, a significant proportion of the budget cannot be made available without the assurance provided by the EROs that it will be directed for that purpose.
The value of the interim funding is approximately €2.7m per week.
"For any service that does experience financial difficulties in this interim period and beyond, a Sustainability Fund, linked to 'Core Funding', will be in place," it said.
The department met with provider representatives on 18 August, with another meeting scheduled for 25 August.