The recently formed Ukrainian Freedom Orchestra performed in Dublin tonight as part of an international tour to show solidarity and raise money for Ukrainian artists.
The orchestra is comprised of leading Ukrainian musicians including performers conscripted into the army who have been given time off to participate.
The Ukrainian-Canadian conductor Keri-Lynn Wilson, described the 75 musicians as "soldiers of music".
She said they are playing to send a message for the world.
" We want to show that Ukrainian culture is alive and well and vibrant, Ukraine is full of talent and its culture is its soul," said Ms Wilson.
"Putin and his regime will not silence us."
The Ukraine Ministry of Culture granted a special exemption to military-age, male members of orchestras inside the country to cross the border and participate in the orchestra.
Amongst the 40 musicians given an exemption is Navarii Stets. He has remained in Kyiv since the war began but his wife Nataliia, a conductor, was abroad when Russia invaded.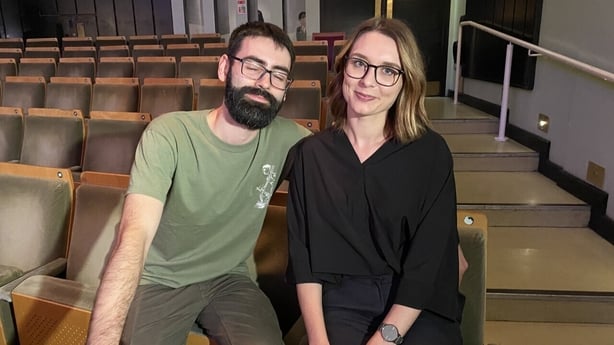 She flew to Dublin to be reunited with her husband after spending the last six months apart.
"We have only one and a half days to see each other. Tomorrow morning, almost together [are] our flights, but mine is to New York and hers is to Dusseldorf," said Navarii.
Navarii hopes they can be reunited again in October if he can get an exemption to perform outside of Ukraine again.
Yuri Pryriz is also a member of the orchestra. He followed his wife and two sons to Kerry from Ukraine in May, just in time for the birth of his third son.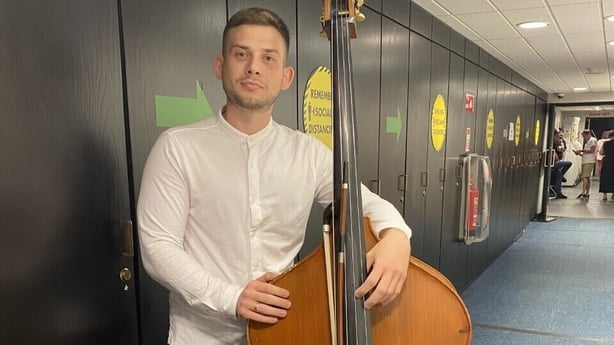 He said they have settled in Killarney and do not plan on returning to live in Ukraine.
"When I arrived to Ireland I started to search for a job as a classical musician and heard about this concert hall.
"Now I'm here, it's a great pleasure and honour to play and make my first performance in this hall," he said.
The tour has been produced by The Metropolitan Opera and the Polish National Opera after the idea of the orchestra was conceived by Ms Wilson.
The orchestra has three concerts in New York and Washington to end the tour and all money raised will go towards supporting Ukrainian artists.