President Michael D Higgins and Taoiseach Micheal Martin have attended the funeral of former Ulster Unionist leader and Northern Ireland first minister David Trimble in Co Antrim.
British Prime Minister Boris Johnson and Northern Ireland Secretary Shailesh Vara were also at the service at Harmony Hill Presbyterian Church in Lisburn.
David Trimble died last week at the age of 77 following an illness.
The former leader of the Ulster Unionist Party played a key role in forging the 1998 Good Friday Agreement, and just months after the deal was signed, he was jointly awarded the Nobel prize with late SDLP leader John Hume in recognition of their efforts to establish a powersharing system of devolved government.
Regarded as a hardliner when he was elected leader of the Ulster Unionist Party in 1995. David Trimble was later regarded as a pragmatist and peacemaker.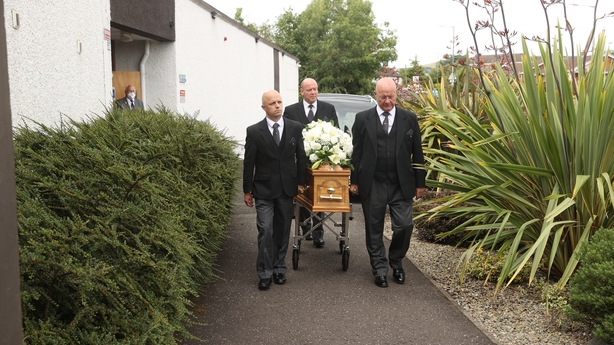 He faced down fierce opposition from many within his own party and the rival DUP to become one of the key architects of the Good Friday Agreement that ended decades of violence.
The Irish and British governments and Sinn Féin and the SDLP have all said it would not have been possible to have an agreement without him.
Minister Rev Fiona Forbes welcomed mourners to the service while members of the public gathered outside the church to pay their respects.
The Rev Charles McMullen, a former Moderator of the Presbyterian Church in Ireland, said providence had shone its light on David Trimble and gave him a moment.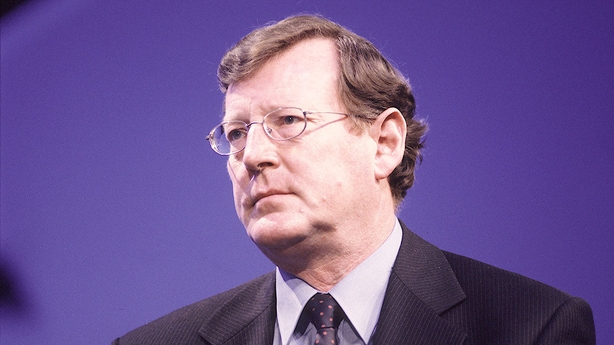 "Alongside others, he rose to seemingly impossible challenges with considerable strength of character, intellectual acumen and complete integrity," he said.
"The reward for all of us has been a radically changed landscape in Northern Ireland, which has saved many lives and allowed a generation to grow up in relative peace.
"As so many have said over these past few days, history will be exceedingly kind to David even if life brought many unrelenting pressures and demands."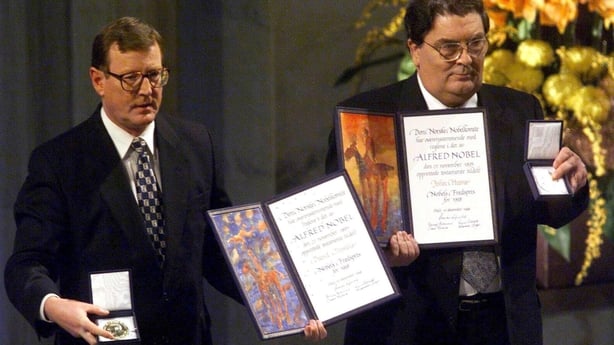 Rev McMullen also paid tribute to Mr Trimble's wife Daphne, describing her as "his constant companion and soul mate since their marriage in 1978", adding that "his achievements would not have been possible without her unwavering support".
In recent months Mr Trimble has been an outspoken critic of the Northern Ireland Protocol, which he said had ripped the heart out of the Good Friday Agreement.
---
Read more: David Trimble: Pragmatist, peacemaker and leader
---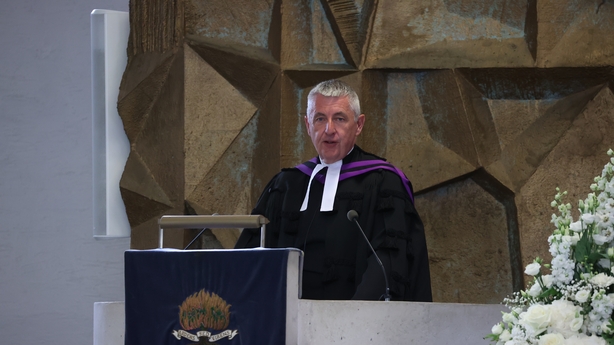 Rev McMullen had this message: "Can we use this service today, in a fitting tribute to one of the great, to redouble our efforts on this island home of ours?
"With courage, pragmatism and generosity of spirit, may our politicians engage wholeheartedly in resolving the outstanding issues surrounding the Northern Ireland Protocol, so that our democratic institutions are quickly restored and we can all move forward together."
Dr McMullen told the congregation that the Omagh bombing had doubled David Trimble's determination to achieve peace.
He said: "As first minister, David had to cut short a family holiday in order to get home to visit Omagh in the aftermath of that terrible bombing which killed so many, an experience that left him utterly devastated but doubled his determination to keep building bridges and working for peace.
"I can remember bumping into him days after the conclusion of the Good Friday Agreement and hearing how, afterwards, on his way home he had gone to a hole in the wall but could not remember his pin number.
"That was an indication of being under almost unbearable stress, but then he always had the courage of his convictions and was prepared to pay the cost."
Additional reporting: PA