Reek Sunday, the annual pilgrimage to the summit of Croagh Patrick traditionally held on the last Sunday of July, returned to normal today for the first time since 2019.
People from all over the country climbed the mountain at Murrisk, Co Mayo, today which has been a place of pilgrimage for over 1,500 years.
While there are no official figures, local priest Fr Charlie McDonnell said there were more people climbing than he had expected and that the tradition "was holding its own".
St Patrick is said to have spent 40 days and 40 nights fasting on the summit of Croagh Patrick in 441AD.
Mass was celebrated on the summit every hour from 8am to 2pm and confessions were also heard.
The 10am mass was celebrated in Irish by Bishop of Killaloe Fintan Monahan and it was offered for the protection of all road users.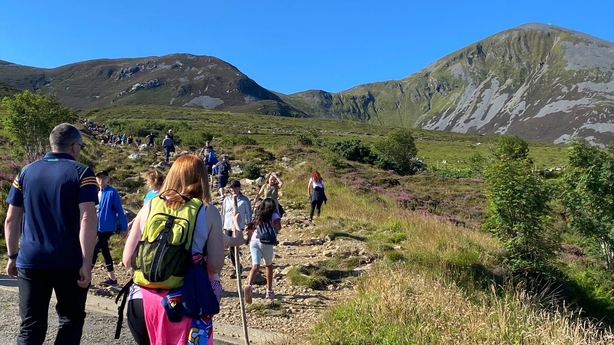 Bishop Monahan joined the Road Safety Authority and gardaí in appealing for care on the roads in light of the rise in deaths and serious injuries.
Pilgrims, some of whom traditionally do the pilgrimage in bare feet, were being asked to be prepared for a physically demanding pilgrimage and changeable weather and to heed the instructions of stewards, the mountain rescue teams, Order of Malta, and gardaí.
Archbishop of Tuam, Archbishop Francis Duffy said the return to the traditional Reek Sunday after a break of two years was a very important development.
We need your consent to load this rte-player contentWe use rte-player to manage extra content that can set cookies on your device and collect data about your activity. Please review their details and accept them to load the content.Manage Preferences
He said that many people go to Croagh Patrick for different reasons, and that there are as many reasons as there are people.
Archbishop Duffy said he often thinks that when we are going up a mountain it raises our minds and our thoughts, and we see things from a different perspective and that is an important experience.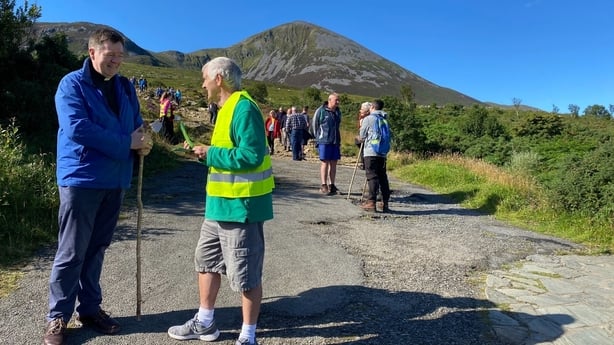 Among those climbing the Reek were Sr Augustinna from Poland and Sr Mary Claire from Co Clare, both members of the Our Lady of Mercy Order and avid hikers.
It was the first time Sr Augustinna had climbed Croagh Patrick and she said she was excited to do it on her first trip to Ireland.
She said she was very grateful to be here and to pray with the Irish people for the renewal of the faith not just in Irish hearts but in the world.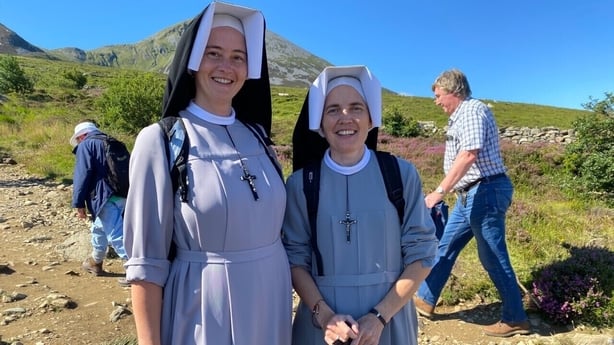 Work is currently under way on a 'sustainable access and habitat restoration project' on the 765-metre-high mountain involving a number of stakeholders.
It includes creating a robust path for access and the restoration of eroded parts of the mountain.
The Catholic Church said it is conscious of its obligation to support the conservation of the mountain for future generations. As part of its support for the project, it has committed to minimising the impact of pilgrimage on Croagh Patrick.
In order to do this, it is asking pilgrims to comply with a number of requests, including staying on the defined path and not encroaching on adjoining habitats or leaving litter.