Two forest fires that broke out in northwest France last week were caused by arson, prosecutors said today, taking to three the total of deliberately started blazes in recent weeks.
The two fires in normally wet and blustery northwest Brittany came during a fierce heatwave that has scorched Europe over the last fortnight.
They are "without doubt of human origin", local prosecutor Carine Halley said, adding that experts had identified the starting points.
The Brittany fires were relatively small compared with two others further south that have destroyed more than 20,000 hectares (49,500 acres) of tinder-dry woodland in the Gironde region around Bordeaux.
More than 2,000 firefighters backed by planes and helicopters have been battling the flames in Gironde since 12 July. A total of 36,000 people were evacuated from their homes and camp sites in the area.
The biggest one - inland around the village of Landiras - has been finally contained, senior local official Fabienne Buccio announced today.
"The fire is still not out," she stressed, but was no longer spreading.
It too is being treated as arson, prosecutors said last week, but a 39-year-old suspect has been released for lack of evidence.
"To extinguish it altogether it could take several weeks and will depend on the weather," top regional firefighter Marc Vermeulen told reporters.
Twenty-five firefighters have been slightly injured but no one has been killed in the operations against both fires in Gironde, which Ms Buccio hailed as a "positive" result.
Five houses, a restaurant and a nightclub were destroyed, along with five camp sites. But 2,800 buildings that were "directly exposed" to the fires escaped unharmed, she said.
Huge areas of forest have been lost around the popular Dune du Pilat on the Atlantic coast, Europe's highest sand dune, which is normally teaming with tourists in the summer months.
The fire is believed to have been started accidentally by a spark from a vehicle.
Apocalyptic images of the fires last week - as many areas reported record temperatures of over 40C - led to renewed debate in France about climate change.
Millions warned to stay indoors amid record China heat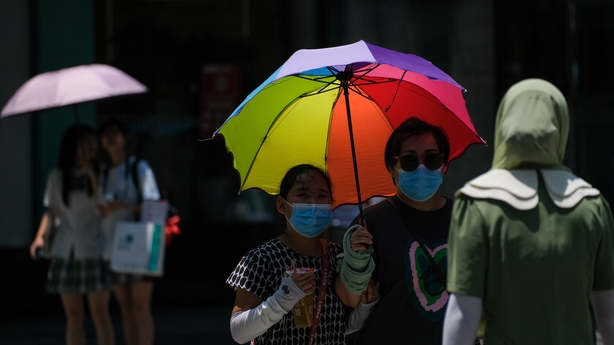 Meanwhile, cities across China are on red alert for heatwaves, as tens of millions of people were warned to stay indoors and record temperatures strained energy supply.
Swathes of the planet have been hit by extreme and deadly heatwaves in recent months, from Western Europe in July to India in March to April.
Scientists say the extreme weather has become more frequent due to climate change, and will likely grow more intense as global temperatures continue to rise.
China is no exception and is sweating through one of its hottest summers on record.
In the eastern provinces of Zhejiang and Fujian, the mercury rose above 41 degrees Celsius over the weekend, reaching all-time highs in two cities.
People in areas under red heat alerts - mostly concentrated in the southeast and northwest - are being ordered to "cease all outdoor activities" and "pay special attention to fire prevention," the national meteorological service said in multiple notices over the weekend.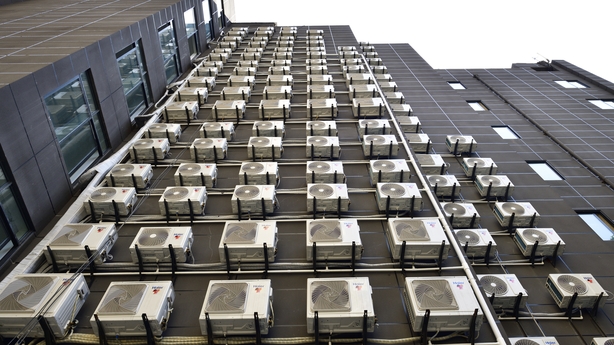 Saturday marked the so-called 'Great Heat' day on China's traditional calendar, long recognised as the hottest period of the year, but this summer has been exceptionally warm.
Earlier this month Shanghai recorded its highest air temperature - 40.9C - since records began in 1873.
The scorching heat sent hundreds of people to the beach in Fujian's Xiamen city yesterday, while others hid from the sun under hats and face coverings.
China's power grid is also feeling the strain from increased demand for air conditioning, with the country's largest power plants generating at a record capacity in mid-July, according to energy industry publication Sxcoal.
Some local governments have resorted to turning off street lamps and raising peak period electricity tariffs for factories this month.
The ongoing heatwave, which has struck the lower reaches of the Yangtze River especially hard, will also "adversely affect local crops," warned Fu Jiaolan, chief forecaster at the National Meteorological Centre.
Switzerland sees freezing point climb to record high above Alpine summits
Switzerland, which is caught in Europe's extreme heatwave, has seen freezing point rise way above its highest summits, smashing a record set 27 years ago, meteorologists said today.
Weather balloons rose to 5,184 metres (17,008 feet) above the Alpine country overnight before they found freezing point (0C), MeteoSwiss said in a tweet.
That was nearly 70 metres higher than the previous Swiss record of 5,117 metres, measured on 20 July 1995, and 375 metres above the summit of Europe's highest peak, Mont Blanc in the French Alps.
It is extremely rare for the freezing point to be measured above 5,000 metres in Europe.
Leading Swiss glaciologist Matthias Huss warned this month that rising temperatures were causing freshwater glaciers to melt faster than ever.
"Glaciers in the Alps are so completely off from what we've seen before. I'm really alarmed by the situation," he tweeted on 17 July.
Elsewhere, a fierce California wildfire expanded yesterday, burning several thousand acres and forcing evacuations as tens of millions of Americans sweltered through scorching heat.
More than 2,000 firefighters backed by 17 helicopters have been deployed against the Oak Fire, which broke out Friday near Yosemite National Park, the California Department of Forestry and Fire Protection (CAL FIRE) said in a report.
But two days after it began, the blaze has already consumed more than 15,600 acres (6,313 hectares) and remains 0% contained, the report said, adding that heat combined with low humidity would "hamper" efforts yesterday.