A mother who spent three hours on a DART carriage yesterday with her two young sons and their dog has said it was a very traumatic experience, especially for her children who were scared.
Humera Tierney travelled to Bray with her seven-year-old and three-year-old sons Harrison and Hunter to see the air show.
They were returning home to Sutton in north Dublin when the carriage they were travelling in stopped very shortly after leaving Bray station.
"It was an hour and half before we realised what was going on," Ms Tierney said.
"There were people being carried on stretchers, elderly people who looked very unwell, children who looked very, very distraught."
She said her carriage "was extremely over-capacity, there was no air, no room, it was impossible to move".
"My youngest son doesn't cope very well with the heat at all, he was sweating from head to toe," Ms Tierney added.
After an hour and 20 minutes, the doors on the train were opened for air and the passengers were given water to share.
Ms Tierney said staff said they could jump off the train if they wished.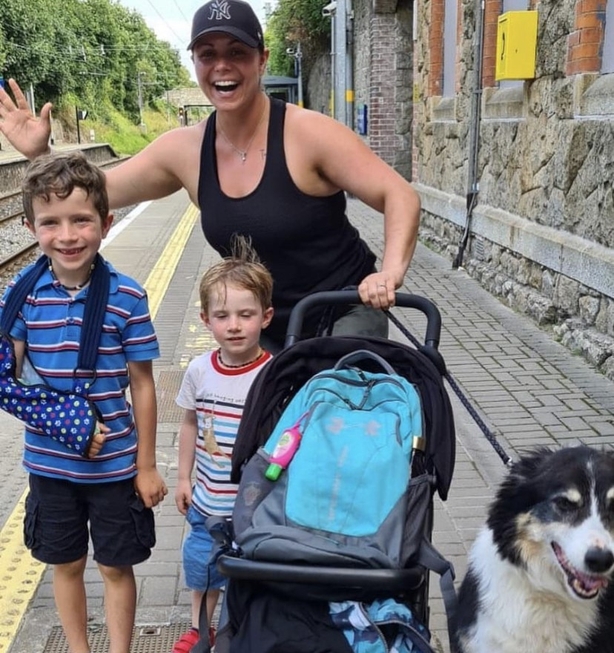 "They were expecting us to jump off a five-foot gap. My son fell off a five-foot monkey bar a few weeks ago and broke his arm," she said.
"He was really distressed when people were saying to jump off.
Ms Tierney said her children were scared, especially her seven-year-old son, after "seeing people being carried by on stretchers".
"We were on the train for over three hours in total," she added.
"Sitting on tracks for an hour and half and the doors were opened, then another half an hour before the train was rolled back into station, then 40 minutes loading up the train."
"We were the first train to depart from Bray that afternoon. It was a disgrace how over capacity it was".
Ms Tierney, her sons and their pet dog disembarked the train after a few stops, because it was too crowded and hot and were collected by family.
Earlier today, Iarnród Éireann said it will be investigating everything that happened yesterday when DART services had to be suspended for a time.
Another passenger caught up in the delays said it was a chaotic experience for the children onboard the trains.
Jason Byrne said his family had to undress his 18-month-old son and his 18-month-old niece down to their nappies due to the heat in their carriage.
He said it was "a last resort."
We need your consent to load this rte-player contentWe use rte-player to manage extra content that can set cookies on your device and collect data about your activity. Please review their details and accept them to load the content.Manage Preferences
"We were there for 30 minutes, sitting on the train, when we started doing that. They were soaked. Their t-shirts were soaked in sweat. Their hair was wet. They were getting agitated. Their faces were red. What else could we do but take their clothes off."
He said another child, aged six, was having a panic attack.
"We weren't the only ones. A lot of parents were there having this experience and grandparents were there feeling the heat as well."
Mr Byrne said the driver on the DART he was travelling on opened the door to the driver's cabin to try to get air circulating, because "there was no fresh air in the train, no air and the window's only opened slightly."
He also said there was no communication from Iarnród Éireann and he said they were left with no other option than to jump off the train after an hour of not moving.
"An hour is a long time to be on the train in that heat. The decision wasn't taken lightly. We are parents. Why would we want to get on the tracks. It's not safe, it's not logical, but at that time it felt like the best thing to do."
Iarnród Éireann said passengers on a train awaiting a clear platform "forced doors open and walked onto the track". The incident coincided with the final day of the Bray Air Display.
Passengers used Twitter to voice their frustration at the long delays that resulted, describing being stuck on board trains for 30 minutes to an hour, and complaining of very hot conditions on board the trains.
Iarnród Éireann Communications Manager Barry Kenny said that the initial problem arose when some passengers left the 1.55pm DART after it had been delayed for just over five minutes.
"A small number of people pushed open a door," Mr Kenny told RTÉ's Morning Ireland.
"It resulted in the situation being very, very hard to control.
"Once those people did that and were on the track, we obviously couldn't operate any train out of Bray station until the track was clear.
"We apologise to people who were caught up in a very distressing situation for many customers.
"We'll be investigating all of this. It became chaotic and upsetting for a lot of people."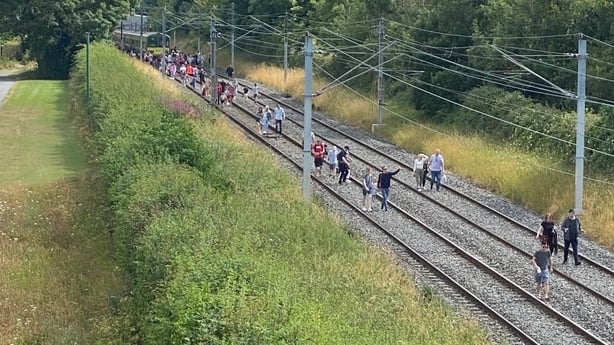 Gardaí and ambulance services were called to the scene.
"That initial action then caused a further knock-on delay, meaning we had an uncontrolled number of people on the track," Mr Kenny said.
The track was reopened at 5.15pm.
Mr Kenny said that Iarnród Éireann will not be prosecuting anyone who disembarked the train and went on to the train track.
National Bus and Rail Union General Secretary Dermot O'Leary said he understands that at least ten extra trains were laid on yesterday to run to Bray.
Speaking on RTÉ's Today with Philip Boucher-Hayes, he said there have been problems with air-conditioning on DART trains for "quite some time now" and that concerns have also been raised around staffing levels at some stations, particularly on busy days like yesterday.
Passenger Stefan Teehan, who was stuck in the DART chaos yesterday, said the situation was quite stressful.
Mr Teehan said the driver initially told passengers there had been an incident with passengers on the train in front of them, but there was not much more information after that.
Although there were windows open, he said it was so cramped that people were wet with sweat as they waited onboard and it was getting to the point when "people were starting to panic".
"People couldn't breathe properly," Mr Teehan said.
"I put my son beside the window so that he could breathe easier. And there was a lady beside me, she had a 14-month-old child."
People were giving up their seats to older people, he added.
"I got on a train at 2.30pm yesterday afternoon and got off it at 4pm," he said.
He said that when passengers saw people walking past their train on the track, someone pulled the emergency handle and the doors opened.
He explained that he and his son then walked towards Shankill and a woman, whose house backed onto the railway line, had opened her garden and garage so people could get off the tracks and walk through to her housing estate.