Enthusiasm can be infectious.
And it seems that Liz Truss's upbeat manner has found favour with the Conservative Party.
As things stand she is on course to be the next Prime Minister.
A recent YouGov poll put support for her leadership at 62% among Conservative Party members who are about to decide the issue - 24% points ahead of rival Rishi Sunak.
There is over a month of campaigning to go and a lot can happen but it will be hard to make up that amount of ground - especially as it confirms other polls which consistently showed Ms Truss more popular among grassroots Conservatives.
While one can never rule out a surprise, the fact is that the candidates and their views are already well known to Tory members.
Both have been campaigning on the airwaves for weeks and they have been national figures in government for years.
It is difficult to see how Mr Sunak can come up with something to turn things around over the hustings in August.
The right wing, hard Brexit part of the Conservative Party will be pleased.
Ms Truss was backed by the European Research Group (ERG) with whom she consulted in drawing up the bill to overthrow the Northern Ireland Protocol.
She is also a Boris Johnson loyalist and said recently that she did not think he should have resigned.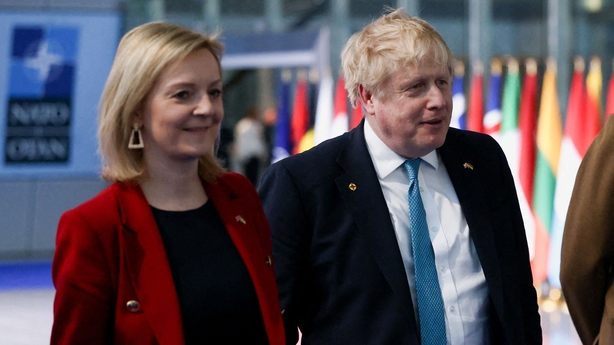 Her success is quite a turnaround as she is not universally admired in the Conservative Party where some have doubts about her temperament.
The declarations of support by the ERG and Mr Johnson's allies were somewhat belated.
'Human hand grenade'
Ms Truss did not deny telling a closed hustings of MPs that sometimes she is "excessively enthusiastic" and that sometimes she has to "reign herself in".
Others put it differently, she was labelled "the human hand grenade" by civil servants.
A rousing speech she made to the Tory party conference in 2014 where she extolled the virtues of British cheese and the British apple went viral.
She is a regularly lampooned on the satirical Radio 4 show Dead Ringers.
That enthusiasm has taken her in different directions during her career.
"She models herself on Thatcher to an almost unsettling degree"
The BBC dug up archive film of her campaigning to abolish the monarchy while a youthful member of the Liberal Democrats.
She actively campaigned against Brexit as part of Women For Remain and said she did not want her daughters to grow up in a Britain outside Europe. She now says that was a mistake.
The problem for us is that she is now enthusiastic about Brexit and overthrowing the Northern Ireland Protocol.
She models herself on Margaret Thatcher to an almost unsettling degree by apparently copying her clothing.
In one celebrated incident she recreated an iconic Thatcher image by posing in a tank while on a visit to Estonia.
Flying the Flag(s) and hosting Foreign Secretary @trussliz in 🇪🇪. Meeting Tankies (everywhere), our awesome French 🇫🇷 comrades and other members of the #eFP Battle Group. Content Warning ⚠️ - may include Gunners. #FearNaught #WeAreNATO pic.twitter.com/397qO7znni

— Royal Tank Regiment (@RoyalTankRegt) December 1, 2021
Again the problem for Ireland is that Mrs Thatcher was hostile to the EU.
In fact, in her later years Thatcher said her greatest regret was the Anglo Irish Agreement.
Hopefully Ms Truss' eagerness to emulate her hero will not go that far.
Her biggest coup is being able to brand herself as a fresh face despite being a loyal member of Mr Johnson's cabinet.
Taking on the 'Whitehall machine'
In different roles she has been part of the British government for nearly ten years but now says she wants to take on the "Whitehall machine" by which she means the civil service.
She also now says the British government's economic policy has been all wrong for the past twenty years.
A cornerstone of her policy is tax cuts including a reversal of the national insurance hike which was earmarked to fund the NHS.
It is a tax cut which experts say will only really benefit the well off.
And she is going to pay for the tax cuts by borrowing more money.
Former Chancellor of the Exchequer Rishi Sunak seemed to almost plead with her during one of the live TV debates when he described her proposals as "fairytales" and "socialist".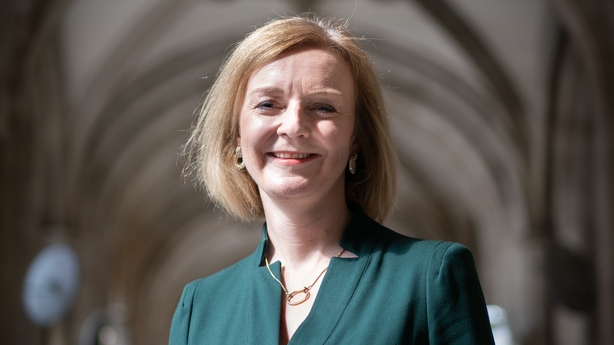 Things are beginning to look ominous in Britain.
Interest repayments on its debt were £19 billion in June - the highest since records began in 1997 and more than doubling from £9 billion in June 2021.
Already the NHS has one in nine of the entire UK population on waiting lists and the numbers opting to go for private treatment - often paid for by loans or crowdfunding - is up by nearly 40%.
However it is inflation that is the main concern. It is predicted to hit 11% by the of the year.
One of few things that economists agree on is that inflation is a bad thing and that once it becomes entrenched things get bad and stay bad for a long time.
Most economists believe that tax cuts will be inflationary.
Other Tory leadership candidates like Sajid Javid, the former Health Secretary, also favoured tax cuts but he admitted there was an economic risk with the policy.
Ms Truss does not seem to concede the possibility. She says tax cuts like scrapping increases in corporation tax will spur growth and stop the country going into recession.
"She has not only survived in government but thrived"
Looking forward to her election as prime minister she tweeted that she was "ready to hit the ground from day one" - a tweet which was later deleted.
Former No 10 adviser Dominic Cummings dismissed her as a "truly useless Remainer" and has a theory that Mr Johnson backed her because "he knows she's mad and thinks she'll blow and he can make a comeback".
Jibes like that will not worry Ms Truss. She has not only survived in government but thrived to be on cusp of achieving leadership.
And Mrs Thatcher was also regularly mocked throughout her career but became widely respected.
Mr Johnson did appear to endorse Ms Truss during his farewell speech with veiled criticism of Mr Sunak.
Mr Johnson advised his successor not to always listen to the Treasury, the British equivalent of the Department of Finance which was headed by Mr Sunak.
"If we'd always listened to the Treasury we wouldn't have built the M25 or the Channel Tunnel," he said.
It was disagreements on the economy which forced Mr Sunak to resign as he could not accept Mr Johnson's demand for tax cuts without a reduction in spending.
Mr Johnson reportedly favoured more borrowing.
It is ironic that Mr Sunak looks like losing the leadership bid to someone who has taken up Mr Johnson's economic mantle and is being supported by members of a party that once prided itself on fiscal responsibility.
It seems that even hard headed Tories can be won over by optimism.