A group of Ukrainian teenagers who were struggling to find summer jobs are now running an ice cream kiosk by the sea.
The teens, aged between 14 and 17, are selling ice cream from a small cabin next to the Rise at the Cove cafe, overlooking the South Beach in Greystones, Co Wicklow.
The enterprise is being supported by Tiglin, the charity which is accommodating 97 Ukrainian refugees in the Coolnagreina centre in the town.
"The young people came to me looking for a job for the summer," Tiglin's chairman Aubrey McCarthy explained.
"They are very active and they wanted to keep busy. So they asked me to put up a post on a local forum, asking if anybody had any summer jobs - whether it was walking dogs, washing cars, or whatever.
"Unfortunately, not many people came back, so I didn't have a solution. That's when they came up with the idea of running a retail unit, beside the cafe, selling ice cream."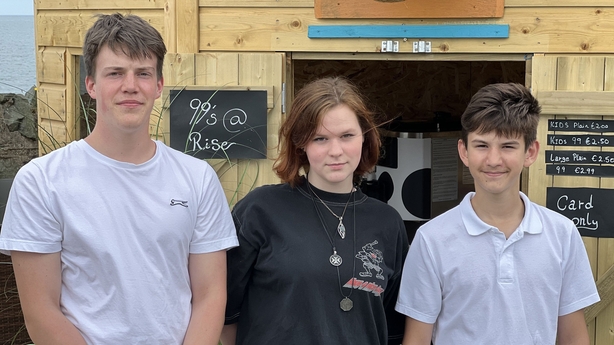 Having secured the cabin and an ice cream machine, the kiosk opened last weekend.
"I'm really enjoying it," said 15-year-old Tim Novosolov, who arrived in Ireland in April. "I like to see people smiling and ice cream makes people smile. It's been a hot summer so far, so we have had a lot of customers."
The kiosk is open from 10am until 4pm and the teens are working on a rota.
"Our customers have been really good and very polite," said Eva Trachuk, 14, as she served 99 cones and ice cream tubs to a steady stream of people. "I am busy doing something and getting money for it, so it's perfect."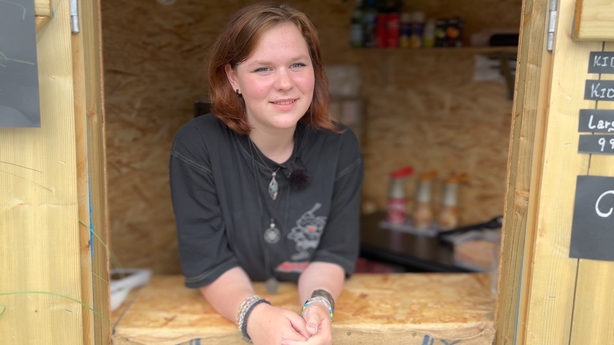 The Rise at the Cove café is a social enterprise that helps to upskill individuals that are in Tiglin's care.
Mr McCarthy believes the new ice cream cabin is already delivering employment, integration and community development opportunities.
"It allows the teenagers to keep busy, focused and earning a few quid. But it also gives them a purpose and a chance to be involved in the community. The guys engage with the customers. They get to chat. It is social integration at its very best," he said.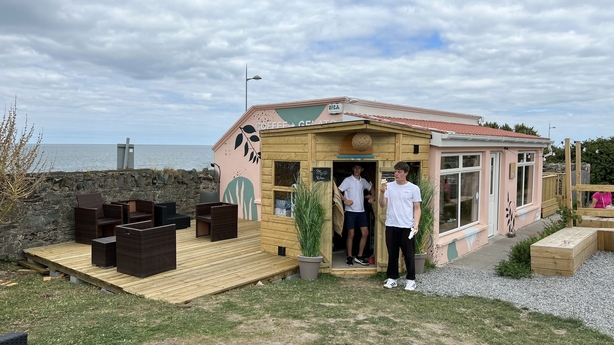 Oleg Marynovych, 17, said he was enjoying meeting new people.
"When we arrived in Ireland, everybody was so kind in helping us and taking us on trips. But now, if I just stay in my room doing nothing, bad thoughts come into my head.
"I don't just want to sit in my room, I want to move and be busy. The job is very interesting and, as there are lots of people about, I can keep improving my English."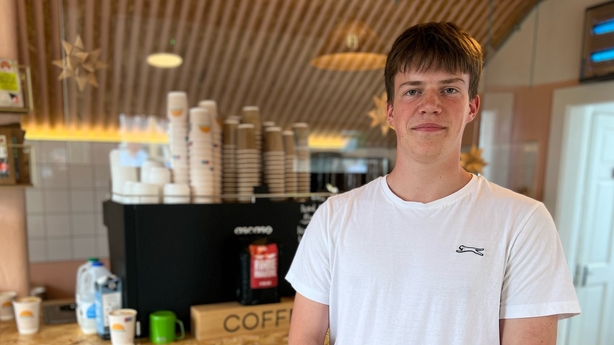 Meanwhile, the Ukrainian teenagers have also quickly perfected the art of preparing - and eating - Ireland's favourite summertime treat.
"I had never seen a 99 before I came to Ireland! I first saw one in a 'Centra' at a service station. Now I think they are really nice and very tasty," Oleg said.