The political turmoil at Westminster could make the crisis at Stormont more difficult to resolve.
Scenting potential trouble ahead, DUP leader Jeffrey Donaldson was quick out of the blocks this afternoon issuing a statement within minutes of Boris Johnson announcing his resignation.
Whilst the personnel in Number 10 Downing Street may change, he said in a statement, the Northern Ireland Protocol "is still undermining the foundations of devolved government in Stormont and must be replaced".
He added: "Fully functioning devolved government in Stormont and the protocol cannot co-exist."
The DUP's mood had improved in recent weeks. It viewed the announcement by British Foreign Secretary Liz Truss of legislation to override parts of the protocol as a major victory.
While the Irish Government, EU and the rest of the major parties at Stormont decried the move, the DUP viewed it as vindication of its refusal to go back into power-sharing until the protocol dispute is resolved to its satisfaction had paid dividends.
Now it's not at all clear what will happen next.
Trench warfare
The Protocol won't be high on the list of political priorities for thousands of members of the Conservative Party who will select their next leader, and the new Prime Minister.
But the issue is likely to feature in the trench warfare between the candidates in the coming weeks and months as they seek to garner as much support from influential MPs as possible.
Who wins that battle for Number 10 will determine what happens next at Stormont.
Liz Truss, once a committed and passionate Remainer, flipped to become a committed Brexiteer and has taken a very hardline stance on the protocol in recent months, much to the annoyance of many within Tory ranks, as well as her external critics.
Part of her reasoning was to gain support from hardline Brexiteers within the European Research Group for a leadership bid that many observers believe has been in planning for months.
If she was to become the next prime minister, Jeffrey Donaldson would likely breathe a huge sigh of relief as she would be under immense pressure to deliver on the hardline stance she has advocated.
But many within her party took a very different view and made it clear they oppose her direction of travel as they, along with the EU and Irish Government, believe her planned legislation is a clear breach of international law.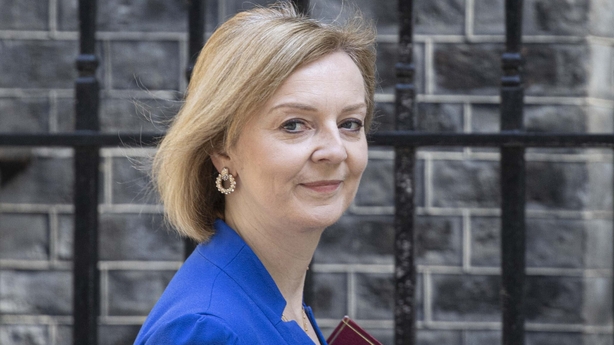 There has been much talk within Conservative Party over the past 48 hours about the need for integrity, honesty, and trust.
If its next leader and British Prime Minister takes the view that the proposed unilateral protocol legislation is at odds with those values they may well take a more moderate approach and seek negotiation rather than confrontation.
Should that happen, Jeffrey Donaldson's strategy could be in deep trouble as it would be deemed to have failed in its stated objective of forcing a fundamental rewriting of the protocol.
In that scenario, power-sharing at Stormont won't be restored anytime soon.
That would mean fresh Assembly elections could be on the cards, but that might not lead to any fresh thinking as the DUP would once again campaign for a mandate to stay out of government until the protocol issue is resolved.
One silver lining in the political clouds over Stormont, in the long run, might be the absence of Brandon Lewis as Northern Secretary.
It was Mr Lewis who famously told the House of Commons in 2020 that the British government was planning to break international law in a "very specific and limited way" to amend the Brexit agreement with the EU.
During his time as Northern Ireland Secretary of State, he managed to alienate all of the local parties, as well as the Irish Government.
The DUP, Sinn Féin, Alliance, SDLP and Ulster Unionists all opposed legislation he introduced to deal with the legacy of Northern Ireland's Troubles, which critics say amounts to an effective amnesty from prosecution.
He angered the DUP with his interventions on the abortion issue and on Irish language legislation.
Having initially argued that the protocol had not introduced an Irish Sea Border for goods moving between Britain and Northern Ireland, he later changed his tune and infuriated the other parties at Stormont when he backed the DUP calls for it to be scrapped.
In a tweet today, Sinn Féin's deputy leader and Stormont's First Minister Designate Michelle O'Neill said: "Brandon Lewis undermined the Good Friday Agreement and our political stability by placating the DUP, and his actions gave us a daily reminder why those with no mandate or votes here will only ever act in their own political interests, and never ours."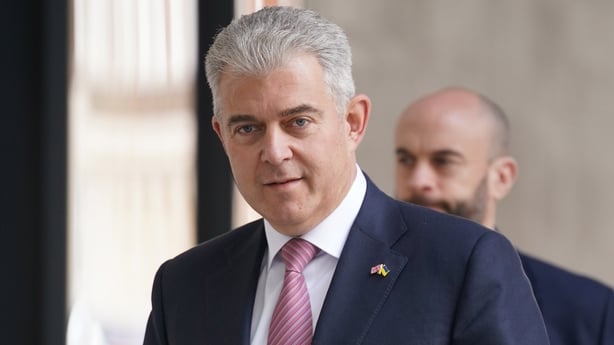 The bottom line is that at a political level, none of the local parties trust him, so he would not have been viewed as an impartial arbiter in any future negotiations to restore power-sharing.
He also stood accused of taking a wrecking ball to Irish-British relations, with Taoiseach Micheál Martin, Tánaiste Leo Varadkar, and Minister for Foreign Affairs Simon Coveney all saying in recent months that relations were at an all-time low.
In a statement today, the Taoiseach said: "The relationship between our governments has been strained and challenged in recent times."
That's putting it mildly.
The Irish Government do not trust Brandon Lewis or Boris Johnson and have felt betrayed on a number of issues.
It will be hoping for a reset in that relationship, as well as relations between the UK and Europe.
The next British Prime Minister will have many issues on their agenda and Northern Ireland might struggle to make it onto the "to-do list".
The DUP will seek to apply all the pressure it can to ensure it remains close to the top of the agenda.
The replacement for Brandon Lewis is Shailesh Vara MP, who served five months as a junior Northern Ireland Office Minister in 2018 before resigning after just five months in protest at former British Prime Minister Teresa May's proposed Brexit deal.
He is a hardline Brexiteer who has previously warned that Northern Ireland should not be subject to a different relationship with the EU than the rest of the UK, so his appointment will please the DUP.
How long he remains as Northern Secretary will depend on who becomes his boss and what stance they take on the protocol.
The other parties at Stormont will hope a new regime results in more pressure being applied on Jeffrey Donaldson to go back into power-sharing, while negotiations with the EU about the protocol continue.
Dublin will watch closely in the hope that the current Westminster turmoil results in a calmer cross-border political climate.