A consultant in Respiratory Medicine has said there are currently a large number of incidental Covid-19 cases in hospital, where patients are admitted to hospital for another issue, and are then found to be infected.
Speaking on RTÉ's Morning Ireland, Professor Seamus Linnane, who is also head of the Beacon Hospital's Long Covid clinic and Deputy Director of the hospital, said the latest wave is due to variants being much more transmissible than before, but the illness is not as severe for most people.
The number of people hospitalised with Covid-19 has risen further to 794 as of 8am this morning - up 18 on the same time yesterday.
Of these, 33 people are in intensive care units with the virus, up two on yesterday.
Prof Linnane added: "There are increasing numbers of patients in hospital and there is a group of patients who are struggling with the infection and becoming quite sick with it".
He reiterated that while vaccination does reduce the severity of the virus, "it doesn't take it away entirely".
"When we're meeting with patients in hospital who have Covid, there are a large number of incidental diagnoses. That's patients who are in hospital for other reasons," he said.
"Because of surveillance processes, we're discovering that they have a very mild Covid, and that obviously has a big impact in terms of their care."
There are usually several months of natural immunity from previous infection that will mean a person is less likely to be re-infected, he said, adding however that there are people who have experienced infection up to four times through the pandemic.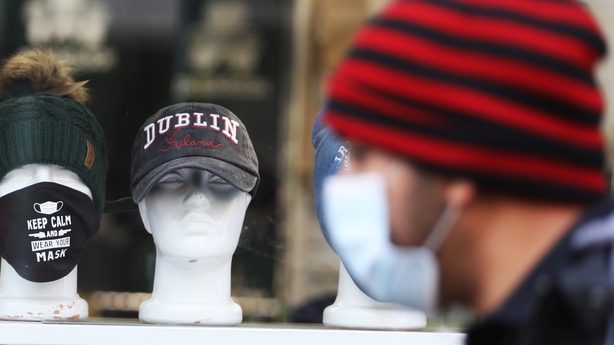 "The phenomenon of people having recurrent Covid infection, people coming to us and reporting that they've had two, three or even four Covid infections over the course of the pandemic, is becoming increasingly common.
"Certainly in our Long Covid clinic we're seeing it is quite a problem, in that if somebody is getting over an extended Covid episode, then to get another Covid infection certainly poses an increased worry and an increased risk."
He said ventilation and masking have proven to be effective in preventing infection, and that people are again now paying more attention to these measures.
"Masking is important, masking works. Masking reduces the risk of getting an infection, depending on the type of masks that you are using".
He said he has seen in his general respiratory service that patients are clearly, irrespective of national advice, continuing to wear masks because they feel more comfortable doing so.
He said if particular behaviours are mandated, then there is a risk of losing public support.
"A challenge at the moment in terms of what is advisable and what is mandatory. I think if we mandate particular behaviours, we run the risk of losing some of the support that we've had at a public and national level.
"I think it's very important that we point out how useful masks continue to be. I think for people who are vulnerable and they play a very important role."
Prof Linnane said that cases of Long Covid after an Omicron variant infection are now being seen.
"Even though you may have a mild illness, you do have to bear in mind that there is a chance that you will end up in this very difficult scenario of having Long Covid".
Green Party leader Eamon Ryan said he does not envisage an immediate return to mandatory mask wearing on public transport.
He said while there is a "significant increase" in Covid cases, the focus has always been to look at the critical end of the health system, including the numbers in ICU with the virus.
Speaking on RTÉ's Morning Ireland, he said: "The latest health advice from us isn't to introduce mandatory mask wearing. What we have done is dusted down and had the legislation ready if we did get that advice. And we are doing that in advance of the summer recess to prepare for any eventuality."