Ukraine's Sievierodonetsk was "fully occupied" by the Russian army, its mayor has said, after weeks of fighting over the key eastern city.
"The city has been fully occupied by the Russians," mayor Oleksandr Striuk said.
The Ukrainian army yesterday said it would withdraw its forces from the city of some 100,000 inhabitants before the war to better defend the neighbouring city of Lysychansk.
Mayor Striuk said civilians had started to evacuate the Azot chemical plant, where several hundred people had been hiding from Russian shelling.
"These people have spent almost three months of their lives in basements, shelters. That's tough emotionally and physically," he said, adding they would now need medical and psychological support.
Pro-Moscow separatists said Russian and pro-Russian forces had taken control of the Azot factory and "evacuated" more than 800 civilians sheltering there.
The forces have "taken full control of the Azot plant industrial zone", a separatist representative Andrei Marochko said on Telegram.
Another separatist spokesman, Ivan Filiponenko, said that around 800 civilians who had taken refuge in the plant during weeks of fighting had been "evacuated".
The Russians also taking control of Lysychansk would effectively give the them control of the wider Lugansk region, and allow them to push further into the wider Donbas.
Ukrainian President Volodymyr Zelensky said on Saturday that Ukraine would win back all the cities it had lost to Russia, including Sievierodonetsk.
In a late-night video address, he also said Ukraine had been hit by 45 Russian missiles and rockets over the previous 24 hours, which he described as a cynical attempt to break his people's spirits.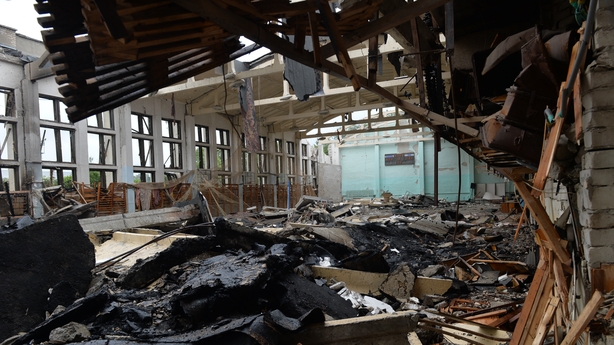 'Bombardment' from Belarus
Ukraine said it came under "massive bombardment" today from neighbouring Belarus, a Russian ally not officially involved in the conflict.
Twenty rockets targeted the village of Desna in the northern Chernigiv region, Ukraine's northern military command said in a statement, adding that infrastructure was hit, but no casualties had yet been reported.
Belarus has provided logistic support to Moscow since the invasion, particularly in the first few weeks, and like Russia has been targeted by Western sanctions - but is officially not involved in the conflict.
"Today's strike is directly linked to Kremlin efforts to pull Belarus as a co-belligerent into the war in Ukraine," the Ukrainian intelligence service said.
The strikes came ahead of a planned meeting between Russian President Vladimir Putin and his Belarussian counterpart and close ally Alexander Lukashenko in Saint Petersburg today.
Russia's foreign ministry yesterday condemned the decision by Brussels to grant Ukraine official EU candidate status as a move to "contain Russia" geopolitically.
The decision "confirms that a geopolitical monopolisation of the CIS (Commonwealth of Independent States) space is continuing actively in order to contain Russia," foreign ministry spokeswoman Maria Zakharova said in a statement.
Ukraine's Western allies meanwhile will gather tomorrow at a summit of G7 leaders in Germany, where President Volodymyr Zelensky is set to speak.
US President Joe Biden will be attending the G7 and a summit of the NATO military alliance in Madrid next week.
Russia has removed several key generals from Ukraine, says UK defence ministry
The British defence ministry said that Russia had likely withdrawn several generals from key command roles in the Ukraine conflict this month.
"Since the start of June, the Russian high command has highly likely removed several Generals from key operational command roles in the war in Ukraine," the ministry said in its daily Twitter update.
(2/5) Since the start of June, the Russian high command has highly likely removed several Generals from key operational command roles in the war in Ukraine.

— Ministry of Defence 🇬🇧 (@DefenceHQ) June 25, 2022
---
---
Meanwhile, a Russian strike on the Yavoriv military facility in western Ukraine wounded four people, Lviv governor Maxim Kozitsky said in a video post today.
Mr Kozitsky said six missiles were fired from the Black Sea, with four hitting the base and two being intercepted and destroyed before hitting the target.
A strike on the military training facility near Yavoriv in March killed 35 people and wounded at least 130, according to Ukrainian officials.