A 16-year-old girl from Dún Laoghaire is experiencing the joy of regular bike rides for the first time - on a tricycle designed to carry her wheelchair too.
Sophia Daly and her father Aaron have been road-testing the new wheelchair tricycle in the segregated cycle lane which follows the coast road to the north and south of the Dublin town.
Sophia, who has cerebral palsy and scoliosis, sits in her own wheelchair which is mounted to the front of the tricycle, while Aaron pedals and steers from behind.
Aaron said: "The freedom it gives Sophia is amazing. It now means we can go cycling together. That's massive - because for a change she can be included, instead of excluded."
The wheelchair tricycle is the latest addition to Dún Laoghaire's fleet of inclusive bikes available for hire by children or adults with a disability.
The Coordinator of the Dún Laoghaire-Rathdown Sports Partnership, Shane McArdle, said: "When we bought the first fleet of bikes, the ones we had didn't include users who couldn't come out of their chair. Aaron and his family told us that these bikes were available. We then went about seeking the funding and securing the bikes, so we could include children like Sophia."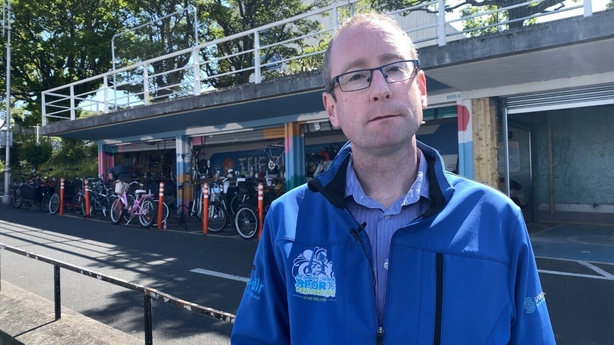 Sophia has already enjoyed several bike rides with her family along the seafront in Dún Laoghaire.
Aaron said: "Sophia loves it. The fact that we can make a fuss of her and bring her down and include her with her brother and sister is massive.
"Anybody that's in a wheelchair, and has to stay in their wheelchair, will benefit from this. There are thousands of people in the country who could be benefitting from cycling. All it takes is some initiative from our councils to invest in these types of bikes and make it accessible for everybody."
The new wheelchair tricycle will be available to rent for free at the Bike Hub in Dún Laoghaire from early July.