French officials today warned that a record pre-summer heatwave was spreading north from Spain, where authorities were fighting several forest fires as the country sizzles under a sixth day of sweltering temperatures.
The Meteo France weather service said it was the earliest hot spell to hit the country since at least 2005, worsening a drought caused by an unusually dry winter and spring and raising the risk of forest fires.
Spain, which had already seen its hottest month of May since the beginning of this century, was sweating under temperatures forecast as high as 43C and no relief is expected before Sunday, the Aemet weather service said.
At least three blazes had erupted in Catalonia, including one near Baldomar, around 140km northeast of Barcelona, that had already burned 500 hectares but could grow to 20,000 hectares before it is contained, the regional government said.
No evacuations have yet been ordered but people are being urged to remain in their homes.
In neighbouring Portugal, last month was the hottest May since 1931, with most scientists attributing the early season heat to global warming caused by greenhouse gas emissions.
The heat crossed the Pyrenees into southern France on Tuesday and was set to hit most of the country by Saturday, when thermometers could reach 38C in Paris.
Authorities have already warned of increased wildfire risks in forests surrounding the capital, and Paris and other areas have issued alerts over ozone pollution, which occurs when intense sunlight transforms carbon emissions into smog.
"I'm 86 years old, I was born here, but I think this is the worst heat wave I've ever seen," Jacqueline Bonnaud told AFP at a shaded park in the southern city of Toulouse.
A surge in the use of air-conditioners and fans was forcing France to import electricity from neighbouring countries, the local grid operator said today.
This is because many of the country's nuclear reactors are offline to evaluate potential corrosion risks or for maintenance.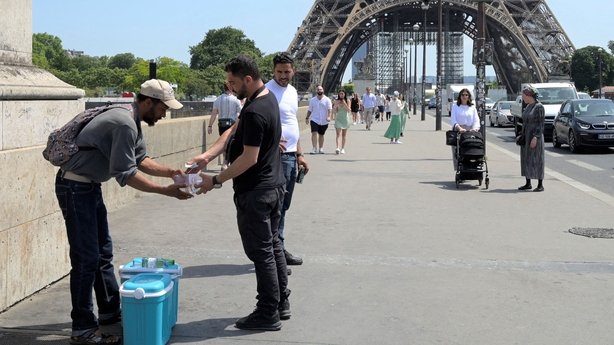 Spain, Italy and other countries have recently limited the use of air-conditioners to save energy, and French Energy Minister Agnes Pannier-Runacher told France 2 television that she was considering the same.
Meteo France issued heatwave alerts covering half the country in the south and west today and said more departments would be impacted in the coming days.
"Saturday will be the peak, with temperatures of 35 to 39 degrees across most of the country," said Tristan Amm, a forecaster at the agency.
An Irish professor of geography has said it is clear heatwaves are "coming more frequently" than before.
Emeritus Professor of Geography at Maynooth University John Sweeney said that Spain in particular is experiencing its second heatwave since May with temperatures in large parts of Spain passing 40C.
It is the second unusually early heatwave in less than a month as temperatures hit levels normally seen in July and August, while France is preparing for similar conditions.
"These are exceptional temperatures even for a place like Spain, which has a history of heatwave events, and it's quite clear that they're coming more frequently now than they did before," he said.
More frequent and intense heatwaves are the most deadly form of extreme weather made worse by global warming, with death tolls sometimes in the thousands, but they can also have devastating economic impacts too, experts say.
This week the US has been impacted by raging floods, devastating fires, powerful thunderstorms and a dangerous heat wave affecting a third of the population.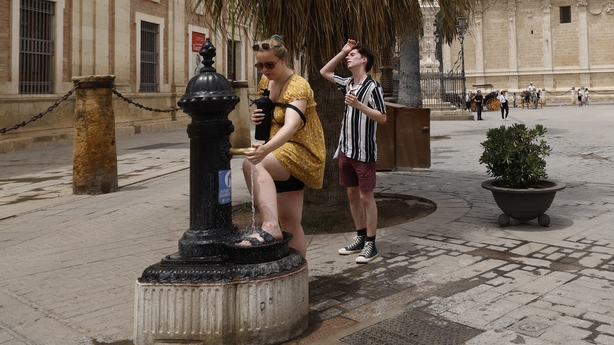 Around 120 million people were under some sort of advisory as a heat wave scorched the upper midwest and the southeast of the US.
Prof Sweeney told RTÉ's Morning Ireland that in the Mediterranean and in Spain in particular, summer is now one month longer than it was in the 1980s, "so it's not surprising that we're getting these more frequent events, and they're quite serious".
"We know that heatwaves do kill people and they kill people on a fairly substantial scale in a very hidden way in many respects," he added.
"70,000 died, for example, in Paris in 2003, and we know many of those people are elderly," he added.
'Higher and higher'
Hot springs have been happening at a faster rate in Ireland since 1997, according to climatologist Kieran Hickey.
"The climate system is being pushed higher and higher in terms of temperature," he said.
He told Today with Claire Byrne that it is to be expected that the average temperature is going up and extremes are frequent and even more extreme as time goes on.
Mr Hickey, from the Department of Geography in University College Cork, said Ireland will get the tail end of the extreme weather system in Spain tomorrow.
He said that Irish farmers have seen their grass season extend to six weeks over the last few decades but what is predicted is rising temperatures and rising precipitation.
He said that it was possible that Spain and France will become too hot to holiday for Irish people.
Those with vulnerable skin or older people may have to stay indoors as it becomes too hot, he warned.
Additional reporting AFP