A senior member of the Orange Order has said Northern Ireland's future is at stake unless the Northern Ireland Protocol is fundamentally changed.
The Rev Mervyn Gibson, the Order's Grand Secretary, also said those trying to persuade unionists that their future lies in a United Ireland are wasting their breath.
He was speaking at the start of a parade to mark Northern Ireland's centenary.
Up to 25,000 people are expected to attend the event which was postponed from last year, the actual centenary, due to Covid-19 restrictions.
"We have no interest in becoming part of an All Ireland," he told the crowd gathered at Stormont.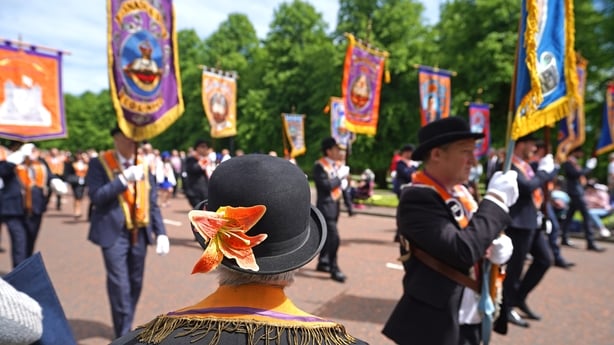 "It doesn't matter what you promise or offer, it doesn't matter if every day was the Twelfth of July.
"If it's not under the Union Jack then count us out. British we are and British we stay."
On the Protocol, he said it must be fundamentally changed before the Stormont Assembly can be restored.
"We will not tolerate any system, process or structure that will allow checks on any goods trading within the UK for use within the UK," he said.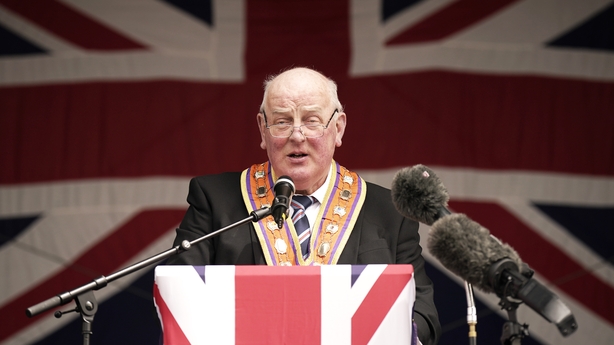 He added: "Secondly and equally critically is we will not be mastered by no foreign power nor subject to laws and regulations made by foreign governments.
"Until these injustices that make Northern Ireland a place apart from the rest of the United Kingdom are removed then those we elect will opt out and stay out of the Executive."
"Let me make clear if the Protocol is not sorted then make no mistake - no mistake - there will be no next 100 years for Northern Ireland."
The Order's Grand Master, Edward Stevenson, hit out at critics he said had tried to "belittle, undermine and erase the history of our people and our country" throughout the centenary year.
"There have been many dark days and many challenges from within and without, but 100 years on, Northern Ireland remains an integral part of the United Kingdom," he added.
"And let me be clear - we intend to be an integral part of the United Kingdom for many years to come."
Mr Stevenson said that while the Order wanted good relations with all, he did not shy away from its roots or ethos.
"We are unashamedly a Protestant fraternity committed to the protection of the principles of the Protestant Reformation and the Glorious Revolution," he said.