The governor of Ukraine's eastern Luhansk province, now almost completely under Russian control, has said that Kyiv's forces might have to retreat from their final pocket of resistance there to avoid being captured.
Serhiy Gaidai said in a Telegram post that Russian troops had entered Sievierodonetsk, the biggest city held by Ukraine in the eastern Donbas region, where Moscow's biggest advance for weeks has shifted the momentum of the three-month-old war.
Russia has been trying to trap Ukrainian forces in Sievierodonetsk, where Mr Gaidai previously said 90% of buildings were destroyed, and Lysychansk, its twin city across the river.
"The Russians will not be able to capture Luhansk region in the coming days as analysts have predicted," Mr Gaidai said on Telegram, referring to the near-surrounded cities.
"We will have enough strength and resources to defend ourselves. However it is possible that in order not to be surrounded we will have to retreat."
He said fighting continued on Sievierodonetsk's outskirts but evacuations were still possible even though a key road out "is completely under fire."
Moscow's separatist proxies said they now controlled Lyman, a railway hub.
Ukrainian officials said Russia had captured most of the town but said Ukrainian forces were blocking an advance to Sloviansk, a city a half-hour drive further southwest.
Ukrainian presidential adviser Oleskiy Arestovych said overnight that the well-organised attack on Lyman showed Moscow's military, which was driven back from the capital Kyiv in March, was improving its tactics and operations.
A Ukrainian retreat could bring Russian President Vladimir Putin closer to his stated goal of capturing the Donetsk and Luhansk regions of east Ukraine in full.
We need your consent to load this rte-player contentWe use rte-player to manage extra content that can set cookies on your device and collect data about your activity. Please review their details and accept them to load the content.Manage Preferences
'At great cost'
British Prime Minister Boris Johnson told Bloomberg UK that Mr Putin "at great cost to himself and to the Russian military, is continuing to chew through ground in Donbas."
Russian forces gained ground in the Donbas after piercing Ukrainian lines last week in the city of Popasna, south of Sievierodonetsk.
Russian ground forces have now captured several villages northwest of Popasna, Britain's Defence Ministry said.
The illegal and unprovoked invasion of Ukraine is continuing.

The map below is the latest Defence Intelligence update on the situation in Ukraine - 27 May 2022

Find out more about the UK government's response: https://t.co/awvuIoQwtF

🇺🇦 #StandWithUkraine 🇺🇦 pic.twitter.com/T9Bj3oeSbG

— Ministry of Defence 🇬🇧 (@DefenceHQ) May 27, 2022
Reached by Reuters journalists in Russian-held territory yesterday, Popasna was a burnt-out wasteland.
The bloated body of a dead man in combat uniform could be seen lying in a courtyard.
Natalia Kovalenko had left the cellar where she sheltered to live in the wreckage of her flat, its windows and balcony blasted away.
She said a shell hit the courtyard outside, killing two people and wounding eight.
"I just have to fix the window somehow. The wind is still bad," she said. "We are tired of being so scared."
Russia's advance in the east follows a Ukrainian counter-offensive that pushed Moscow's forces back from Ukraine's second city Kharkiv in May.
But Ukrainian forces have been unable to attack Russian supply lines to the Donbas.
Russian forces shelled parts of Kharkiv yesterday for the first time in days.
Local authorities said nine people were killed. The Kremlin denies targeting civilians.
In the south, where Moscow has seized a swathe of territory since the 24 February invasion, Ukrainian officials believe Russia aims to impose permanent rule.
Ukraine's military said Russia was shipping in military equipment from Crimea to build defences against any Ukrainian counter-attack and was mining the banks of a reservoir behind a dam on the Dnipro River that separates the forces.
Struggling to leave
In the Kherson region, north of Crimea, Russian forces were fortifying defences and shelling Ukraine-controlled areas on a daily basis, the region's Ukrainian governor Hennadiy Laguta told a media briefing.
He said the humanitarian situation was critical in some areas and people were finding it almost impossible to leave occupied territory, with the exception of a 200-car convoy that left on Wednesday.
On the diplomatic front, European Union officials said a deal might be reached by Sunday to ban deliveries of Russian oil by sea, accounting for about 75% of the bloc's supply, but not by pipeline, a compromise to win over Hungary and unblock new sanctions.
Ukrainian President Volodymyr Zelensky has criticised the EU for dithering over a ban on Russian energy, saying the bloc was funding Moscow's war effort and that delay "merely means more Ukrainians being killed."
In a telephone call with Austrian Chancellor Karl Nehammer, Mr Putin stuck to his line that a global food crisis caused by the conflict can be resolved only if the West lifts sanctions.
Mr Nehammer, who visited Russia in April, said Mr Putin expressed readiness to discuss a prisoner swap with Ukraine but he said: "If he is really ready to negotiate is a complex question."
Russia's blockade of Ukrainian ports has halted shipments of grain, driving up global prices, with both countries major grain exporters. Russia accuses Ukraine of mining the ports and Ukraine has described the Russian position as "blackmail".
Italian Prime Minister Mario Draghi, who held talks with Mr Putin yesterday, discussed with Mr Zelenskiy today ways to free up grain exports.
"We expect further defense support from our partners," Mr Zelensky said in tweet afterwards.
Had a phone conversation with 🇮🇹 Prime Minister #MarioDraghi. Informed about the situation on the frontline. We expect further defense support from our partners. Raised the issue of fuel supply. Ways to prevent the food crisis were discussed. We have to unblock 🇺🇦 ports together.

— Володимир Зеленський (@ZelenskyyUa) May 27, 2022
Western countries have provided Ukraine with some long-range weaponry, including M777 howitzers, but remain wary of supplying the even longer-range ground weapons Kyiv has requested, for fear of escalating the conflict.
"Heavy weapons on top of our agenda, and more are coming our way," Ukraine's foreign minister Dmytro Kuleba said on Twitter after speaking with US Secretary of State Antony Blinken.
Spoke with @SecBlinken. I value his personal efforts to ensure a sustained U.S. and global support for Ukraine. Heavy weapons on top of our agenda, and more are coming our way. Ukraine and the U.S. work hand in hand to deliver our food exports despite Russia's reckless blockade.

— Dmytro Kuleba (@DmytroKuleba) May 27, 2022
Russia calls its invasion of Ukraine a "special military operation" to defeat "Nazis" there.
The West describes this as a baseless justification for a war of aggression.
Observers believe that Russia's gains in over three months of war have been far more paltry than Mr Putin hoped, though Moscow has gained control over a handful of cities in southern Ukraine, such as Kherson and Mariupol.
The Kremlin is now seeking to tighten its grip over the parts of Ukraine it occupies, including fast-tracking citizenship for residents of areas under Russian control.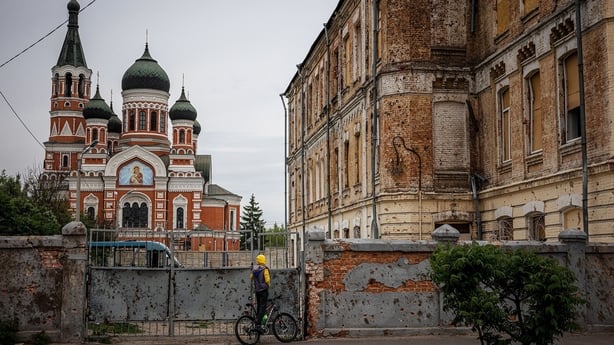 Russian authorities in Mariupol, which was taken over this month after a devastating siege that left thousands dead and reduced the city to rubble, cancelled school holidays to prepare students to switch to a Russian curriculum, according to Kyiv.
There has been speculation that Russia could seek to annex areas of eastern and southern Ukraine it now controls, possibly in referendums during Russian regional elections held nationwide in September.
Mr Zelensky will speak with EU leaders at an emergency summit on Monday as they try to agree on oil sanctions against Russia, which are being held up by Hungary, whose Prime Minister Viktor Orban has close relations with Mr Putin.
The Ukrainian President said in a virtual address to a think tank in Indonesia, which is hosting this year's G20 summit, that "rather than continue trading with (Russia), we need to act until they stop their policy of aggression."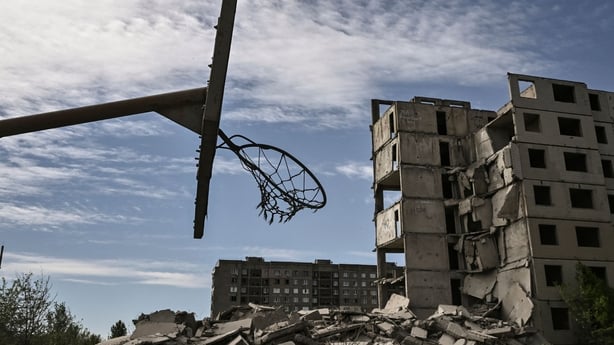 Ukraine has also bristled at suggestions that Mr Putin should be offered an "off-ramp" to save face in a compromise deal that would see Kyiv concede some territory.
"Some partners avoid giving the necessary weapons because of fear of the escalation. Escalation, really?" Mr Zelensky's adviser Mykhailo Podolyak wrote on Twitter, saying it was "time to respond" by giving Kyiv multiple launch rocket systems.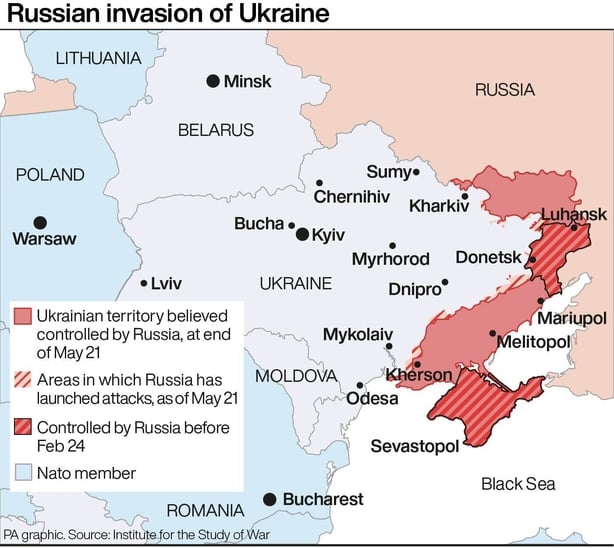 Western countries led by the United States have provided Ukraine with long-range weaponry, including M777 howitzers and Harpoon anti-ship missiles, from Denmark.
Washington is even considering providing Kyiv with a rocket system with a range of hundreds of kilometres and has held discussions with Kyiv about the danger of escalation if it strikes deep inside Russia, US and diplomatic officials told Reuters.
"We have concerns about escalation and yet still do not want to put geographic limits or tie their hands too much with the stuff we're giving them," said one US official, speaking on condition of anonymity.
Kremlin spokesperson Dmitry Peskov said Russia expected Ukraine to accept its demands in any peace talks.
It wants Ukraine to recognise Russian sovereignty over the Crimea peninsula Moscow seized in 2014, and the independence of separatist-claimed territory.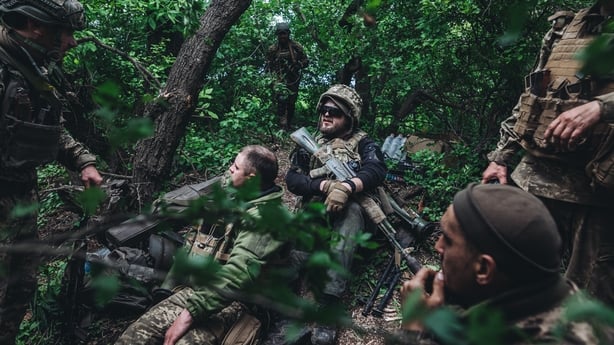 Finnish Prime Minister Sanna Marin, whose country is bidding for NATO membership in response to its Russia's invasion of Ukraine, said on a visit to Kyiv it would take Russia decades to repair its standing in the world.
"Trust is lost for generations," Ms Marin told a press conference.