US Congressman Richard Neal has urged all parties at Stormont to "stay at the table" and negotiate in good faith to sort out their differences.
Speaking after a meeting with the main parties about the Northern Ireland Protocol impasse, Congressman Neal said the "common thread" was support for negotiated solutions to resolve challenges related to the implementation of the protocol.
"We have urged parties to stay at the table and negotiate in good faith to sort out their differences," he said in a statement.
"We shared our support for a peaceful and prosperous Northern Ireland in which all communities can enjoy the gains made possible by the Good Friday Agreement now and in the years to come.
"Each party shared their eagerness to deliver for their constituents and to return to the regular order of governance.
"The people of Northern Ireland need Stormont up and running."
Power-sharing is on hold after the DUP refused to re-establish a devolved executive following the recent election in protest at arrangements that have created economic barriers on trade between Britain and Northern Ireland.
Commenting on his way into the meeting earlier, Mr Neal had said Northern Ireland has endured far more grim moments than the current dispute.
Unionist politicians have reacted angrily to remarks by Mr Neal in Dublin on Tuesday when he claimed the protocol dispute was a "manufactured issue".
Standing in the Great Hall of Parliament Buildings, Mr Neal told reporters: "I have been in this hall many times, through far more grim moments than the one we're currently witnessing.
"I think that the role that we've (the US) offered, the dimension that we brought to bear, is overwhelmingly over all of these years been very helpful."
Mr Neal also spoke of the need to "duly honour" the 25th anniversary of the 1998 Good Friday Agreement next year.
"It's an extraordinary success story," he added.
Stormont is the latest stop on the US politician's ongoing visit to the island of Ireland.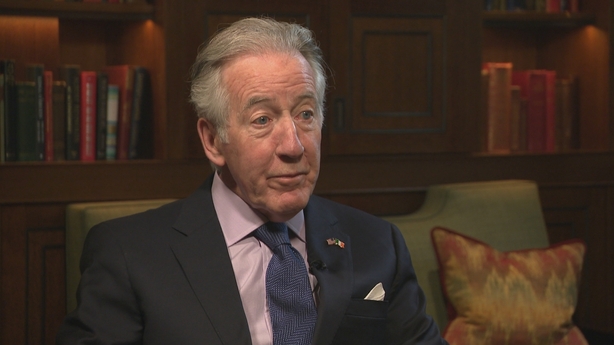 The delegation has also held meetings in London and Brussels during its protocol fact-finding mission.
Many unionists and loyalists are vehemently opposed to the protocol, claiming its requirement for checks on goods moving across the Irish Sea has undermined Northern Ireland's place within the United Kingdom.
The bi-partisan delegation had separate meetings with Sinn Féin's leader in Northern Ireland Michelle O'Nell and DUP leader Jeffrey Donaldson.
Mr Donaldson described the visit as the "most undiplomatic" he has ever seen.
Speaking after meeting the delegation, he said they had "been left in no doubt whatsoever the strength of feeling amongst unionists about this visit".
"It has been the most undiplomatic visit I have ever seen to these shores, the language if I may be diplomatic myself, it has been unhelpful, and it displays an alarming ignorance of the concerns of unionism, and I can assure you that our words today to the delegation were not manufactured, nor are the legitimate and genuine concerns that we represent and that are shared by all unionists," he told media at Stormont.
"We reminded the delegation that not a single unionist elected to this Assembly supports the protocol, that power-sharing only works on the basis of a cross-community consensus and that that consensus does not currently exist.
"What we need now are solutions. What we do not need are people telling us that we must fully implement a protocol that is harmful to Northern Ireland, and if it were fully implemented would present what I regard as an economic tsunami for this place."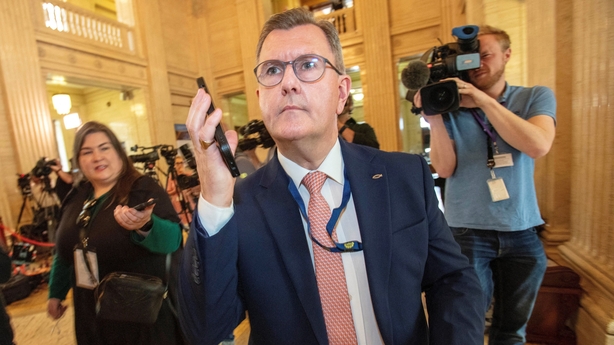 Ms O'Neill said she welcomes the support of a "strong delegation" of US politicians who are visiting Northern Ireland.
The Sinn Féin MLA added: "For many years we have enjoyed the support of successive American administrations in terms of our peace process, so I very much welcome the fact that we have such a strong delegation visiting here.
"(They are) big supporters of the peace process, big supporters of the Good Friday Agreement and the need to protect that agreement.
"We have had a very good meeting with them in terms of our shared objective which is to have this Executive and Assembly up and running, supporting people through the cost-of-living crisis, addressing our health service needs.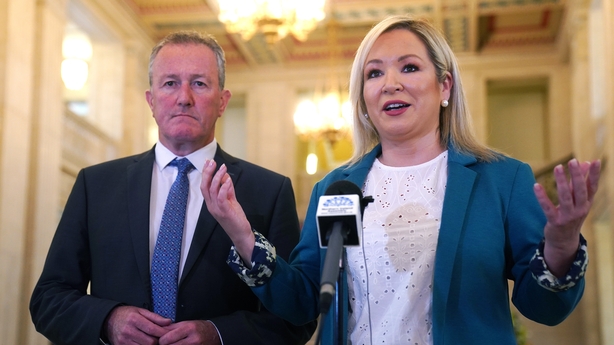 Ulster Unionist leader Doug Beattie claimed that the US delegation now understand unionists' concerns about the Northern Ireland Protocol.
Speaking after meeting the delegation, Mr Beattie said he made their concerns clear to the group of US politicians.
Mr Beattie added: "They understood the unionist point of view in regards to the Belfast Agreement and how our relationships east-west, and north-south are being damaged and how they can be easily fixed.
"We made it clear that if they didn't come out of it (meeting) understanding the unionist point, then they haven't been listening.
"It's my understanding that they now understand the issues at hand, what is affecting the unionist people, what has the concern of the unionist people, and it's not manufactured - this is long-term - and we have said this since the protocol first appeared.
"I think they get it now. But we will know if they get it if they come out and say "we now understand", because we made that point quite heavily to them."
The US delegation will also have talks with Alliance leader Naomi Long and SDLP leader Colum Eastwood.
During a visit to Co Antrim yesterday, British Foreign Secretary Liz Truss again said the UK does not plan to scrap the protocol, while insisting that it needs to be "fixed".
Last week, she warned that the British government will introduce legislation within weeks to enable it to set aside parts of the protocol unless the EU compromises on the issue.
The EU, Irish Government and US administration have all said such unilateral action would be a breach of an international agreement and counterproductive.
Speaking to RTÉ News on Tuesday, Congressman Neal accused the British government of "intransigence".
Mr Neal is chairman of the powerful US House of Representatives' Ways and Means Committee, which has the ability to approve, or block, any future US-UK trade deal.
Additional reporting: Vincent Kearney