Three months on from the start of the war in Ukraine, three Ukrainian music students who are now living in Ireland have been reflecting on how their lives have changed.
Sulamita Pyvovar, Yana Shpak and Olesia Borsuk all had to leave their studies in Ukraine in the aftermath of the Russian invasion.
After travelling across Europe, they have begun free tuition at the Royal Irish Academy of Music (RIAM), under the EU's Temporary Protection Directive.
"I am very grateful for this opportunity," said 17-year-old pianist Sulamita. "I can't live without music, without practising. And now I can do this here in Dublin."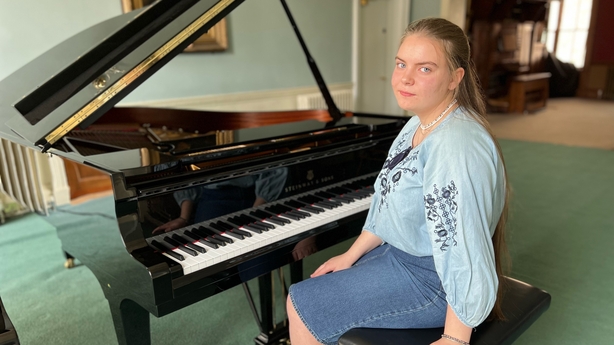 Sulamita was living in Lviv in western Ukraine when the war started. Her family had already fled war once before - from Donetsk, in the east, which has been controlled by pro-Russian separatists since 2014. She came to Ireland via Poland.
"It's such a terrible situation in my country now," she said. "It's almost impossible to think we could have this kind of war in the 21st Century. My dad is still in Ukraine. He can't leave. So it's hard for me to be separated from him and all my friends."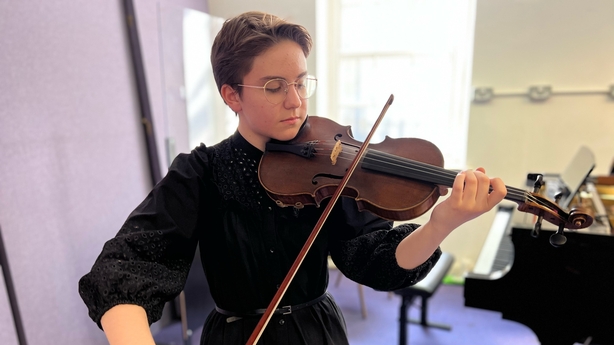 After fleeing Ukraine with her mother and sister, 18-year-old Yana travelled for 11 days through Poland, Germany, Belgium and France to reach Ireland.
Throughout the journey from Kyiv, she clung to her violin.
"It was the first thing I did when the war started," she explained. "I thought about how I can take my violin with me. It absolutely had to come."
Yana is originally from Mariupol, the strategic port city which has been pulverised and flattened by Russian forces over the past three months.
"I left in 2014 but I know all those streets. It's really painful to watch those pictures and know I can never go home again," she said.
Like Sulamita, Yana has found solace in music.
"When I'm playing, it's a safe space. I'm not using up energy on bad emotions. I play the violin and can experience other emotions."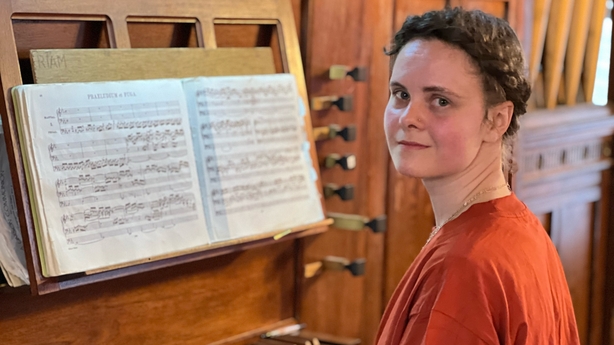 Three months agio, Olesia awoke to the sound of sirens and explosions in the city of Ivano-Frankivsk. Opening a window, she could see clouds of black smoke rising into the sky.
"For the first time in my life, I had a panic attack," she said. "I was alone and called my parents to find out what was happening. But then I read the news that Putin had attacked our country."
Olesia, who is a student and music teacher, became part of the volunteer effort in the city, making camouflage nets and Molotov cocktails.
She eventually decided to leave, but her journey to Ireland was circuitous. She travelled by bus to Warsaw in Poland and then on to Berlin in Germany by train. From there, she went to Denmark, where she stayed with relatives for a few days. She then returned to Germany, staying with friends in Hamburg.
"I told myself I just had to go and do my best. There will be time for grief - I know it is going to happen one day. But I needed to be strong. When I arrived in Warsaw, I said to myself - I'm in Europe, there are many organs. I can go anywhere and beg to play. In Hamburg, people told me that Dublin was a musical city, that there was music everywhere."
Olesia wrote to David Adams, a renowned organist and the head of Early Music at the RIAM. She took a flight to Dublin on 19 March.
"It was such a beautiful shock when the Academy answered so quickly. I met David and since then things have gone really well for me. Being able to play is so important. I am releasing all my emotions, all my anger. I know I am in the right place now."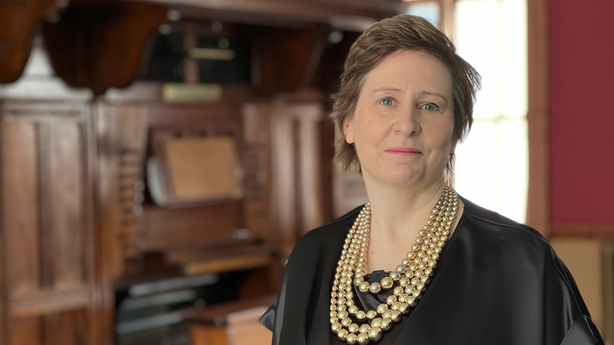 The RIAM describes Olesia, Yana and Sulamita as "trailblazers" and "amazing, wonderful players". It says it expects four other Ukrainian students to enrol at Ireland's oldest music conservatoire in September.
RIAM Director Deborah Kelleher said: "When we saw refugees coming in from Ukraine, we knew there were going to be musicians amongst them, because Ukraine is such an amazing country for music.
"There are young people coming to Dublin who are training to be concert pianists, singers or violinists. So we have reached out to them and offered them the opportunity to continue their professional studies.
"Music is an extraordinary thing. It is so international that you can go and have a very good lesson, without speaking the language of the person who is giving you the lesson. Because the language is in what you play.
"So what we are doing is giving them options. We are giving them a lot of love, a lot of attention, a lot of support, and then the options. They are marvellous young people."