Russian President Vladimir Putin defended Russia's war in Ukraine as necessary to protect the "Motherland" as Moscow flexed its military muscle at a huge parade marking the 1945 Soviet victory over Nazi Germany.
Fierce battles raged in eastern Ukraine while Mr Putin made his Victory Day speech against a backdrop of intercontinental ballistic missiles rumbling through Moscow's emblematic Red Square.
Mr Putin channelled Russian pride in its World War II triumph to mobilise support for the Ukraine invasion, now in its third month.
The conflict is mired in the history between ex-Soviet neighbours Ukraine and Russia, with Mr Putin saying the so-called "special military operation" in Ukraine is in part to "de-Nazify" the country.
Mr Putin blamed the West and Ukraine for the current conflict, telling the parade that Russia faced an "absolutely unacceptable threat" and warning against the "horror of a global war".
"You are fighting for the Motherland, for its future, so that no one forgets the lessons of the Second World War," he said.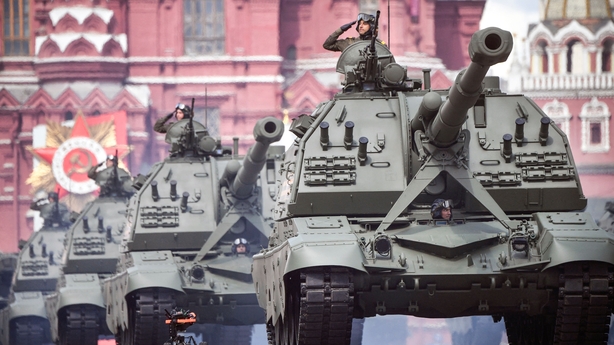 The celebration in Red Square also featured some 11,000 troops and more than 130 military vehicles, although a planned military flypast was cancelled.
On the ground, the key battles are being fought in Ukraine's east, which Russia is seeking to secure having tried and failed to take the capital Kyiv and the north.
Ukrainian leader Volodymyr Zelensky invoked the ghosts of World War II to chide Russia for claiming sole credit for winning.
"We will not allow anyone to annex this victory. We will not allow it to be appropriated," he said in a video speech about an hour before Mr Putin spoke.
Hailing what he said were Ukrainian victories against Nazi German forces during World War II, he said "We won then. We will win now."
We need your consent to load this rte-player contentWe use rte-player to manage extra content that can set cookies on your device and collect data about your activity. Please review their details and accept them to load the content.Manage Preferences
Yet in Kyiv the commemoration day was largely shunned as life slowly returned to normal, weeks after fierce fighting raged in its suburbs.
The West, which has hailed Mr Zelensky as a hero, rallied behind Ukraine's defiance of Russia as the historical significance of Victory Day continued to resonate.
British Defence Secretary Ben Wallace accused Mr Putin of "mirroring fascism" and said Russia's bemedalled generals should "face court martial" for their handling of the war.
But France's President Emmanuel Macron poured cold water on Ukraine's oft-repeated desire for fast-track European Union membership, saying it would take "decades". However, he suggested building a broader political bloc that could also include Britain.
The UN Human Rights Council announced it will convene a special session on Thursday to address worsening Russian violations in Ukraine.
Today, more than 50 countries backed Kyiv's request for the meeting of the UN's top rights body to examine "the deteriorating human rights situation in Ukraine stemming from the Russian aggression".
In Warsaw, pro-Ukraine activists hurled red liquid at Russian ambassador Sergei Andreev and other men in his entourage at the cemetery of Soviet soldiers in the Polish capital.