The most prominent Government figures were busy at work today, far from the count centres in Northern Ireland.
The Taoiseach was in Cork and Minister for Foreign Affairs Simon Coveney was a little further up the road in Limerick.
Yet what was emerging from those centres in the North was to the forefront of their thoughts.
After watching the early results take shape, the Taoiseach spoke to the media.
He said people in Northern Ireland wanted a working Assembly and a political system which delivers on bread-and-butter issues.
"There is an obligation on everybody elected to take their seats in the Assembly and to form an Executive," he said.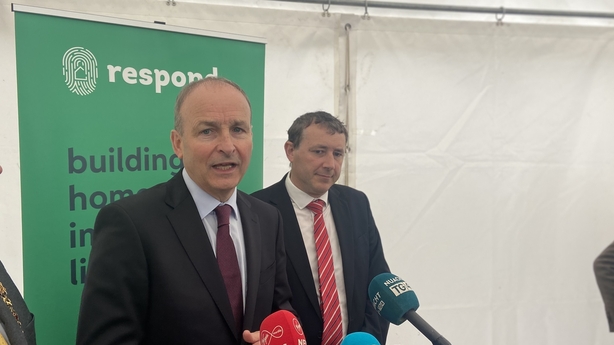 Those words are in keeping with a desire in Government to inject a sense of urgency into the task of forming an Executive at Stormont.
But there is an acute awareness too that a "tough few weeks and months" await those working on the formation of any Executive.
Coupled with this is the widespread view, that talks to achieve this often-elusive goal, are likely to be intertwined with negotiations between the EU and the UK on Northern Ireland Protocol.
The clear assessment of former taoiseach Bertie Ahern is that these talks will have primacy in determining if an Executive can be formed or not.
Speaking on RTÉ's Today with Claire Byrne programme, he spoke in blunt terms about the MLAs elected to the Assembly having "damn all" influence on the crucial EU and UK talks.
We need your consent to load this rte-player contentWe use rte-player to manage extra content that can set cookies on your device and collect data about your activity. Please review their details and accept them to load the content.Manage Preferences
But the dominant view right now is that until those discussions reach a conclusion it is difficult to see the DUP entering a power-sharing arrangement, where Sinn Féin would hold the office of First Minister.
The Taoiseach's words on this often-fraught issue were conciliatory this evening and they follow on from what were described as "positive" discussions between Minister Simon Coveney and the British Foreign Secretary Liz Truss.
"The European Union and the United Kingdom have the opportunity now in the aftermath of this election to knuckle down and get an agreement in terms of the operation of the protocol. The landing zone is there - I have no doubt about that. With good political will this issue can be resolved," he said.
Or to put it another way, some in Government privately talk about removing "any excuse" about the protocol in order to allow the Executive to be formed, even it that takes many months.
If that were to happen and Sinn Féin's Michelle O'Neill becomes First Minster, it would represent a most significant moment for the party.
Its TDs are of the view that it would cast Sinn Féin as a lead party of Government and thus give it momentum going into all future elections.
While their political opponents are understandably not embracing that theory, Sinn Féin's elevation to the role of First Minister would place greater attention too on issues such as a border poll.
In response the Government is likely to emphasise the work of its Shared Ireland initiative.
The Taoiseach said yesterday this body eschews easy answers and does the unglamorous work of building understanding.
Selling that message against the more straightforward call for a border poll is now inevitably going to be a theme of the next General Election here.