An Irish cameraman who was killed outside Kyiv in Ukraine said his job as a cameraman suited his personality, as he wrote about his work a number of years ago.
Pierre Zakrzewski, who grew up and was educated in Dublin, was killed alongside Ukrainian journalist Oleksandra Kuvshynova when their vehicle was struck on Monday by incoming fire in Horenka, outside the capital.
Pierre graduated from St Conleth's College in Dublin in 1984 and wrote about his career for the 2004 yearbook.
"Travel, adventure, foreign news and seeing humanity at work," he wrote.
Pierre said his education at St Conleth's, along with encountering the mix of personalities of students and teachers there, helped him in his career.
He said his job as a cameraman is "simply to inform the general public so that they can put pressure on politicians to implement change in these wonderful countries".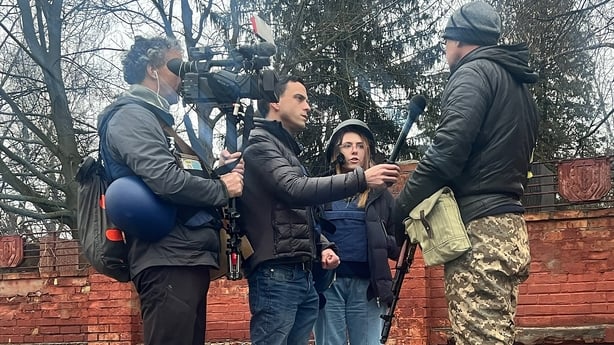 "It is difficult to explain the attraction to this way of life, but when you experience the emotional rollercoaster of war, both positive and negative, as a cameraman I feel I have a duty to tell their story," he said.
Pierre wrote about his hope and optimism for Afghanistan, which he said had been "so physically and psychologically scarred by the effects of war".
He recounted his experience in Liberia, of "uncontrolled child soldiers, indiscriminate civilian deaths, and dictators more interested in lining their own pockets than looking after the welfare of the population".
Pierre hoped for a time where the international community could focus on a true agenda of peace.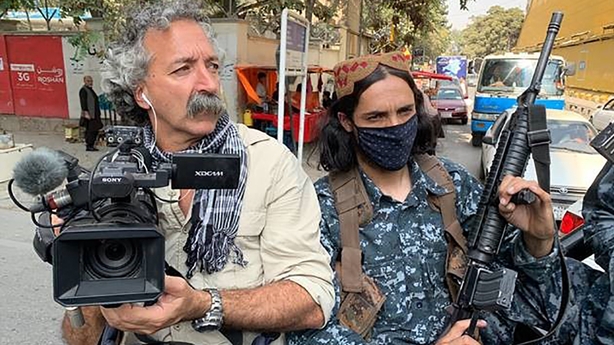 Shortly before returning to Baghdad, he wrote of his "shock and awe" at a deteriorating situation in Iraq and his hope that "one day" there would be peace and "the kind of life which we take for granted in the West".
Pierre reflected on the death of "another great cameraman, the Navan man Simon Cumbers" who was killed in Saudi Arabia in June 2004.
"We pay a heavy price in the field. I've many friends and colleagues who have died so that the world can be better informed," he said.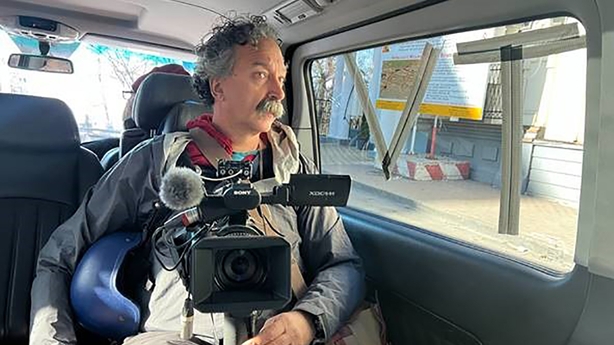 He said the role of freelancers was "indispensable" and pointed to the death of freelance cameraman Rory Peck, who also attended St Conleth's, who was killed in Moscow in 1993.
"He was undoubtedly one of the best cameramen of his generation," he said.
Pierre imparted advice to students considering following in his footsteps.
"For those of you who think that working as a cameraman is all about glamour and just one big, long extended holiday - well you're in for a shock when you arrive at your destination," he said.
Writing of long days and nights, 400kg of equipment and dried river beds serving as offices, Pierre warned one lost piece of equipment can stop an entire transmission.
"Every checkpoint has to be negotiated. I always carry lots of cigarettes, as this is the unofficial checkpoint currency," he said.
"Although it can be exhausting, there is nothing more rewarding than experiencing the smiles, hospitality, and camaraderie of these people," he said.
"When you think you have seen the worst excesses of man's inhumanity to man you realise the strength of the human spirit," he added.
"There are the kids laughing as they see their image on the monitor; families who share with you the little food they have and the countless cups of chai and conversations about conflict, politics, religions, cultural differences and life in general," Pierre wrote.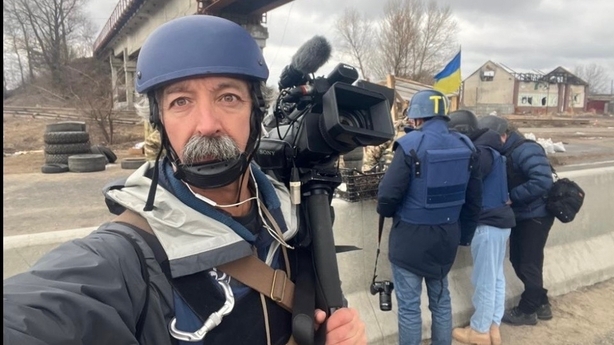 He paid tribute to his past tutors, mentioning that Mr Liam McGloinn would be glad to know that "when all else fails, speaking a few sentences in Irish to a bureaucrat or a soldier, usually gets things rolling again - go n'éirí an bóthar leat".
---
---
Pierre Zakrzewski was a student at St Conleth's from 1978 to 1984.
After leaving St Conleth's in June 1984, Pierre studied Arts in UCD, and soon travelled all over the world with his work.
He was based in London for the last number of years, but often visited Ireland to meet his many friends.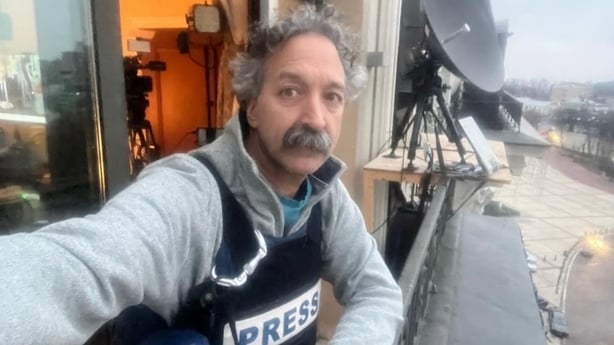 President Michael D Higgins said the "indiscriminate killing of civilians, including journalists, must be brought to an end".
In a statement on Twitter, he said he had offered his deepest sympathies to Mr Zakrzewski's family and expressed his sympathy to the International Federation of Journalists on the loss of a colleague.
Fox News CEO Suzanne Scott said he covered "nearly every international story for Fox News from Iraq to Afghanistan to Syria", adding that his "passion and talent as a journalist were unmatched".
Pierre is predeceased by his father, who was from Poland and worked as an architect.
He is survived by his wife Michelle, his mother, who is French, and his five siblings. Two of his brothers and his mother still live in Ireland.