Two Ukrainian women whose worlds collided during the early days of the Russian invasion of their homeland have met face-to-face for the first time in Ireland.
Oksana Starzhinska, from Kyiv, and Anastasiia Zymovska, from Kharkiv, became emotional when they met in Dublin at the weekend.
The women are among more than 2.5 million people who have fled Ukraine, in what the UN has called the fastest-growing refugee crisis since World War Two.
The remarkable story of how two strangers became friends begins on 24 February, the day Russia launched its full-scale invasion of its neighbour.
Oksana and two of her daughters, Gloria, 18, and nine-year-old Stefania awoke to the sound of sirens and explosions in the Ukrainian capital.
A sales director for one of the city's top hotels, Oksana made a snap decision - they had to leave and try to get to the Polish border.
"I just had to go," she explained. "I grabbed my handbag and our documents. I was shaking. We could hear explosions, but we couldn't see where they were. We sat in the car and I started driving like crazy at about 160km/h. I was driving through red traffic lights and we put music on in the car to hide the sound of the sirens, as Stefania was worried. All I knew was that we just had to go."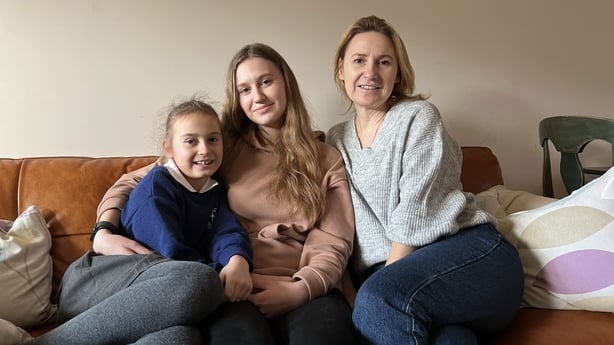 Acting as navigator, 18-year-old Gloria decided to avoid the congested motorways out of Kyiv and chose a route through villages, fields and forests.
She said: "Nowadays, people usually go where Google tells them to go. But I decided to pick small roads. Of course, this was kind of dangerous, because you didn't know if they were safe or not. Or if we could still use them. But I think God must have been leading us. When I look back, I think 'how did we do it?'"
The journey to the Polish border took more than two and half days, during which time they only slept for two hours. For most of the journey, Stefania was in the car boot, silent and terrified.
Oksana later learned that she had sent a message to relatives in Poland that said: "I can't wait to see you, but I don't know if I ever will, if the Russians start shelling at us again."
"This nine-year-old child never cried during the whole journey," she said. "She never told us she was scared. She wasn't really talking and she wasn't eating. We could see she was stressed and so I decided to see if I could find a psychologist who might be able to give me advice on how to help her. We sent requests online to see if somebody could help. And a woman replied to say that she could."
That woman was child psychologist Anastasiia Zymovska.
"We exchanged messages on Instagram, I think, and arranged a phone call," Oksana continued. "We were speaking and I asked her where she was. And she told me she was in Kharkiv. And we had seen on tv that Kharkiv was being bombarded. The city was being destroyed. And she was sitting in a bomb shelter with her family, with no food and no water. Yet through the internet, she was trying to help my child. I wanted to send her some money for the consultation, but she wouldn't take it. She just wanted to help my child. Both of us started crying and we promised that when the war was over we would meet up for a cup of tea somewhere."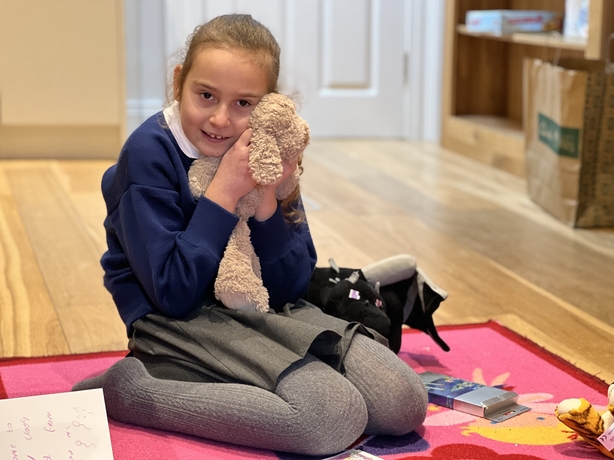 Last week, Oksana, Gloria and Stefania travelled from Poland to Ireland. A family friend, Marianna O'Neill, was mobilising support for refugees. Marianna arranged for them to stay with a host family in the Dublin suburb of Rathgar, and Stefania has already started school in Dundrum.
However, while Oksana and her girls had made it to safety, Anastasiia's situation remained perilous. She had left Kharkiv and travelled to Poland with her cousin. But they didn't know where they could go to next.
Oksana, who had stayed in touch with Anastasiia via text message, saw an opportunity to help.
"She was stuck in Poland with her cousin and they were crying because they couldn't find accommodation or a job. They had decided to go back to Ukraine. But at that moment I gave her a call and said she should come to Ireland. She had helped me when I was in a very difficult situation. Now I could help her when she needed someone."
Last Friday, Anastasiia and her cousin flew from Poland to Shannon Airport, travelling on to Dublin by bus.
They are staying with a host family in Dundrum.
On Saturday, Oksana and her daughters paid them a visit - the two women embracing on the doorstep in the rain.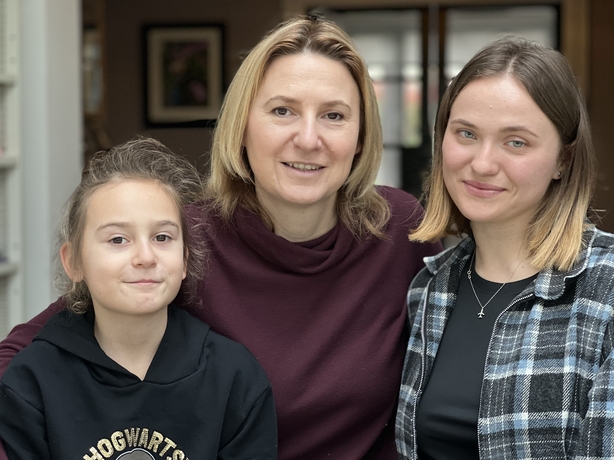 Oksana said: "Anastasiia was there for me when I was in a difficult situation. For her, I think our first 20 minute phone call was a chance to forget about the war. Even though she was in a bomb shelter in Kharkiv, she was just being a psychologist, helping a child. Even after that call, she carried on texting me, asking how Stefania was, or if she could help. I just really appreciated what she did and I wanted to help her."
Reflecting on how quickly her circumstances had changed, Anastasiia said: "It's hard to believe what has happened and we are so grateful to the Irish people and how they have accepted us. Oksana and I had talked about meeting one day and having a cup of tea. But it's just incredible that we should meet in Ireland!"
In a country more than 3,000km from home, two women who were strangers less than three weeks ago, say they will now be friends for life.