A Co Kildare animal sanctuary is carrying out its biggest hen rescue run of the year.
LittleHill Animal Rescue is looking for new homes for thousands of ex-battery hens throughout March.
It says the rescued birds, which have spent all their lives in cages, are transformed after they are adopted.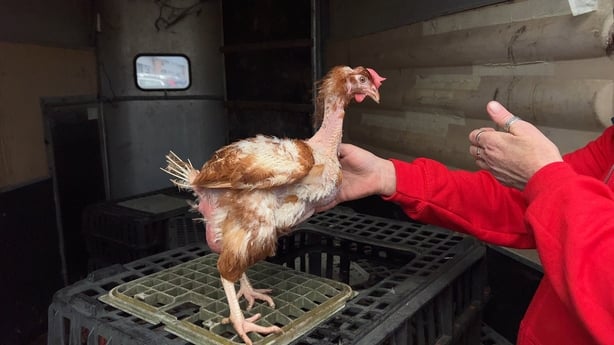 Susan Anderson, co-founder of the sanctuary, explained: "All egg-laying hens are culled yearly. After about a year, their production rate goes down by about 10%. If we had these little girls in our garden, they might lay six eggs a week, instead of seven. But for a farmer with an awful lot of hens, the production rate goes down by 10%.
"There are a couple of very nice farmers who work with us. They don't like seeing their hens going to slaughter. They ask us to find homes for them and we've been doing it for 11 years now."
Actress and author Pauline McLynn is the sanctuary's patron and has helped on several chicken runs.
She said: "It's a huge operation to do any size of a hen run. You go to the farms, you load up the hens, you bring them on their journey but before that the hens must be booked so you are in touch with people from all around the country before it happens."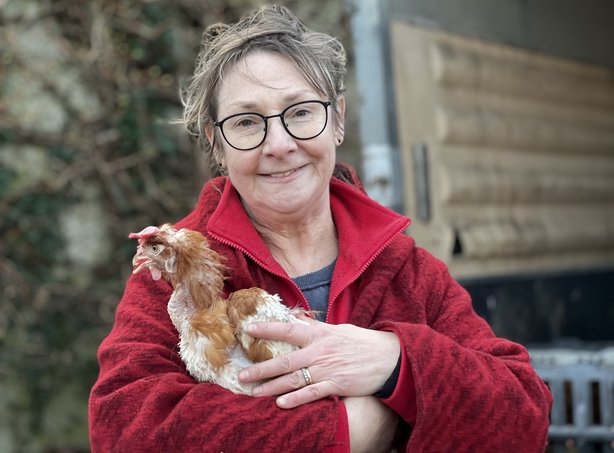 RTÉ News accompanied the sanctuary on one of the chicken rescue runs. On the day, there were 100 hens rescued that needed to be rehomed.
The sanctuary assess which hens can be rehomed immediately, and which hens need to recuperate at the sanctuary.
Pauline McLynn explained: "When they go into the cages, so young and so vulnerable, they are what's called debeaked. It's a snipping of the beaks. They say it's so that they don't fight or do damage to other hens that they are squashed in the cages with. But all it does is deform the beak and it makes it very hard for some of them to eat.
"I suppose what I get from it all is a better realisation of what it is I'm looking at in the supermarket when I go in there. I now know where most of the eggs come from in there. And I know it's not cruelty-free what I'm buying. And that really informs the choices that you make."
Susan Anderson added: "I would like to hope eventually that people would see the dangers of intensive farming to their health and how horrendous it is to squash any being into a cage in their thousands."
On this particular run, more than 40 hens are rehomed, many to people who have previously adopted ex-battery hens.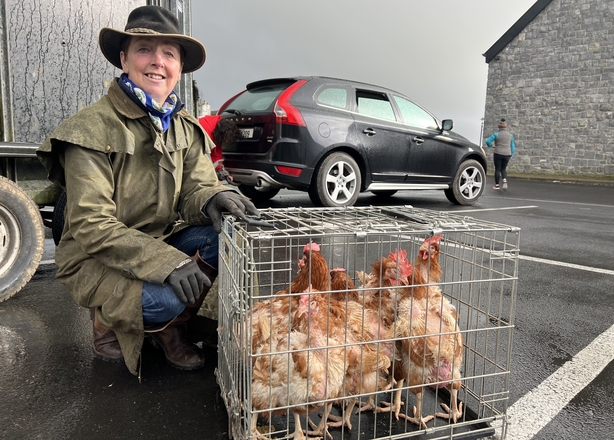 Adopter Fiona Furey said: "I find for the first week they do nothing but eat. And then they may not lay for a week or two and then they'll come back laying when they've picked themselves up a bit. But that's what I love about them - is seeing the progression in them."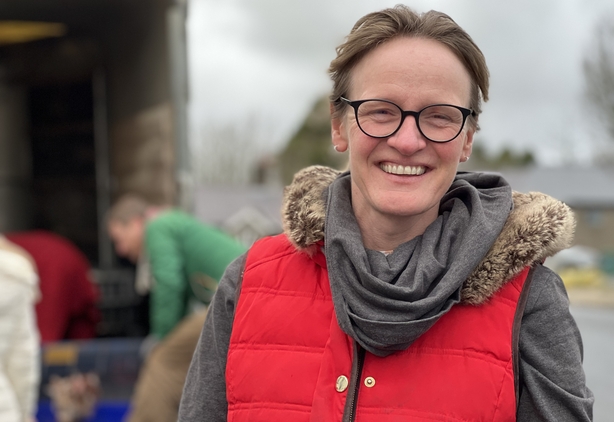 Another rescue hen owner Carol Coad explained that they are wonderful animals to have around the home.
She said: "They're really timid when they arrive because they've never lived outside. They stay in the coop, and you see their little heads poking out. After a few days they start to venture outside and peck around in the garden. It's like watching them re-emerge, I suppose."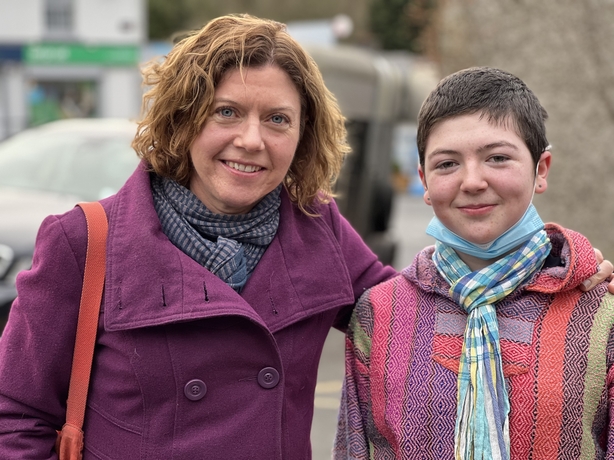 Mother and daughter Eimer Casey and 13-year-old Laoise Burke adopted three hens.
Laoise explained: "We tend to go for themes when we get batches of hens. So yeah, we were thinking of naming them after Derry Girls!"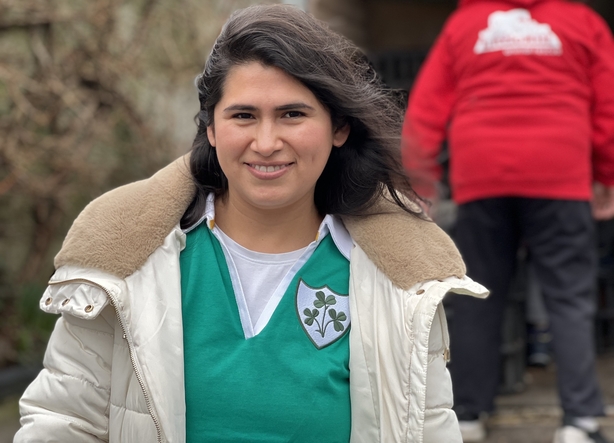 Meanwhile, Eunice Orosco was looking forward to adding to her brood of hens.
She said: "I think it's going to be a good experience for them and for me to be able to see that I can help them even in a small way."
The hens that have not been adopted stay at the LittleHill Animal Rescue and Sanctuary. The sanctuary is appealing for people to consider hen adoption. Bookings can be made on the sanctuary's Facebook page.
The sanctuary advises people to consult the website of the Department of Agriculture, Food, and the Marine for all the latest advice on keeping chickens.
Pauline McLynn said: "When you see the people arrive with their boxes and the excitement that they have. And to know that these little hens are going to such a better life. It's wonderful. Honestly, it's food for the soul."