Schools have been told that they may resume normal school routines and normal school teaching and learning activities from Monday.
In guidelines sent to school principals this evening, the Department of Education says they should "immediately" remove any physical distancing measures that were impacting negatively on teaching and learning, and that other restrictions may also be discontinued.
It means that sporting activities, singing and music, breakfast clubs and interschool activities can all resume.
The use of changing rooms, PE halls and lockers, and staff rooms can also now resume with no restrictions.
The department says staggered drop offs or pick-ups or school breaks are no longer necessary.
Schools have been told that parent teacher meetings should be resumed as soon as possible. With all restrictions on visitors to schools lifted they have been advised to ensure that parents teacher meetings are held "within this year" for each year group.
However, the guidelines do not specify whether or not these meetings must be held in person or can be arranged remotely.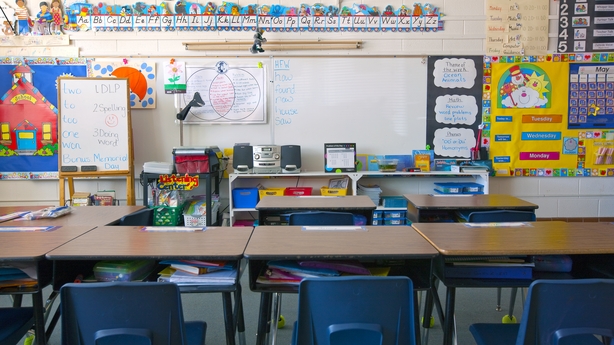 The arranging of children into discrete class groups, known as pods at primary level, and the reconfiguration of classrooms at both primary and second level can all now be discontinued.
However, the department has told post-primary schools that it does not envisage that school timetables – which were designed to incorporate Covid-19 restrictions - will be rearranged mid-year.
Schools will set about unwinding the restrictions when they reopen on Monday after the mid-term break, but it may take some days or longer for many of the restrictions to be fully unwound. The department has told principals it does not envisage that preparation will be undertaken by schools during the mid-term.
There are mixed views about the removal of restrictions. While many staff and students have welcomed the change, many also remain concerned at the potential impact.
While many Covid-19 restrictions are being discontinued, some safety measures are set to remain.
Schools have been advised to continue using good infection prevention and control measures such as hand washing and enhanced ventilation.
Students or staff who are symptomatic should continue to self-isolate. Antigen tests will continue to be provided to primary schools, with no change to the current scheme.
The department says funding for the purchase of PPE, including hand sanitiser, will continue.
It says schools should continue to make masks available to anyone who requests one.
It says additional funding for enhanced cleaning in schools, will continue and will be reviewed in advance of the start of the next school year.