The Crusty Corner bakery in Dunboyne in Co Meath and deli is doing a brisk business at lunchtime.
A young mother who is wrestling with a toddler while buying lunch says that as a user of public transport, she is glad to hear the costs are being reduced. She also welcomed the electricity rebate.
"Our last electricity bill was probably the highest we've ever had. So, I'm definitely hoping the credit and all that is going to make a difference."
Another customer says while the electricity rebate will help, she would have liked to see more done in relation to food prices.
"We could do with more. We could do with a lot more. The grocery bill is going up all the time."
A young man in the line for lunch said he was happy with public transport prices coming down and generally having more money is his pocket.
"My generation, we're kinda bought out of the rental market essentially, so if it helps anyone of my generation put more money towards our rent, yeah definitely."
The owner of The Crusty Corner, Noel McGee, said people have become more price conscious in recent weeks. He said those who previously wouldn't have asked how much something was are now looking for prices and how much value they're getting for what they pay.
He said the Government measures, in his view, amount to crumbs.
"€200 on your electricity bill, compared to the total you pay over the year, its minute. Personally, I'd like to see a reduction in the USC or some sort of tax break for people that would give them some extra money in their pocket."
Dunboyne is in Dublin's commuter belt and many still rely heavily on their cars to get around, including Dave Kavanagh.
"The price of fuel has just got ridiculous. It's gone up 30-35% in less than 12 months. So, for people who are dependent on cars or private transport to get to and from work, it's no joke."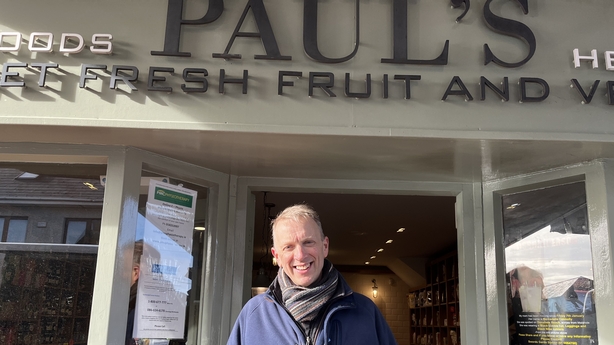 But at Paul's Fine Foods, as the owner, Paul Lerihan loads cartons of apples into his delivery van, he says the fruits of these measures should have been more fairly distributed.
"It should have been given to the poorer people, the people who are really struggling with mortgages and those things. I'm lucky, I'm getting by."
After cutting back in recent times to make up for months of lost business, owner at the Dunboyne Hair Studio, Eva Hemeryck, says the latest government measures won't help her business bounce back.
"No! No! I I feel like, for everybody, we're just existing. We haven't increased prices because we feel that everyone is struggling. So, you know, we don't want to make anyone in a worse position. But at the moment we're just going day by day."
As the Government's cost-of-living measures take effect in the coming weeks, the challenge for the coalition will be whether members of the public feel a difference reflected in their personal finances.