Taoiseach Micheál Martin has said the Government would look with an "open mind" at a recommendation to keep the qualifying age for the State Pension at 66.
The Oireachtas Committee on Social Protection has recommended the qualifying age for the State Pension should remain at age 66, in a report published this morning.
The committee also calls for legislation to ban mandatory retirement clauses in employment contracts.
It is seeking flexibility to allow those with 40 years' contributions to access their State Pension at the age of 65.
Minister for Finance Paschal Donohoe said leaving things as they are is an option, but it is one that "brings costs with it", which would begin to develop "sooner than some might anticipate".
Speaking on RTÉ's News at One, Minister Donohoe said there are currently four-and-a-half working people for every pensioner, which will drop to two to one by 2050.
"The cost of much of this will begin to develop sooner," he said.
"By 2030 we will be experiencing an annual shortfall each year of €2.3bn in the fund that pays for this.
"There are a number of options that will be considered but each of these options has consequences, which is why the Government - and the Taoiseach affirmed this in the Dáil earlier on - have the process in place to consider this with the consideration it needs."
We need your consent to load this rte-player contentWe use rte-player to manage extra content that can set cookies on your device and collect data about your activity. Please review their details and accept them to load the content.Manage Preferences
Mr Donohoe said he appreciates how important this decision is for those who are near the age of 66 and he understands the concern it generates.
On the recommendation to outlaw a compulsory retirement at 65, Minister Donohoe said it is a view that he has "a lot of sympathy for" and that a lot of people do want to work for longer.
He said this does help with the funding of other decisions they make, but on the other hand there are some kinds of work for which that kind of decision might not be appropriate.
"So overall, it is something that I think has merit and a version of it has happened in our public service, and this will be the kind of issue that will be decided soon," the minister said.
Today's report follows a request to the committee by Minister for Social Protection Heather Humphreys to consider the findings of the Commission on Pensions.
The committee concluded that many people aged 66 and over could not reasonably be expected to continue working due to the physical and mental stress their jobs have caused.
The Pensions Commission has proposed to increase the State Pension age by three months every year from 2028.
This would see the pension age reach 67 in 2031 and it would increase again by three months every two years from 2033 onwards.
Under this plan the pension age would be set at 68 years from 2039.
An overall pensions plan is scheduled to go to Cabinet by the end of next month.
Professor Alan Barrett, Director of the Economic and Social Research Institute, said that while people living longer is "one of the great achievements of humanity", there is an associated cost.
Speaking on RTÉ's Six One News, Prof Barrett said: "It's not really that complicated – we can either reduce the benefits that people get, we can pay more in taxation or social insurance benefits... or we can raise the pension age.
"All of these things are always in the mix, one group of people are going to favour another one.
"Politicians clearly are very, very reluctant to say we should increase the pension age, but the mathematics just won't go away."
Prof Barrett said a blended approach is probably ideal – such as paying a little bit more in terms of social security benefits and hopefully benefits themselves would not have to be pulled back.
He described the state pension in Ireland as a "phenomenally successful" social policy programme and said it should be maintained.
"Really what we need to do... is to start reimagining work at later life," he said.
"For a whole range of people it's going to be very difficult to work extended periods of time, so it could be the case that you could get your pension at a certain point in time but you might get a slightly lower benefit to compensate for the fact that you're taking it earlier.
"But work has changed so much over the last 30 years that an awful lot of people now have jobs that are desk-based, much more sedentary. The number of people doing physically demanding work is reducing.
"So arguments that people physically can't do work anymore doesn't really hold water in the way that it previously did."
Prof Barrett said research is increasingly showing that the mental health benefits of retirement are a lot less than people expect and can actually be negative.
He said people could continue to work but in such a way that they are winding down and are not in as stressful a position with as much responsibility.
"It actually has all those benefits in terms of social connectiveness, so there can actually be benefits too from longer working lives."
Sinn Féin's spokesperson on social protection, Claire Kerrane, said that while people are not being paid their state pension at 65, they are receiving a different payment.
She said that Sinn Fein would like to see the pension age not just capped at 66 - but reduced to 65.
''The Sinn Fein position is that people should have the choice at 65 to retire on a state pension, not a jobseekers payment as they currently do, albeit by a different name," she said.
"Or to remain on in work as many can and want to do, but can't because of their contracts in a lot of cases ''.
She said we don't have correct figures on the savings because while people are not being paid the state pension from 65 they are being paid a different payment.

''We don't have figures in relation to the savings, and the difficulty is, as the ESRI put it, because we're still de facto paying out a pension anyway. ''
The Roscommon Galway TD said ''the ESRI basically said we would have to be paying out nothing to have the savings."
Sinn Féin's spokesperson on Workers' Rights, Enterprise, Trade and Employment said that while the party does not support every recommendation in the report, it does support the fact that the commission has "very clearly said" there should be no further increase in the pension age.
Louise O'Reilly said Sinn Féin also supports the recommendation that access to retirement on the pension rate of pay should be available to workers at the age of 65 in certain circumstances.
Meanwhile, the Chair of the Oireachtas Joint Committee on Social Protection said there is no guarantee that increasing the pension age would meet the potential deficit in the pension fund that could be there by 2050 or 2070.
Denis Naughten said that because of that the committee has recommended that the pension age should remain at 66.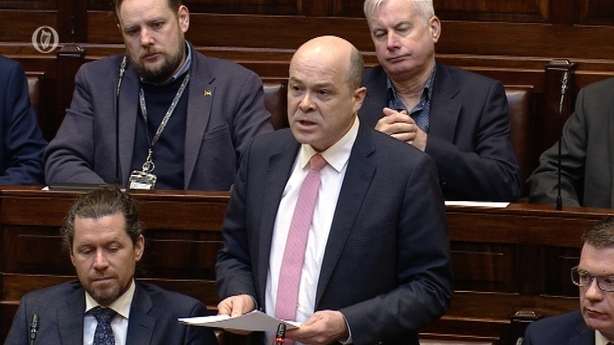 Speaking on RTÉ's Morning Ireland, he said the recommendation of a ban on mandatory retirement could result in many people working past the age of 66, which would have a significant impact on the drawdown of the pension.
He said the ban should apply to those who start working today, but should also be retrospective to those who are already on employment contracts.
Mr Naughten said evidence from EU countries, where people are forced to retire at 65, found it can have a detrimental impact on their health.
That in turn puts additional demands on our health service, he said, and adds to the overall cost of the Exchequer.
He said those who have been working for 40 years in jobs that involve heavy manual labour should not be asked to work past the age of 65.
In many cases, these are people in low paid employment, he added.