Jacinda Ardern's popularity has slumped to its lowest level since she became New Zealand Prime Minister in 2017, opinion polling shows, as criticism of her Covid-19 response and doubts about the economy grow.
The 1News-Kantar poll released last night put Ms Ardern's rating as preferred prime minister at 35%, but still showed her centre-left coalition government on course for victory at the next election, due late 2023.
Chris Luxon, the fifth opposition leader Ms Ardern has faced, lifted his preferred PM rating 13 points to 17%.
Mr Luxon is the recently installed leader of the conservative National Party, which narrowed the gap with Ms Ardern's Labour Party by five points - with the parties on 32% and 40% respectively.
Ms Ardern faced a dip in popularity in late 2019 when only 36% rated her the preferred PM, but the number soared to a record 63% ahead of the 2020 election amid widespread praise for her success containing Covid-19.
Since then, critics have accused her of failing to adapt policies quickly enough to deal with the challenges of the Delta and Omicron variants.
There has also been dissatisfaction with tough border policies that make it hard for overseas-based Kiwis to return home, although Ms Ardern's defenders point out the country has had only 52 virus deaths in a population of five million.
The opinion poll showed 49% of respondents were pessimistic about the economy, with just 22% expecting an improvement over the next 12 months.
Finland to start scaling back Covid curbs early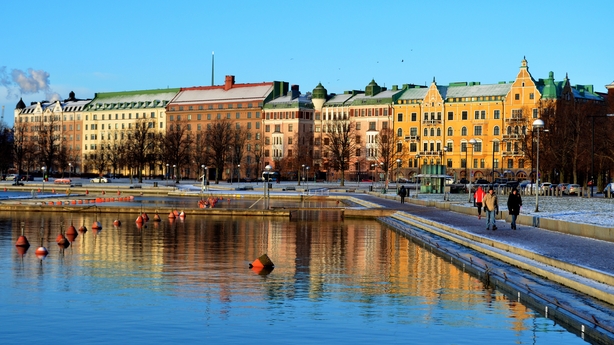 Finland will scale back some of its coronavirus restrictions early, the government announced as the strain on the healthcare system eases despite the Omicron wave sweeping the continent.
Starting 1 February, curbs on low-risk events and businesses will be eased.
"The burden on hospitals is still high, but the most serious cases are declining and there has been a turn for the better in intensive care," health minister Hanna Sarkkinen wrote in a statement on Twitter.
The Nordic nation of 5.5 million has maintained some of the European Union's lowest incidence rates throughout the pandemic, but infections have increased in recent weeks due to the Omicron variant.
On 18 January, the Finnish government extended a slew of virus curbs introduced in December, including reduced opening hours for restaurants and bars as well as caps on public gatherings.
At the time, Prime Minister Sanna Marin anticipated most curbs would need to stay in place until mid-February.
But starting at the outset of next month, restaurants will be allowed to stay open until 9pm, three hours longer than what is currently allowed, the government said in a statement.
Bars will still need to close at 6pm and stop serving alcohol at 5pm.
The government also said that restrictions around low-risk cultural and sporting events could start being eased.
The Finnish Institute for Health and Welfare reported around 52,000 new Covid-19 cases last week, compared to 57,000 the week before, while the number of virus patients in intensive care had declined nationwide.
Since the start of the pandemic, Finland has recorded 470,665 confirmed cases and 1,973 deaths.
Finland's announcement comes after Nordic neighbour Denmark said it would scrap virtually all Covid-19 restrictions on 1 February.
EU criticized for not disclosing text messages over Pfizer vaccine deal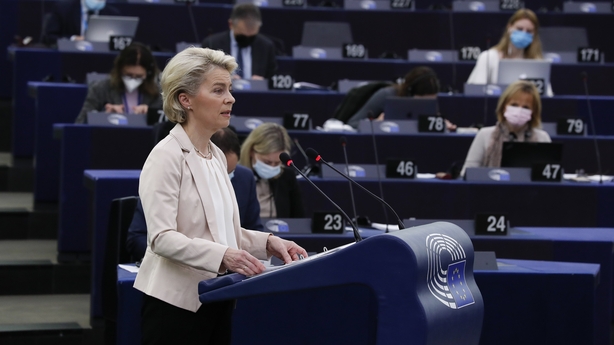 An official EU watchdog has criticised European Commission chief Ursula von der Leyen for keeping secret text messages with Pfizer's CEO about purchasing Covid vaccine doses, saying it "constituted maladministration".
EU ombudsman Emily O'Reilly has issued a formal recommendation telling von der Leyen's office to search for and hand over the texts under a freedom of information request lodged by a journalist.
Ms von der Leyen's Commission spearheaded the pre-purchase of Covid vaccines for the 27 EU countries.
More than half the 4.2 billion doses the commission has bought or optioned are sourced from Pfizer-BioNTech, making it by far the biggest supplier to the bloc's inoculation efforts.
The commission refuses to divulge key aspects of its contracts with Covid vaccine suppliers, notably on pricing, citing commercial confidentiality.
Ms von der Leyen's active public role in ensuring vaccine access included one-on-one conversations with Pfizer CEO Albert Bourla, a dual Greek-American.
Her commission rebuffed a freedom-of-information request last year for the text messages, refusing to say whether the texts existed - even though Ms von der Leyen had referred to them herself in a media interview.
It argued to the ombudsman's service that it was only obligated to hand over archived documents and that text messages or other forms of instant messages did not qualify, being "short-lived" and unlikely to "contain in principle important information" on its policies, activities or decisions.
The ombudsman strongly disagreed, saying in her recommendation "it is clear that text messages fall within the scope of the EU's law on public access to documents" and that EU case-law upholds the duty by EU institutions to retain documentation related to its activities.
"The case concerns whether, if the messages concern the commission's work and if it holds them, the commission should have granted public access to them. How the commission dealt with this matter did not allow those questions to be answered. The ombudsman considers that this constituted maladministration," it said.
The ombudsman said the commission should ask von der Leyen's office to again look for the texts, and if it found them, "the Commission should assess whether public access can be granted to them" in line with EU rules.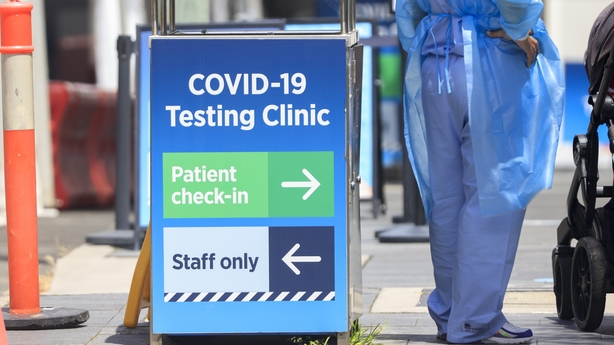 Australia suffers deadliest day of pandemic
Australia has suffered its deadliest day of the Covid-19 pandemic with nearly 100 deaths, but several large states said they expect hospital admissions to fall amid hopes that the latest wave of infections would begin to subside.
Fuelled by the fast-spreading Omicron variant, infections exploded during the past four weeks, with around two million cases recorded.
Up until then, Australia had counted just 400,000 cases since the pandemic first hit the country nearly two years ago.
But steady hospitalisation rates in recent days have raised hopes that worst could be over.
Don't go out and celebrate yet
"Generally the situation is stable ... and we're expecting further falls (in hospital cases)," Queensland state Chief Health Officer John Gerrard said during a media briefing, as hospital cases in the state fell for the third straight day to 818.
But he warned the state's 5 million residents that the pandemic was far from over. "So don't go out and celebrate yet but the news at this stage is good," he said.
Hospitalisations have remained steady at around 5,000 for the last few days, peaking at just under 5,400 on Tuesday.
Fresh modelling released by New South Wales, the most populous state, showed the number of people in intensive care units had been below the numbers predicted in a best-case scenario.
A total of 98 deaths were registered in Australia by late afternoon today, exceeding the previous pandemic high of 87 two days ago.
Just over 40,000 new infections were reported, the lowest daily tally in nearly a month.
That takes the 25 million population country's total Covid-19 deaths to 3,500 since the pandemic began, far lower than numbers seen in many comparable countries.
Australia is among the most heavily vaccinated countries against Covid-19 with more than 93% of its adult population double-dosed and around two-thirds of eligible Australian shaving received a booster dose, according to official data.
The Therapeutic Goods Administration (TGA), the country's drug regulator, today expanded the eligibility for boosters to 16- and 17-year-olds, joining the United States, Israel and Britain.
Philippines to reopen to vaccinated foreign tourists
The Philippines will reopen to fully vaccinated tourists from most countries on 10 February and lift quarantine requirements, officials said.
It comes nearly two years after closing its borders to contain the coronavirus.
Tourism operators across the archipelago nation famed for its beaches and dive spots have been devastated by a plunge in international visitors and restrictions on domestic travel.
Their misery was worsened by a super typhoon that smashed into the country in December, wiping out resorts, restaurants and bars in popular tourist destinations.
"The tourism industry can now recover and it can contribute big to jobs, livelihoods and the country's economic growth," presidential spokesman Karlo Nograles told a briefing.
A previous plan to welcome back tourists from 1 December was suspended after the emergence of the Omicron variant that has since ripped through the Philippines.
Today's announcement allows for the resumption of visa-free travel for short visits by nationals from the 157 countries who already enjoyed permit-free entry to the Philippines before the pandemic began.
Fully vaccinated tourists from countries on the list will need to test negative for Covid-19 shortly before flying to the Philippines and will not have to quarantine on arrival.