Will they? Won't they?
What will the Cabinet decide when ministers gather at 3pm to consider easing of restrictions?
In its letter last night, NPHET gave them carte blanche to rapidly tear down the edifice of Covid-19 controls.
That's because NPHET didn't provide a recommended timeline on the easing of restrictions - a neutral position that hands the decision to the politicians.
The question now is whether the Cabinet will dispense with its usual approach of a staggered return to normality.
Will they opt for a "big bang" and immediately lift restrictions across the board?
Up to yesterday, the smart money had been on a phased plan: earlier hospitality closing time lifted next week, 100% capacity at sports events the following week, and so on.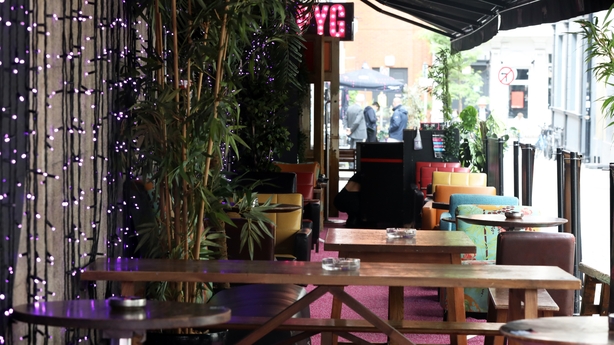 However, NPHET has opened the door to an immediate and wide-ranging action by the Cabinet.
From my late night straw poll, I feel that ministers may just go for it.
One source told me if NPHET is non-prescriptive on dates, they can't see any justification for holding off.
Another source told me that if it's safe to do it - Cabinet should not delay. We locked down quickly - we should reopen quickly, they added.
A different source told me if there isn't a public health reason to hold off - then why wait?
So what might a "big bang" look like?
Clearly the 8pm closing time on hospitality goes - but possibly all other controls could go at the same time: Covid certs requirements, limits on tables, social distancing and the bar on sitting at the bar.
Clubs had been expected to be allowed to reopen much later than the rest of hospitality - that may no longer be the case.
A return to full capacity at indoor and outdoor sporting events was expected by the weekend after next - that too could be brought forward.
And on it goes: Speedily lifting draconian impositions such as limits on households visits. No more limits on wedding attendances.
The hospitality sector is pushing hard for instantaneous results: the lifting of all restrictions from tonight. In the current climate - who knows?
Do you think we should see a gradual easing of COVID-19 restrictions? Or a more rapid re-opening of our hospitality and service industry?

Minister for Finance Paschal Donohoe discusses the most recent NPHET recommendations with Fran McNulty.#rtept pic.twitter.com/AXtegd029G

— RTÉ Prime Time (@RTE_PrimeTime) January 20, 2022
One cautious voice, amid the febrile atmosphere, is that of Minister for Finance Paschal Donohoe.
On the one hand, he told RTÉ Prime Time, it was "reasonable to expect" that Ireland will exit the restrictions quicker than "would've looked likely a number of days ago".
However, he went on to say that the Government always "looked to deploy timings to get the balance right between the needs of our economy, and society, against that of public health. And that's what we'll continue to do."
Which brings me back to my first question: Will they?