In 2022, we are shining a light on the people who are stepping up to protect our environment and tackle climate change. While these 'Climate Heroes' come from all walks of life, they share a common purpose to improve the world around us.
Mairéad Staunton loves where she is from and likes to see it looking its best.
Every morning, she goes for a swim at Old Head Beach in Louisburgh, Co Mayo.
Afterwards, when she is "warm and dressed", the recently crowned Clean Coasts Individual of the Year award-winner combs the beach and car park, picking up litter.
"A couple of us take our litter pickers and we just go up and down the beach and tidy up. I love where I live, and I think I appreciate it even more since lockdown. It hurts me a little bit when people don't do their bit and are careless about their litter."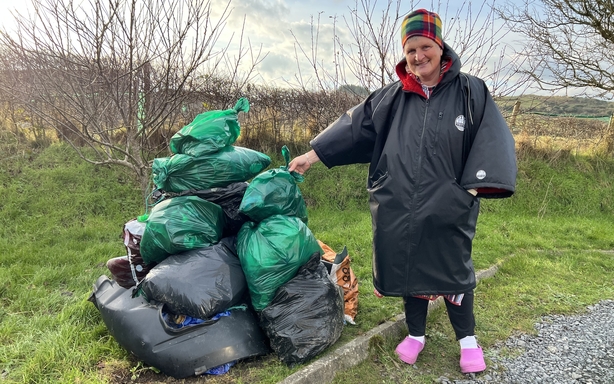 But one day it wasn't litter washed up on the beach. It was a letter.
"My best ever find was a letter that came in a bottle from the other side of the Atlantic, from South Carolina," she said.
"It was one day after, I think it was Storm Atiyah at the time. I was going along, as usual, with my litter picker and the dogs. I could see something blue sticking up in the seaweed. So, I went to pick it up. As soon as I found it, it was a ziplock bag tightly rolled up and tied with a red ribbon.
"I thought to myself, this is something significant. I unrolled it and I could see there was a printed letter inside".
Mairéad discovered the letter was written by a recently widowed man from South Carolina in the US.
"This letter was one of seven that was thrown out on the day that his wife's ashes were scattered on the ocean. He gave two to a fisherman friend who took them out deeper into the sea and they obviously travelled in the Gulf Stream because one of them landed here at Carrowmore Beach and the other one was found at Ballyshannon in Co Donegal," she said.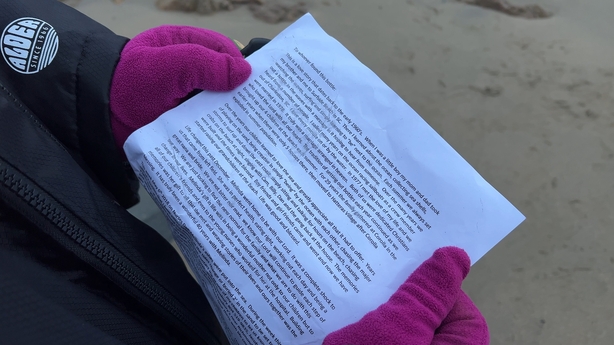 Mairéad contacted the letter writer as he and his family were preparing for the second anniversary of his wife's death.
She said: "I think since I found that I keep my eyes even wider open just to see if I find something equally exciting as this. It started a correspondence with the man who put it into the water. It's been lovely. All of these things, they make the litter picking that bit more enjoyable.
"I'd love people to think about tomorrow. When they are dropping litter today, think about what it is like to come tomorrow and walk on this beach and see it messy."